2020 Tas Melaleuca Inlet

Zoonie
Sun 26 Jan 2020 23:35
Up Melaleuca Creek
And back through time
Sometimes I wake during the night and am drawn to take a look around at the wonder of the night sky, the presence of stars and the moon and how they shed the dimmest light on the landscape around. The photo at the start of the last blog was a result of a short commune with our surroundings in Kings Cove and Mount Rugby, a real mountain, keeping overall guard.
But now the sun was up and Ken's motor was behaving itself despite its unwelcome drink as we sped away from our yachty homes for the journey up the creek.
In places the dark brown water was untouched by the wind and the surface mirrored the surrounding hills and cloudless blue sky. Approaching each corner and bend we wondered what would be beyond and we could check our progress using the Navionics app on Rob's IPhone. Small boats came by and we imagined they had dropped walkers off on their next stage and then a bigger tripper boat approached us, "Fear not dear friends, we come in peace and will do you no harm" the guide jokingly called over to us through his mic.
The loose arrangement of logs and lines you see in one of the pics was where decades ago recently felled Houn Pine logs were rafted and tied together by men working from fragile little punts and standing on the logs themselves. A potentially dangerous job I thought. The rafts could then be floated towards the estuary entrance ready for shipment to the sawmill.
A pair of Black Currawong with white-tipped wings flew from one side of the creek to the other bank near to where we passed a beautiful lagoon into which only certain people were allowed to venture, we would sit alongside it for our lunch later.
Then suddenly, after an hour of motoring, the very sturdy new pontoon appeared with a stack of kayaks stored on the bank for wandering further upstream as part of a tour. We tied up out of the way of the boats for which the jetty was built, and scrambled ashore, numb bums welcoming the change in posture. Unexpectedly we came upon an elevated walk over the fragile peatland that was open to all comers and was intended to tell the story of the first inhabitants of the region, the Needwonnee Aborigines.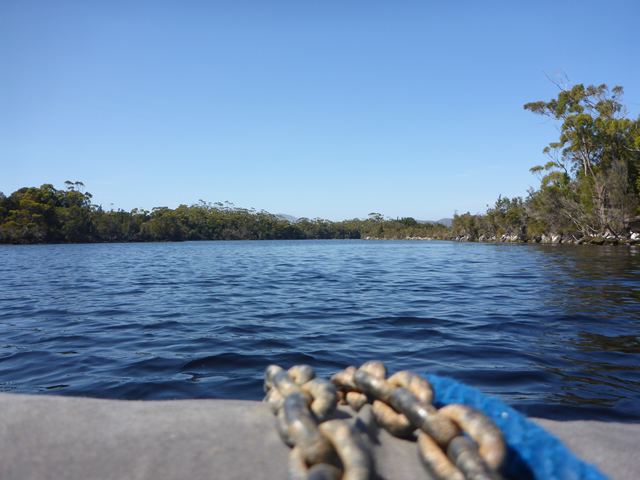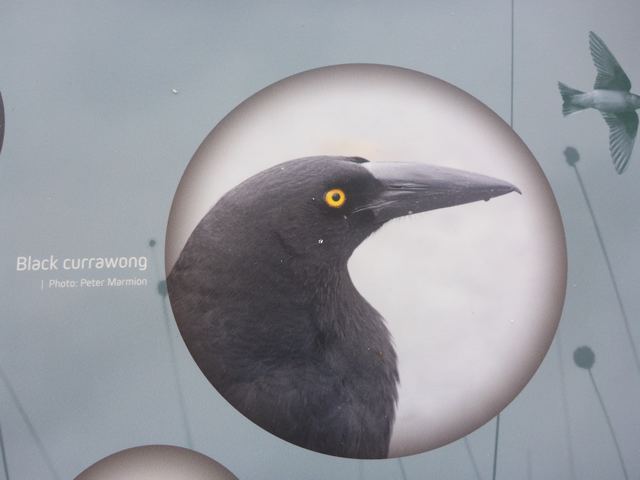 ---