Publication Day

Zoonie
Sat 28 May 2022 07:42
Publication Day
27 May 2022
Zoonie backed gently away from her mooring buoy after four days being held firmly against a strong westerly and motored back towards her inward route. After a few hundred metres she turned northwards to wind her way along the watery alleys behind Sherkin Island on a sparkling morning as still as a watching heron.
The sound of her engine awoke a couple of seals who stretched languidly and watched as we passed.
Rob and I had done our homework, studied Wileys Cruising Companion to Southern Ireland, The Cruising Almanac and the Irish Cruising Clubs South and West Coasts of Ireland, the tides on Rob's phone apps and the display on the chartplotter, but even so, taking Zoons into such confined places, dotted with rocks, some marked, others not, and just a few given away by lobster pots sitting on them, where there would be tight turns, eddies of water hinting at dangers beneath was so different from the thousands of miles of passages over the worlds oceans, often over six thousand metres deep that we were used to. Rob thought it would be a valuable experience and I agreed with him. (For once, he jokes.)
It was a really good exercise in team work, I was on the helm and Rob double checking my actions and thoughts. At one point the little channel appeared to open to the left with a few boats moored in there. But a route that way didn't tally with the chartplotter or our homework. 'Straight ahead' Rob said, towards a solid house with an even more solid stone jetty and then at Rob's waypoint on the chartplotter turn sharp left and head for the south IALA buoy towards Heir Island. After the buoy head 300'C towards the low hill, well that's a bit vague I thought, so my eyes flitted butterflylike between the depth gauge, compass, surrounding area and chartplotter and I trusted my brain with Rob's help to work it all out.
We turned southwest before Two Women's Rock towards Catalogue Islands (has Cook been here?) into Roaringwater Bay, what a name, but today it was a snoozing lion.
I was reminded of our exit from Fulanga in The Eastern Lao Group, Fiji when we had to wend our way past coral heads and relied on the chartplotter as the day was grey and the light failing, so the heads were no more visible without the sunlight than the rocks here beneath murky green water.
After a few minutes the ocean was in sight and Zoonie was rising to some smooth Atlantic swells at the end of their long journey. The Fastnet Rock Lighthouse, on its own personal mountain grew clearer on the distant horizon and we were surrounded by thousands of juvenile jellyfish, mini versions of the parents we had passed on our way home from the Azores last June.
Then as if the publication of my book after all the work involved was not enough to make this a special day a humpback surfaced just a few feet away. I called Rob and it obliged once more and I have a photo too so you can enjoy the event.
Crookhaven's reputation for fun, instant acceptance and friendliness precedes it. As we picked up a buoy which took a maximum of 15 tonnes, we are 14! the only other yacht present left, so we and the locals, who number around 60 off season, had the place to ourselves.
There are three pubs in the little village and we paid for our mooring at 10 Euros per night in O'Sullivan's before sitting at one of the sunbathed benches outside, glass of stout in hand.
A little celebration was called for on the auspicious day of my book launch so we booked a table in the Crookhaven Inn for 6 o'clock and decided on a walk toward Streek Head, which is on the left as we entered the haven.
Plenty of lovely homes dotted the track and small herds of cattle grazed in hilly fields. There was evidence of past mining, both for copper ore and more recently road grit for Welsh roads. As members of the EU, farmers have been encouraged to just look at their fields rather than farm them. We haven't seen a single sheep yet.
High up, looking out over the rocky coastline, and the beautiful Atlantic we sat on a soft carpet of green in the warm sunshine and leaned against the round walls of a mystery building. Clearly very old, it had a domed roof and recesses inside with slate shelves. A dovecot we wondered, but in such an exposed place? The domed window recesses were filled in and a grey hardened kind of paste was spread over them as if something was once stuck on. They were marked out with faint white lines suggesting they once had stained glass in them but were not meant to be look through, could it have been a high-status ossuary, where the deceased residents' days of scanning the horizon for marauding Barbary Corsairs or angry folk from Waterford were over, so they no longer needed windows you could view through, just a decorative acknowledgment of their high standing?
If you have any other ideas, serious or funny, do say!
Back on board for a couple of hours many more kind messages were pinging up on Facebook and a momentous day was rounded off with a tasty bowl of Malaysian Raksa, Rob's with chicken and mine tofu and a lovely chat with a couple from the McCarthy clan who live in Cork and have a summer home just up the road. We wondered if the Republic would be marking the Jubilee and soon realised, if this couple were typical, that they have a worldly interest in foreign matters and although many of the houses around here are holiday lets the sense of community and looking to the future is strong and thriving.
Thank you for your kind wishes. The book is available to order on Amazon, despite their saying it is out of stock, it's because it is printed to order so the system takes a few days to work through.

---
This email has been checked for viruses by Avast antivirus software.
www.avast.com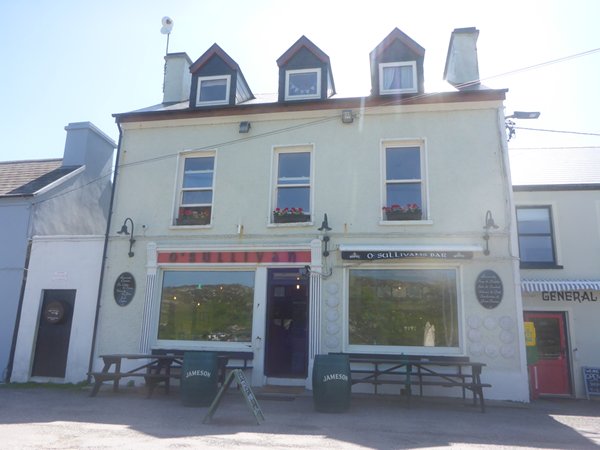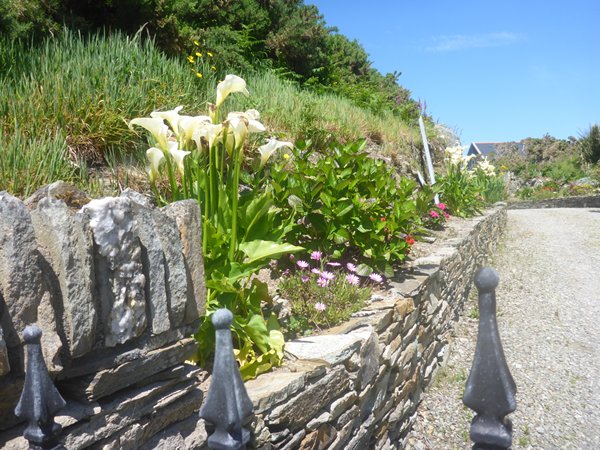 ---