On the road northwards and camping

Zoonie
Sun 5 Jul 2020 22:43
Northwards on the Great Southern Highway 120
It may seem incongruous but while deadly Covid 19 still grips the world, and the regime in China is sabre rattling over Hong Kong, and Taiwan, and threatening Australia and the US; while Melbourne in Victoria goes at least in part back into Lockdown, we, along with many families whose children are now on school holidays for two weeks, and like our dear Oakham family, are going on holiday! To be precise, our faithful £50 NZ Warehouse tent and self-inflating mattress are back on duty and from tomorrow night will be our mobile bedroom.
You may wonder why, considering the regional borders of Western Australia opened up on June 6th, we have not set off before. Well we were awaiting a call from my consultant to tell me why I have had, for the past year, the feeling I was swallowing past a smooth pebble in my throat with the consequent dry cough, soreness, occasional change in voice pitch and tone and feeling a small kangaroo was sitting on my chest. After a heart check "You neither were having at the time and nor have had before the ECG, a heart attack," my doctor said to our mutual relief; chest xrays revealed "You've got long lungs for someone so short," a curious radiologist told me and following a barium swallow that tasted like all the Milk of Magnesia I ever took as a child the consultant, a Mr Tom Bowles, through the clever and convenient modern process of tele-health, told me I had a hiatus hernia in my throat which was visible in its 1 to 2 cm length, rather like Rob's bacterial vegetation on his mitral valve. Even more assuring was the total lack of any masses or lesions, which is what had been really worrying me. So once again we were fortunate enough to have the all clear to travel.
Yesterday, after a couple of days planning and with much help and advice from Malcolm, and a final coffee and cakes with our dear hosts, we left our cosy little station home of 60 days exactly, not only for this trip but also having moved all our possessions into a spare corner in Christine and Malcolm's home, so that they can rent Shipton out to the first agreeable tenants that appear on the horizon. When we get back to Te Opu we will be returning to Zoonie fairly soon for a long hoped for departure up the west coast to Carnarvon to clear out of Aussie for good in September, if we can.
So we left a small cloud of dust in the lane behind 'our' 1995 Ford Falcon, 290,000 kilometres on the clock and freshly serviced thanks to Malcolm and Rob's efforts and headed north, furthest planned destination, the Kimberleys. I am writing this in bed in our motel room behind a super little pub, The Settlers Homestead, where we had supper last night and where a previous resident, Mrs Inkpen, wife of the local printer (!) apparently haunts the place by throwing the occasional paddy, slamming doors etc. Not quite sure of the circumstances of her death but one might suspect they had something to do with her husband's printing PRESS, so that she made HEADLINE news the next day.
Here in York, which lies in the beautiful Avon Valley on the shores of a wide, flowing river by the same recent name, the founding military fathers back in 1830 realised they were claiming ground that has been home to the local aboriginal mobs for tens of thousands of years, but claimed it all the same.
Today most of the 19th century buildings remain in use and are grand in style and well maintained. York was the first inland town in WA and has seen all the wealth creating activities of Farming, Mining and Communications through growth and decline and back again. The town has a busy, friendly atmosphere. Anne in the impressive motor museum told us how an arrogant and blustery visitor had once scoffed at the claim that the pickup on display at the entrance was really the one used in the film 'Crocodile Dundee'. Even Paul Hogan's signature on the dashboard didn't convince him. So the proprietor of the museum watched the film again and confirmed the trucks authenticity from the two dents on the front of the roof. So there Mr Wise Guy.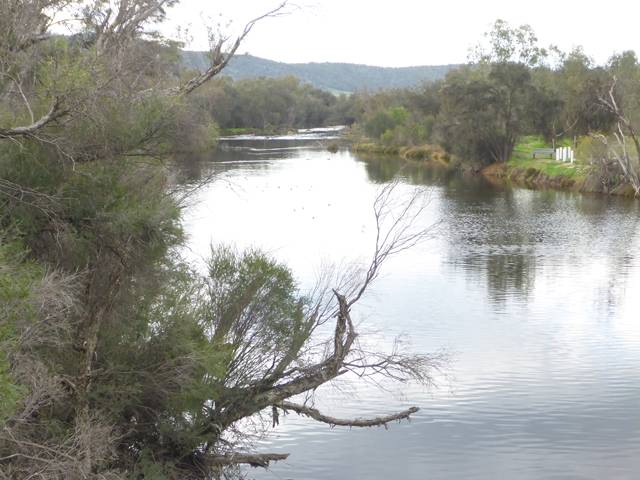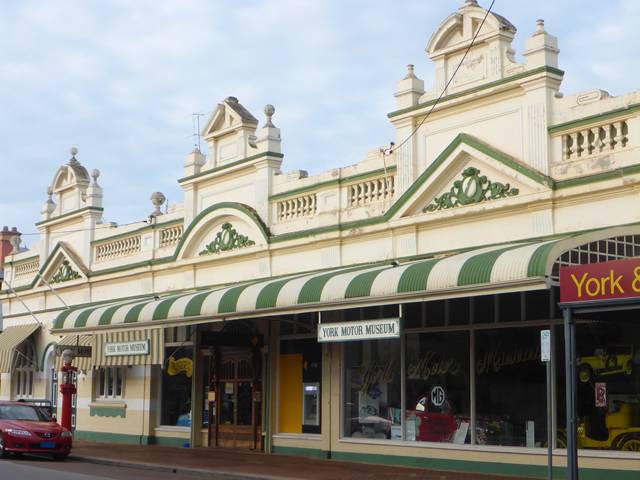 ---