2021 SA The Softest Settee

Zoonie
Sun 7 Mar 2021 09:29
The Softest Settee
That is how it must feel to a South African Fur Seal as it slips into the water with barely a ripple or splash, unless of course it has been barracked and pushed into the water by a temporary adversary. We have never seen them draw blood on each other but, boy, do they squabble, day and night until they get tired or a big male gives them a deep belly load of verbal grunts and growls to shut them up, at which time we all can get some sleep, ear plugs in for us.
Just recently some little pups have appeared and the number of plump seals languishing on the wooden platforms (you see in the photo) provided, partly I imagine to keep them off the marina pontoons and give them an area to be together as they would in the rocky wild, has increased; Rob counted 65 the other day splayed out in envious sleep.
The other morning I came up into the cockpit to see the sweet little baby seal beside Zoonie and thought you'd like to see it as well. It was practising snoozing in the water, its own personal soft down settee, away from the others to avoid the risk of embarrassment should something go wrong. Its eye was closed almost all of the time, except that on the odd moment it would open for a peak around to see where it was and that it was safe in the caressing water and then closed it again for a snooze, which could not be as restful as on the platform, but was probably a lot quieter and certainly softer.
Rob and Werner have been successfully working on the windlass this week and it now works perfectly after Werner took the motor to an engineer, who skimmed and undercut a surface, so the brushes would have better contact, and replaced a bearing. On his return from seeing Werner off Rob joked about the two seals who decided to spend a romantic night on one of the Harbour Tour Boats away from the main group. So I toddled along to see if they were still there. They looked very peaceful until another one went over to commune with them at which point the male sent it packing back to the others. The first trippers the next day must have wondered what the smell was as they boarded the boat.
Yesterday by chance I spotted a strange shape under water just near us that was clearly not a seal. It did not surface and looked like half a fish with its dorsal and pectoral fins right at the back of its body. It was about a metre in length but they can grow to nearly five metres in length. I called Rob up into the cockpit and was thinking, 'could it be a sunfish?' when Rob said "That's a sunfish!!" My photos are quite indistinct so if you Google 'South African Sunfish' you will come across the Ocean Sunfish and the fine film of the rescue of another one that became trapped in the dry dock beside the Two Ocean Aquarium, both right beside us, by the Aquarium staff.
Neither Rob nor I ever expected to see a sunfish, let alone right beside us in a marina.
Our departure day has been put back to next week now as the low that is coming eastwards is creating a much bigger area of no wind and we don't want to set off into three days of motoring. Behind that low is a nice high giving exactly the winds we need; so keep your fingers crossed it stays like that. It seems strange, awaiting a window with wind when we usually wait for a hefty blow to finish.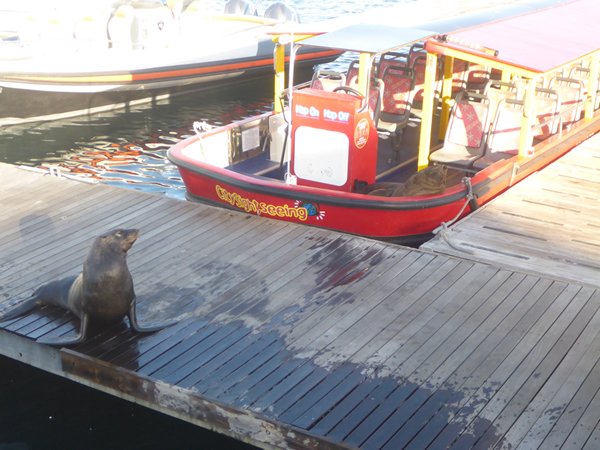 ---