2020 SA Richards Bay Denizens of the Mzingazi River

Zoonie
Wed 30 Dec 2020 11:41
Denizens of the Mzingazi River
He flew low over the green water, dipping beneath the gangways that led to shore from the floating pontoons and with a loud triple "Wark, wark wark" alighted on a branch in a thickly foliaged tree. Against the green he stood out with his white spotted charcoal back, white shoulders and chestnut waistcoat, an unlikely predator of the fish below one might think, which is why he hid and waited.
There was a good choice of fish species and sizes in the water but this strong male went for medium sized, 10 – 12 cm specimens, striking without fuss but with certainty and emerging with the victim wriggling in the vain hope it could escape the stunning grip of the Giant Kingfisher's long nosed pliers.
Even at two thirds the length of its predator the fish still had no chance and its struggles quickly stopped as the bird thrashed it against its favourite hard dead branch a metre above the water. Blood splatter appeared on the silvery fish, its spine now fractured in a dozen places and yet still it was bashed against the wood time and time again. Then with a hefty and skilled flick for a small bird the meal was turned headfirst into the beak, its tail hanging lifeless like the fluke of an orca and with three powerful gulps it disappeared into a body barely longer than the fish itself.
A few moments of rest before the king of fishers went for a dip to clean itself and then an essential preening session to ensure all the feathers he could reach, especially his flight feathers were in order for the flight back to his tunnel nest in the soft soil of the river bank where his brood of three chicks keenly awaited their next meal.
Near Zoonie three different species of kingfishers regular hunt for their fishy meals. The Giant has a mate slightly smaller but with similar markings and the others include the black and white Pied Kingfisher and the Striped Kingfisher and the Woodland Kingfisher I have included because they lived in abundance around the Rhino River Lodge and looked spectacular in flight with their bright blue plumage. They are all thriving in this part of South Africa. As are the thirty or so Trumpeter Hornbill who fly across to the tall trees nearby on a daily basis. They look comical in flight with their long thick beaks sticking out ahead of them and their wings so far back they look as if they are about to tip over and fall out of the sky.
To my amazement as I sat in full view a little black bird with a red chest and thin curved beak decided to land on Zoonie's communications tower and then the wind charger, for just long enough for me to remember its appearance and discover from the excellent free NatureAi App that it is a Scarlet Chested Sunbird who feeds on nectar. Many thanks to the creators of this useful resource.
Bird watching in the second half of the afternoon has become a pleasure for us as we cannot go far from Zoonie without taking a lift with Annalee in her VW Beetle or walking the well-trod route back to The Dros Bar and Restaurant where we came in to the international dock over a month ago now. And that option is no longer open to us with the latest lockdown banning all liquor sales, closing the bar at the club here and, cruelly I think, stopping the children from cooling off in the club swimming pool as the temperature usually rises from midday into the mid-thirties.
To make best use of our 'confinement' on board we started to look inwards into how we could enhance our lives further within Zoonie's limited space. From the old Dell computer we copied all our iTunes library onto a hard drive and loaded it onto the Samsung computer so that we could play the music via Bluetooth through the Wonderboom Speaker, the old Dell doesn't have Bluetooth capability. We also installed the BBC Sounds app on our phones so we can listen to anything on the BBC when the internet is strong enough. Graham Norton's last two Saturday morning programmes on Radio 2 were a treat as was Idris Elba interviewing Sir Paul.
There has been bureaucracy to complete; a flight plan with full details about us and our intended journey to Cape Town to be logged and lodged with the authorities, a different one in each port we go to and each to be stamped by four different authorities and its all for our mutual benefit, so we don't mind. It would have been nice though if we could complete it on a formatted outlay on the computer and amended just the few details about destinations and dates, but hey, the more we do it the quicker it will get.
We plan to leave here on Sunday 3rd and head for Durban 81 miles south and wait there for the next Low to pass through, but that's a few days away yet.
The weather here is for the most part beautiful and it has been getting hotter as the summer progresses. The other day we had 39 degrees in the saloon and we were saved from melting point by Rob's purchase of two electric fans, a daddy for the saloon and a mummy for the aft cabin which we have on all night.
I have kept my hand in making scones for English tea in the cockpit and rock cakes just to make sure I still can. I have also now read Rachel Carson's 'Silent Spring' and at the same time, to soften the tragedy of her book, a biography of her titled 'The Gentle Subversive' by Mark Hamilton Lytle, a fair and intelligent analysis of one of the first environmentalists who brought to the public eye the effects of the misuse of chemical biocides and wrote in her final chapter about a way forward that could achieve the same ends without damaging the natural structure of the earth.
Another writer you may already have discovered is James Rebanks who describes his life and ethos about his beloved Lake District in such a way as I have to drag myself away from his writing and ration myself so as not to get through to the end too quickly. 'The Shepherd's Life' and 'English Pastoral' are his works so far. I love the description of Lakeland farming practices that have prevailed for possibly well over a thousand years, just like the indigenous Australians farming in the book 'The Songlines' by Bruce Chatwin.
Rain Dear in South Africa!
Three nights before Christmas; no this isn't going to be a heartening story about the magic of Christmas, Santa and his reindeers I'm afraid, we had a hum dinger of a storm that raged on through one afternoon and right through the night. The rain poured down with the lightning and thunder (Santa would have been soaked) and by the next morning we think it was no coincidence that the Samsung computer would not boot up. So with Annalee's help we went back up to the Mall, having already been once, nice and early to do the final shop for Christmas before it got too busy! Holding our breath behind our masks as we passed through the revolving doors we hastened into the cool and nearly empty computer shop and very quickly found what we wanted. This is my first blog I am typing on it now!
Fiona in the office very kindly let us use the hard-wired internet in the Committee Room to do all the essential downloading and to get our Mailasail account set up so we can receive the weather Gribs at sea, the most essential reason for our buying a new computer.
Our Christmas Day was fun. Interspersed with chats to family we played Scrabble and a Zoonie form of shove ha'penny which was well worth the laughs. We have an on-going tournament and so far I won the first round and Rob the second because by this time he was honing his technique of not hitting the 50C coin too hard.
Tomorrow Jackie will help us with the clearing out process by driving us to Immigration and then to the Mall so we can shop while she visits Customs, Port Police etc for us and faxes a form off to Port Control which will give us the permission to leave. Apart from being tea total from when our booze runs out we now have to be visited by Health ZA where we go and write to the British Consulate in Cape Town before we plan to clear out of South Africa, so, not too onerous really.
Happier New Year everyone, stay well and thank you for reading.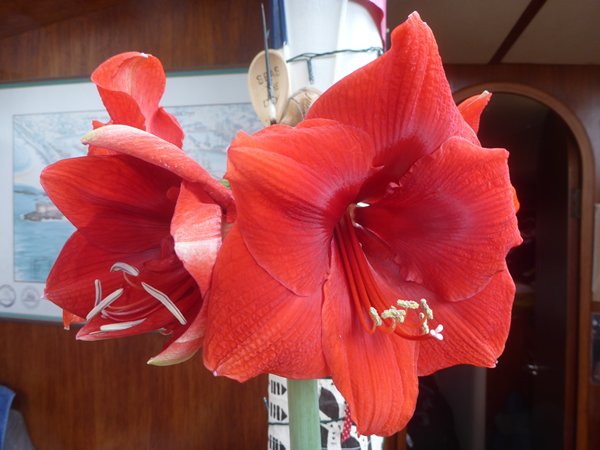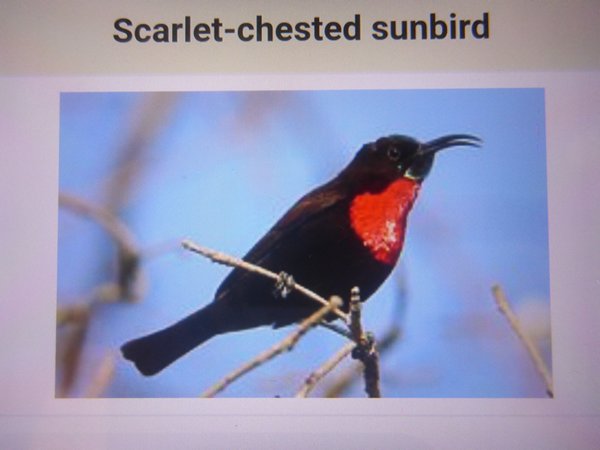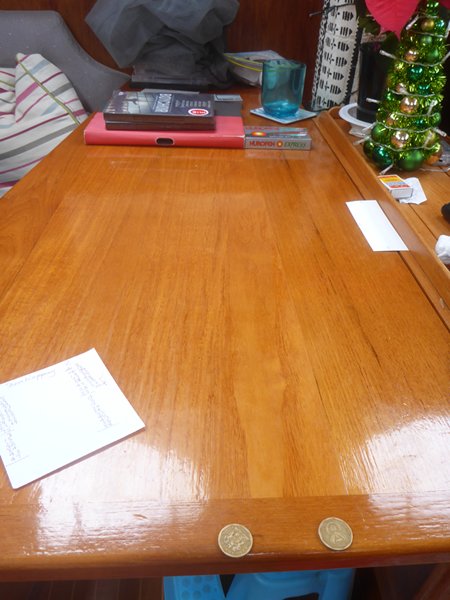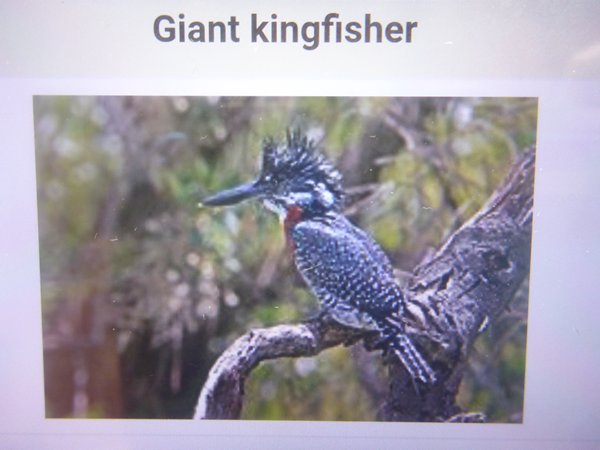 ---