On Tuesday The Riggers Return

Zoonie
Fri 12 Feb 2021 06:20
On Tuesday our Riggers Returned…
Before they arrived it was fun to watch the goings on in the marina. All day long ribs with three pupils and their instructor aboard do what must be their first, very gentle lesson in the art of driving a rib, a rigid inflatable boat. I remember doing my training in one as a safety boat skipper for part of The RYA Sailing Dinghy Instructor Course at Calshot near Southampton. The fun part involved motoring flat out and then doing an emergency stop by turning left or right at the same time as throttling down so as to avoid being pooped by one's own wash. One chap lost his cap so we did an extra man overboard practice as well.
Ladies in pink in their customised dragon boat giving it their all and three boats leaving for their non-stop voyage to Brazil. The two men on blue hulled Milanto are Italian and we first met them in Le Port, Reunion, and then a Chilean father and son whom we also met in Reunion and lastly the catamaran Sea Lover, of whom we have only heard the name. The Covid restrictions do not encourage too much mingling with other yacht crews unfortunately. As far as we know we are one of only three boats planning similar routes via St Helena and the Azores back to Europe; we know both the others, Anna Caroline with Janneke and Weitze, our neighbours here and Jori with Henk and Marylein. Of the others some are calling in to Namibia and Brazil, destination the Caribbean.
The sluice gates next to us opened to allow a tour boat to enter and the blue workboat you see facing the Somerset and Aquarium is doing one of his daily rubbish rounds.
Apart from having three stays replaced we were also fortunate in that another vessel had required a new VHF aerial part of the masthead Windex fitting while we required the wind direction indicator part and not the VHF aerial. So we shared the contents of the same package. If you remember a night time visiting blue footed booby bird decided to alight momentarily on ours, breaking it off, the arm to be found useless in the scuppers the next morning. The good riggers also replaced the blown steaming light bulb.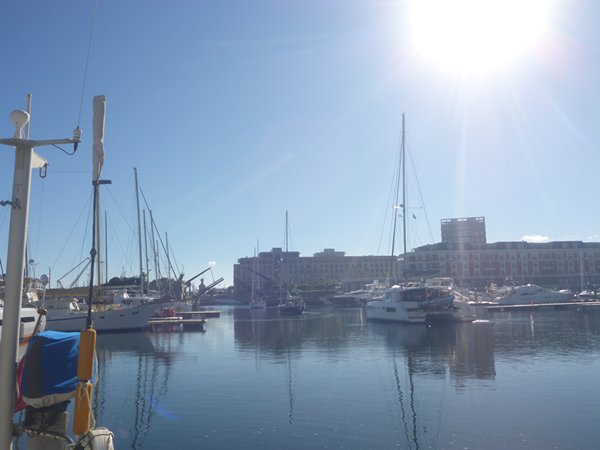 ---