Norway 1/4 pics

Zoonie
Wed 24 Jan 2018 18:33
Norway (1/4)
A Greater Contrast?
Yesterday we took Zoonie downriver for her first excursion since November 2016 when we arrived on these shores. With us were Ben, Marine Manager of McKay Electronics, who has supported us all through Zoonie's re-fit, and young Mark who straightaway put his electrician's skills into practice to fix the navigation lights up forward.
There is a nice little basin of deep water just beyond Port Whangarei Marine Centre and Ben asked Rob to put Zoonie into a slow circular turn there so he could calibrate the Auto Pilot compass using the guidelines in the manual on his mobile phone to help. Our device had to take its time using our GPS to install the essential information, as it progressed a red line across the bottom of the small display screen would slowly turn blue. The reason it didn't to begin with was because Zoonie was turning too slowly, so we upped her speed to four knots. Between 3 and 15 knots was recommended, but we laughed at the higher speed, unobtainable by us but a bit reckless it sounded for any vessel. Still it was all giving Rupert, Zoonie's engine, a good run.
The little blue line was nearly complete and then a new set of instructions appeared to check for deviation, caused by the position of the compass in relation to metallic objects that could distort its magnetism. Up to 15 degrees was acceptable but ours lit up as 211 degrees. The boys went below to play games moving the compass around until the deviation was down to an acceptable 11 degrees. Zoonie's flags now sit either side of it in the cupboard under the chart table.
One look at the green colour of the water after all the recent rain told us here was not the place to check the watermaker, so that is a job Rob and I will do soon when we take Zoonie out to sea for a brief spell, maybe this weekend.
Our new autopilot then brought us all the way back to the lifting bridge and then beyond with Rob just tweaking our course by increasing or decreasing its heading by increments of 1 or 10 degrees.
It was a beautiful day from start to finish, in fact over the radio, as the day progressed, records started in 1905 were being broken for the day time temperature on the 24th January. The sun rose high over our heads and beat down hard from Northland, where we are, to Invercargill on the southern tip of the south island, both locations reaching 32 degrees in the afternoon. In Zoonie's saloon it was 36 degrees, reminiscent of Bahia in Ecuador. This heat wave is set to continue for a week, causing our fridge to be on constantly in the day, a bit of a worry because of the electricity it will consume when we are not connected to the mains and relying on solar and wind power, and Rupert as a last resort. (At the moment of writing it is 5.35am and a blissfully comfortable 20' in the saloon, light is just creeping into the eastern sky and my Tui is keeping me company)
In our experience it would be hard to think of a greater contrast to the equally beautiful weather we experienced within the last three weeks in Norway, where the sun just manages to peep above the hills to the south of Stjordal at the far end of the Trondheim Fjord for a very few hours of winter daylight and the temperature ranged from minus 8 degrees there at sea-level to minus 28 at Roros just over 2000 feet up and inland towards Sweden.
Our hosts were Ingeborg and Geir who are parents of Hanne who is married to Havard and now have two lovely little boys, Edvin and Alexander and Helene who is a physiotherapist and lives with her boyfriend, Carl Eric in Trondheim.
Hanne and her friend, Tina came to stay with Emily and me as foreign language students many years ago when I wanted Emily to have experiences with people from other countries and cultures as she grew up. I have stayed friends with both families ever since, it just happened that way.
Ingeborg works for the Inland Revenue and Geir is a retired policeman. When I first knew them they lived in a comfy wooden family home with a cellar but with the girls leaving home they have moved into a compact two bedroom flat nearer the centre of town, which is where we stayed.
On our first day Geir joined us for a day trip to Trondheim, 40 minutes away by train. We crunched along on gritted compacted ice on the roads and pavements the 10 minute walk to the train station. Where the sun was just making its brief daily appearance.
The station area is very open and tidy and the waiting room was warm and bright. Norwegians are so well accustomed to the weather they keep their buildings at around 23 degrees inside, clad their cars with winter tyres, wear quality warm clothes and get on with life as usual. The winter weather is no problem to them because it is regular and not so changeable as ours in the UK.
A simple misunderstanding on English terms kept our 'look around' the wooden royal palace in Trondheim to a brief skirt around the outside, when I had thought our 'look around' would be the interior for the first time! Apparently it is only open to the public in the summer.
Not a drinker himself I thought it kind of Geir to take us to the Lille London pub where he supped coffee while Rob and I indulged in some American! Beer. Onwards and at speed through the increasing cold we planned to meet Ingeborg at the Egon Restaurant in the old docklands, now a fashionable area to spend social time. We always go there on our visits; the sheltered waterways and maritime history of the past, moored boats with some liveaboards (brhhh) and inclusion of the area in the modern Trondheim with walkways everywhere make this area uniquely attractive and very Norwegian.
Helene's apartment has a rounded glazed wall in the living room so that a 180' view over these waterways can be enjoyed and when we arrived the lights outside complemented the lights on her Christmas tree beautifully. Golden baubles nestled amongst home tied bows of red ribbon on this single splash of bright colour in an otherwise ultra-modern monochrome colour scheme. We were only in Norway for a few brief days but the brevity of our trip was in inverse proportion to the sheer pleasure of seeing our friends once more.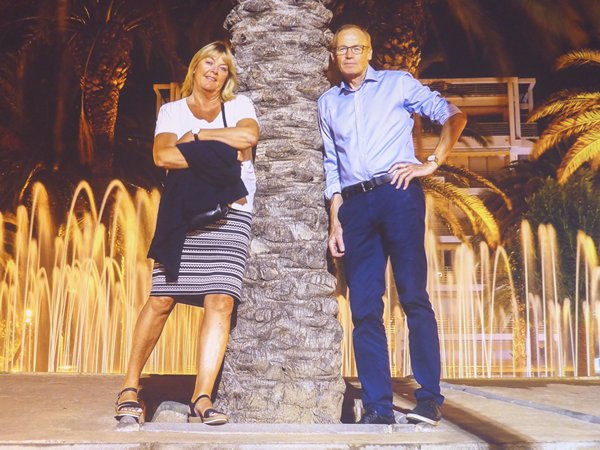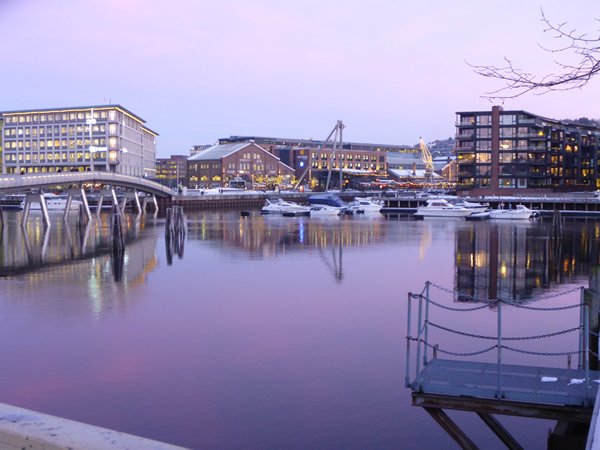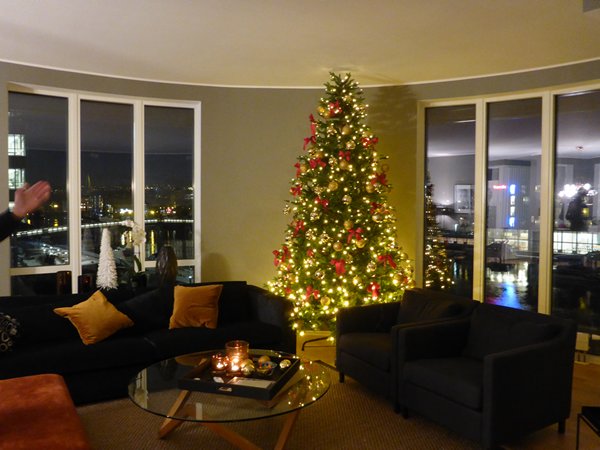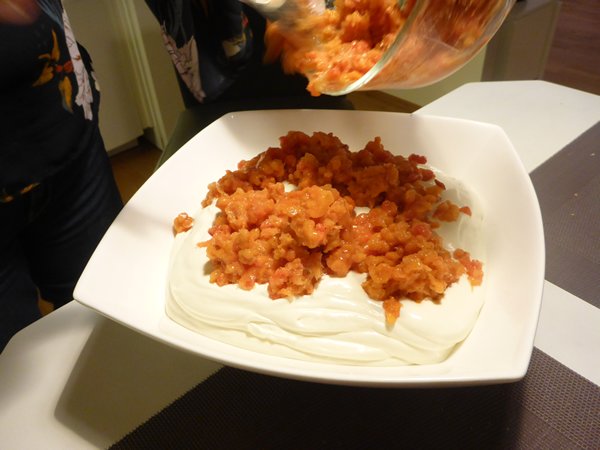 ---