A Doubtful Sound

Zoonie
Tue 28 Mar 2017 18:14
How does Doubtful Sound?
Captain James Cook was doubtful as to whether he and his crew would be able to sail their exploration ship, Endeavour, back out of the sound named after his reservations, which is in fact a fjord since it was ground out by a glacier. Don't you agree, Doubtful Sound sits more comfortably on the ear than Doubtful Fiord?
It certainly sits comfortably on the eye; after a day voyaging through the area from Manapouri we were tired from an excess of magnificence, this truly was NZ in its most remote and raw beauty that transcended the ages as Venus transcends the night sky.
Rob and I chatted with a retired NZ sheep farmer and his young springer spaniel Buster, a young Toby lookalike, as we waited to board our ferry. He had a boat, a little cabin cruiser moored nearby and was determined to spend some time refitting it so he could take his family onto the lake at weekends. When New Zealanders get time off they get afloat.
The first part of our day's adventure took us in a fast boat across Lake Manapouri on one of the 65 cloudless days this area gets every year. You won't see our guide anymore, selling Melton Mowbray raised pork pies in the town the pies were named after and at Oakham's Saturday Market because he is here now, telling us what he knows about the area in his short time here. When he waved his hand broadly across the vista and said "Look up there, there must be some of that expanse that has never seen a man." Most of that expanse has never been trodden with human foot is more likely, I thought.
At the start most of us arrived in dribs and drabs, parking our cars or descending from buses, but one full big coachload of Chinese arrived and comprised 50% of our group. They were all Chinese and no Japanese because I asked their female guide and she told me the Japanese went to Milford Sound.
I will tell you at the outset what saddens me about these, nouveau riche and recently released to travel Chinese, and that is they move around in an insulated bubble and even if they can speak English they make no attempt and seem not to want to communicate with anyone else. I tried catching their eyes as a prelude to some sort of chat, even with gesticulation, but they would look away. So I wondered what they wanted to get out of their travels.
Certainly they will go home with not hundreds but thousands of photos, all containing themselves with a scenic or civic backdrop and no doubt a few 'made in China' trinkets, but that seemed a bit shallow and lacklustre to me.
What really made my trip to China 16 years ago a real pleasure was the Chinese people in their home country. Where ever we went they were interested in us and most of them spoke English and even if they didn't we could make ourselves understood, often with shared humour thrown in. So sad.
We berthed next to a hydro-electric plant where the water falls 183 metres to create power for the massive aluminium smelting plant at Bluff. As part of the pay back for the encroachment on the land the company had built a gravel road right across the mountainous land to the Sound which was open for public use. The Chinese in their coach and the rest of us in ours sped up and down, passing trekkers with their backpacks. The hills are very steep and the coaches are fitted with retarders to assist the brakes. Locals bring their cars and boats across from Manapouri on a barge, drive the road and re-launch for a day on the Sound.
We crunched into a lookout space and descended the coach for our first elevated 'wow' view of the water, flat and glistening blue far below us, contained by steep, almost vertical rock faces covered in trees. The atmosphere was crisp and pure once the dust of our arrival had cleared.
The peaks, rugged and irregular, towered above us in clear definition as we left a fantail of white wash in the ridiculously blue water. We met a couple, Ian and Heather, from Haywards Heath in the UK and enjoyed the cruise together. As we parted at the end I said with confidence, "We will meet you again, this is NZ" They thought I was a little crazy I know.
The Captain, sitting on his high swivel chair, joystick controls in hand and accessible for our questions behind a partial clear screen, would come over the tannoy and alert us to some point of interest, for example the four Crested Fjord Penguins languishing in the water and clearly chatting and the many fur seals on the rocks snoozing or mock fighting. He put the vessel within stinky breath range of those seals, now burgeoning in numbers as their hunting has been banned for years.
After a few minutes of time out on the unusually calm Tasman Sea we turned back toward the view of the Sound that Cook must have regretted having to pass unexplored. Our little vessel motored into one of the elbows that lead off the main track of water and we pointed directly towards snow-capped mounts.
Captain turned off the engines and we stood in almost complete silence, one of our oriental friends was late understanding the message, then there was no sound, just the awe of natural greatness, a soaring mollyhawk catching the thermals and sometimes for others but not us on this occasion, the eerie cry of rutting moose and red deer. We were there in our tiny boat with permission from the wonderful scenery around us for this millionth of a second on the time scale of creation, united in admiration.
On the way back our guide pointed to a valley where two ancient glaciers joined that had been a Peter Jackson wannabe for scenes in the Lord of The Rings, but on the day the valley turned shy and hid in mist and rain so Sir Peter had to revert to plan B.
The overnight ship passed us on its way out sporting its three characteristic masts. Booked up until three weeks after we planned to have left the area so we couldn't do that trip, we were told that our day trip was the best value as early mornings can often be foggy and cloudy anyway. We did fancy the idea of listening to night sounds and taking in the Sound for 24 hours but never mind.
Back at our quirky little camp we studied the family photos over the years. They told the story of a husband and wife who set up the camp as a business and a place to indulge a love of old vehicles, especially but not exclusively Morris Minors and 1000s. They had all been driven to the site and maintained until the father died. Another family photo showed the whole family and clearly the oldest of the three children now runs the camp and does not share his father's passion. The vehicles are rotting where they stand.
It's a lovely place to camp and much of the structure, including the different styled 'house' accommodations and the fitted out kitchen and dining room is all made on site and quite unique. The weather while we were there was quiet, warm and sunny and the cicadas had a field day, and we slept well, tired from the aesthetic quality or our adventure.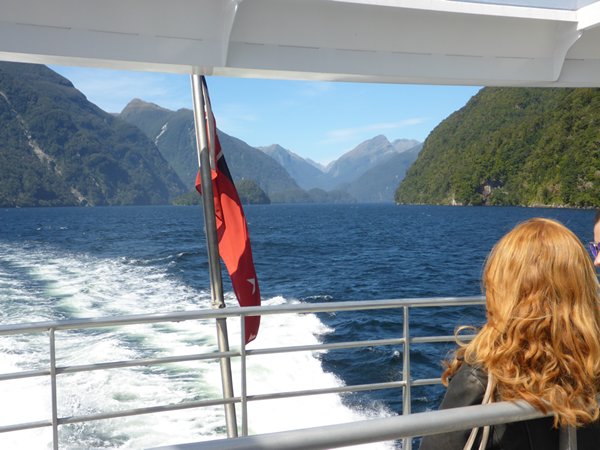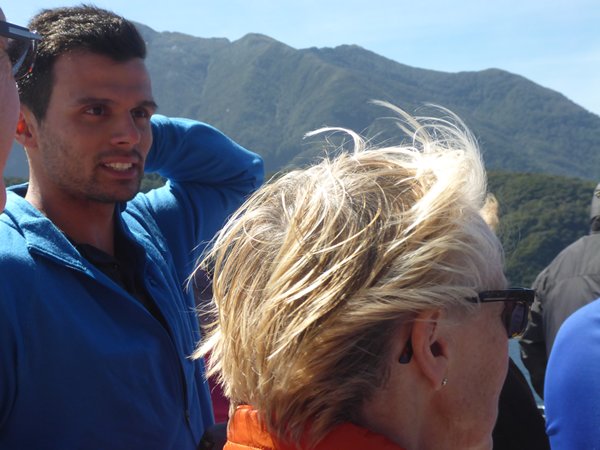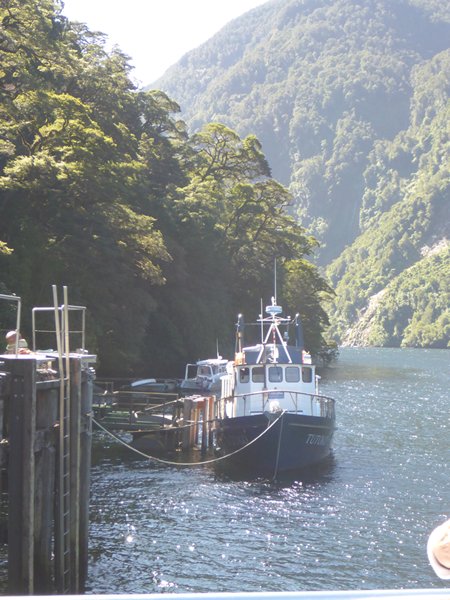 ---