An Abundance in Bundy

Zoonie
Fri 25 Oct 2019 02:49
An Abundance in Bundy
24:45.58S 152:23.29E
Aimee from Bio and Leah from Immigration descended upon us within a few minutes of our arrival and were quick and efficient as well as friendly. Aimee had a look around and through the galley cupboards and fridge and then apologised for her imminent departure home because she had a cold that was making her feel ragged. She would be back within the allowed fortnight to do the woodwork inspection.
Colin of Quin Rig advised his lads (son Jesse, trained at Spencers Rigging in Southampton and Cowes Isle of Wight and fellow employee Danny) would be coming up from Mooloolaba , (emphasis on the 'loo') to remove a mast on another vessel the following week and would do our steering cable job and a rig check at the same time.
So we were free to explore. The new Bundaberg Marina is sat alongside the Burnett River with good holding for anchoring on either side of the river on approach. The land was once sugar cane plantations (there are still a few to supply the local rum distillery) and I could picture a 'Blackbirder' in the offing as it prepared to anchor and disgorge the next load of stolen Vanuatans and New Caledonians to work in the fields back in the day.
The first marina was further up river at the side of the town of Bundaberg but a few years ago, in 2013 the Burnett River flooded with torrential rain from the vast inland catchment area and the marina was destroyed. We liked the close access to the open sea and didn't mind taking the courtesy bus the 11 miles in to town at 9.30 in the morning to catch a regular bus back when we were ready.
The town has lots of attractive architecture, colonial and art deco and the harsh and faceless shapes of modernism are in the minority. Unlike Noumea it was not at all hard to find pretty buildings to show you. We were dropped off at the bus stop so we would know where to catch the one back, and went straight to the Telstra shop to buy a sim card and some data over a six month plan and use Rob's phone as a hotspot. Then we crossed the road and had a coffee and next door found a hairdresser where the young lass was able to give me a trim straightaway. She's off to New York soon with her boyfriend.
Then we wandered along the main Bourbong Street and bought a few things noticing how well stocked are the shops. This clearly is a main town for residents from a big area of 'country'. Coles Supermarket, we previously used while staying at the Youth Hostel in Canberra, allowed me to tick off the food shopping list and then a little culture was called for in the Art Gallery where year 11 pupils from numerous local schools had contributed work to an exhibition which showed what talent was out there being encouraged in the next generation. I thought you might like the Osprey nest by an adult artist who knitted the birds.
A regular marina courtesy bus service ran, surprisingly, on each Sunday to the Shalom open market in the grounds of a private school, where local farmers bring their wonderful fresh fruit and vegetables. The time table and itinerary for this trip really depends on the driver and ours was Paul who had his priorities exactly right! We shortened the market trip and pulled up infront of Dan Murphy's the biggest 'off licence' you can imagine, and there is a chain of them! Paul stood beside a line on the outside wall of this massive building and raising his arm above his head, "That's the line of the 2013 flood," ooooh I thought. We needed two boxes for our purchases!
Then it was onwards to a delightful setting not far from the town centre but slightly downstream next to the Burnett River and amidst lots of shady trees, the modern fish market with attached waterside restaurant, which would be a favourite of mine if we lived there.
Friday evening was cruisers Sundowners in the little open fronted bar, The Captain's Cove and we were expecting a BBQ but didn't know the form. A few of us sat around and chatted while a wedding reception went on next door (the couple had entwined their futures in the open air under threatening skies) and thunder and sheet lightning surrounded us with ominous vengeance but not a drop of rain fell on the drought stricken and parched land.
Our new friends Marge and Matthew on 'Reality' enquired in the office the next morning and were told the meat was in the fridge and the occasion a DIY effort.
We went on board Susie and Nick's lovely motor cruiser Water Music II that evening and during the nice chat we were briefed about the Great Sandy Strait to which were heading next between Fraser Island and the mainland. Alison and Randall recommended a day tour there as the best way to see and learn about the island in a short period of time.
Our mid-crossing emergency of the broken steering cable had caused some concern to John who, with his wife Leanne runs the Down Under Rally, so I kept in touch to reassure him from the moment we knew it had happened until we left Bundy, a period of about two weeks. Pity is we never met them to thank them in person for their support, they do a good job of looking after us cruisers.
Hanging over our heads all this time was Aimee's return to do the woodwork inspection. Was there something we had missed? Were there some little borers somewhere who would drop us into the drain of financial expense? When would she call?
Our time in port gave me the opportunity to catch up on my book writing and I sent a few more chapters to Erling for his perusal, that's after Rob had read them first. So it was all productivity!
The new dipstick for the gearbox arrived and the young engineer said he often replaced them (£65 for a dip stick!) and couldn't understand why they aren't made of metal all through as they used to be instead of having a plastic pull part, I quite agree. Money I think.
Finger nails down to the quick (J) as Aimee and her friend/colleague Rebecca arrived full of vigour and emitted an air of thoroughness that was just plain worrying. Aimee, armed with torch set off opening cupboards while Rebecca did the paper work.
On our knees infront of the canned food store I held up my big jar of home-made lemon curd, "What's that?" Aimee enquired innocuously of the layer of clear gold liquid at the bottom of the jar. "I've no idea," I replied, "but I bet it's delicious." We both laughed. All was well and Zoonie passed muster with flying colours and the relief, after all the alarming stories, was enormous.
Three days later Jesse and Danny arrived with the shiny new steering cable. Our thoughts of using the old cable as a mouse to pull the new cable through did not work as the conduit it had to pass through was big enough only for one width of cable, so we hoped it could just be pushed through. Well that worked fine and Rob later greased the new cable through the grease nipples and all was good. For all we knew the old steering cable was the original and the manual suggests regular maintenance and replacement every two to five years. So Zoonie just turning thirty years old raises a few eyebrows as far as her steering cables are concerned.
It was an interesting exercise if for no other reason than the remedy at sea was not difficult. The emergency tiller is stored on an elevated shelf in the lazarette so is always accessible and rigging it couldn't be more straightforward. We were just lucky with the sea state and weather at the time. We feel we have benefitted from the experience should we ever need it again and can advise others if they are in a similar strait.
It was blowing a hoolie as Jesse hauled brave Danny aloft for the rigging check. All was well at the top of the mast. They cannot help with a new Windex as they are not available in Aussie so we will bring one back with us from the UK next time. It was the shorter inner stays that go from side-decks and fore-deck to the first spreaders (renewed in UK July 2015 before we left) that were found to have been over tightened at some stage and had started to spring their strands. You can see daylight between the loose strand on the babystay on the foredeck and the core. They could not replace the rigging at the time so we agreed to have them back on board when in their neck of the woods at Mooloolaba.
We were ready to go and with the office staff gearing up for the arrival of thirty odd boats in the Rally, our departure was not before time but we had just one more call. Marge and Matt had been to Dan Murphy's and found some summer fruits wine that they needed help in the drinking of, and that along with Marge's yummy sourdough bread and cheddar slices helped in saying our farewells.
They were there for us the next morning at 5.45am to hand us our lines; of such stuff are cruising friends made.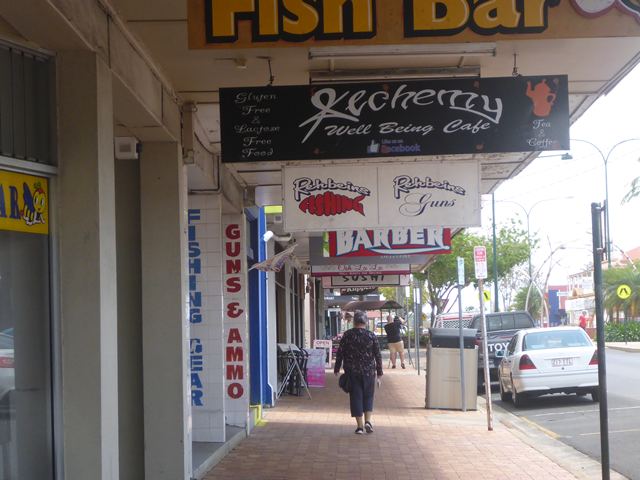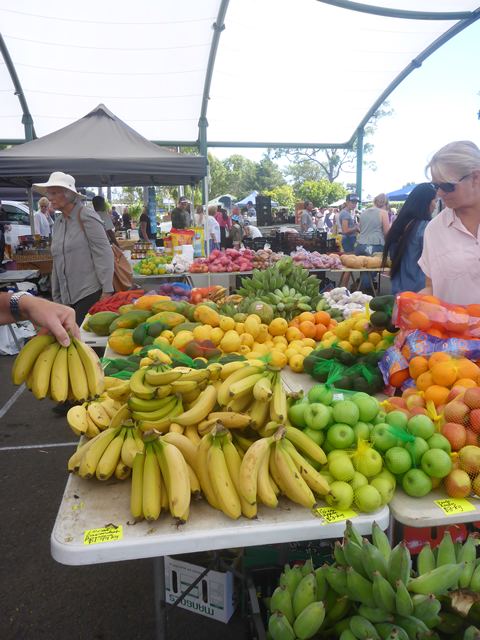 ---