Bantry House

Zoonie
Sun 12 Jun 2022 06:53
51:40.82N 09:27.62W

Bantry House – Seat of the Whites!
I really liked this old house. The successful Richard White family moved from Limerick to Whiddy Island back in 1690 and gazed over the water at Black Rock House for 75 years before it came up for sale and they were able to buy it. Originally it was a Queen Anne style building but in 1767 alterations began to make it what it is today.
Three families descended from the original Whites still live in the house and that, along with their resistance to offer the building to a big heritage institution that would renovate it beyond recognition, means it has a lovely, homely welcoming feel about it.
Richard White, grandson of the original owner, was the person who notified the British of the arrival of the French Fleet in 1796, the ill-fated French Armada, and he became 1st Earl of Bantry a year later in recognition of his service.
His son, another Richard White, became 2nd Earl of Bantry and travelled Europe collecting art works and treasures to adorn the family home, many of which are still there. The house has also served as a hospital for local residents and was the base of the 2nd Motorcycle Squadron during the WW2. A year later in 1946 it was opened to the public and has been a family run money earner since then, the profits just keeping up with the house's need for restoration.
We weren't allowed to take photos in the house but I can tell you it was worth the visit. Richard White, the 2nd Earl (I cannot get his name wrong can I!) bought most of the French tapestries, carpets and furniture from a sale of French King Louis XVI artefacts; imagine shipping all that home.
The gardens are lovingly cared for and we wandered all around them, taking in the view from the terraces and searching for the lost and wild, walled garden. We found it eventually and crept through the only restored part, the gates, to find a vast area yet to be brought back into productivity. It was so atmospheric as the fine rain, Irish Mist moistened the luscious greenery where once there were glass houses, hot houses, a potting shed, beds, a pond and so on. Back along beside the pretty stream and into the old kitchen where lunch comprised hot home-made soup and bread and a delicious cup of coffee.
Apologies, the Viking Ship should have been in the previous blog.

---
This email has been checked for viruses by Avast antivirus software.
www.avast.com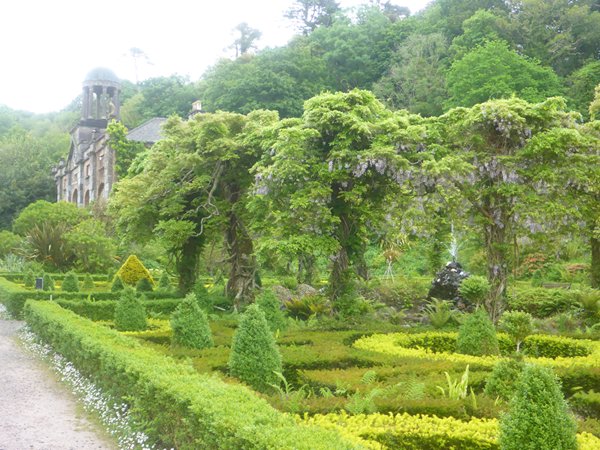 ---