A Ship of the Desert a deadly Submarine and a Remarkable Artistic Collaboration

Zoonie
Thu 7 Mar 2019 08:32
A Deadly Submarine a Ship of the Desert and
A Remarkable Artistic Collaboration
Way back sometime in the 1920s a baby estuarine salt water crocodile hatched from his egg in the Sweets Lookout Billabong on the Finnis River 55km south west of Darwin, when the heavily laden ships of the desert were still carrying their burdens with long, elegant strides up and down the length of the mother country.
From the 1970's the billabong became a popular fishing area with little boats powered by outboard motors using its waters to catch the many species of tasty fish that lived there. Our 'little' croc was now nearly a half century old and an impressive 5.1 metres long, longer than many of the boats in his billabong. He was also the boss in the area and took the threats to his sovereignty from other male crocs very seriously.
You can imagine that from underneath these little boats with their rods over the sides may look very much like other crocs with spindly legs and it is thought that the vibrations from the outboard motors make a sound similar to that of an angry male crocodile.
Sweetheart, as he was soon to become known after the billabong he lived in, was having none of this. Maybe at his age his sight and hearing were not as good as they had been so he could not distinguish between men in boats and others of his own kind. Maybe the aborigines in their bark canoes with their paddles posed no threat to him because they had always been there and he had grown up with them knowing they were not crocs. Perhaps with the arrival of outboard motors this all changed and he mistook the sound of these motor powered boats to be his rivals.
I think the latter is most likely because from 1974 he started attacking just the motors, 'the heads', (motor heads!) as he might have imagined of the other crocs. Some boats were overturned and the occupants pitched into the water but over the next few years, in all of his terrifying attacks not a single fisherman or fisherwoman was harmed.
Of course this could not go on so in 1979 he was anaesthetised ready to be secured with rope and pulled from his home to be re-located. During the process he became entangled in an underwater log and drowned. The human response was one of sorrow, he hadn't hurt them and they didn't want to hurt him. Just so he wouldn't be lost for ever it was decided to taxiderm him and put him on display in the Museum and Gallery of the Northern Territory, which is where we met.
The museum also contains a fine collection of south west Pacific sailing craft and a permanent aboriginal art display, one topic of which I thought might be of interest to you.
During our Australian travels we have often heard of the aborigines, the Yolnu people of Arnhem Land in Northern Territory to the east of Darwin. They were amongst the first to be given back their title to the lands and access to their area of country is now on their terms only. A visitor requires a pass and permission before they can do more than look up the Arnhem and Kakadu Highways that lead to their home, as we did when we passed by a couple of days later on our way to Kakadu National Park.
John Wolseley and the Yolnu elder Mulgun Wirrpanda have combined their anthropological and artistic skills and interests to create a window on Mulgun's world. The photos speak for themselves along with their captions. What intrigued me was that they meet every year to extend this wealth of artistic information about the natural world around Mulgun and so preserve history as a source of survival for the future. Who knows, maybe with the mass decline of plant and animal species the world is experiencing we may go back to using the plants around us for food instead of treating them as weeds or ignoring them altogether.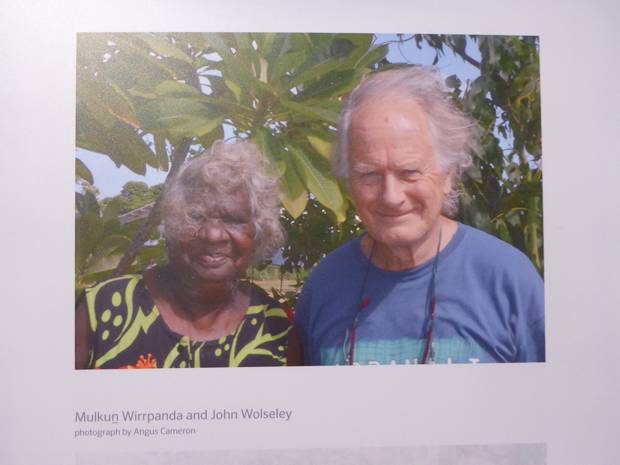 ---