Yealands Seaview Vineyard

Zoonie
Tue 4 Apr 2017 18:03
All Hail Bacchus
We had two days to spend in the area and the weather promised sun for the first and rain for the second day which would be our 'museum day'. At the ISite we found a wealth of information on wine tours by car, coach, and even bike to countless vineyards and were somewhat overwhelmed with choice. So we asked the passionate and knowledgeable lady what she would do on our wheels. "I'd spend the morning at Yealands Seaview Vineyard and have lunch at Brancott Estate."
Two interesting facts she mentioned were the famous in UK supermarkets, 'Oyster Bay' vineyard has no cellar door, wonder what they are hiding. I have just been reading the book about Peter Yealands which includes his attempted take-over of Oyster Bay Wines and it appears they had a lot to hide! Also there are no tours anywhere near fermenting vats of wine because in the last earthquake some fell over and spilled their wine. Tragic.
We sped down State Highway 1 over the Dashwood Pass towards Seddon, home of Peter Yealand's Seaview Vineyard under a sunny sky and came across an old bridge running parallel to ours across the Awatere River. It was an amazing bridge for the time it was built because it carried a canopied railway over a single track road and was built so well that if the road had been two way I think it would still have been in use today. Necessity was the mother of this invention as New Zealand opened itself up to human settlement and industry and this was an impressive innovation in its time.
A man of many hats Peter Yealand learned much from his father who was an intelligent and fearless man. Peter's motto is 'Think Boldly, Tread Lightly, and never say it can't be done.' He has certainly lived by these words and is an inspiration to many. Many of his loyal staff have been with him from the start. We bought his book simply because he is one of those rare and interesting people.
Vicky crunched along the 'White Road' around his estate, the white being partly created by the green lipped mussel shells from the farm that was his business before he went into wine. We paused at the side of the road to listen to the classical music that is relayed through speakers to serenade the vines and help them grow and produce healthy fruit and the chickens to lay big eggs. The curious chickens came across to see us, they live around the vines and eat the bugs that harm the grapes. We learned that Babydoll sheep I have mentioned before graze the base of the vines to keep them clean and they hope to increase their flock to 10,000 in the next few years.
The vines spread over 1000 hectares of sea salt swept headland and Peter's two fold intention is to produce good wines in a sustainable and energy efficient way in the world's first carboNZero Cert TM winery, located at the centre of the vineyard under an elegant sloping roof covered with more solar panels than any other single installation in NZ, over 1800 if I remember correctly.
Peter planted most of the vines himself using state of the art GPS equipment he introduced on its trial run in NZ. He also owns five vineyards in the Blenheim area of Marlborough wines but here his plans were to go beyond the local market to the global arena and for this he sensibly assembled a brains trust of experts with advice and guidance on all aspects of his plan so that he could get on with what he loves most, working on the land he cherishes. When we were there he was out on his bulldozer shaping a very steep bank for a new dam to create another wetland area that no else dared to attempt.
He plants these areas with trees and shrubs to attract a variety of birds and butterflies and visitors can picnic at them on their self-guided tour of the estate. His doors have been open to the public from day one on 08.08.08 and as we walked through them we were in a beautiful lobby clad in wood from his own sustainable forest. The smiling receptionist sat behind a vast kauri desk with up turned ends and as we entered the tasting room smiles from the bar staff welcomed us.
A bit like the Boston 'Cheers' bar we all sat around the bar in the centre so numerous parties could enjoy a tasting at the same time and share opinions. We tried six wines and one new fortified experimental wine and liked them all especially the crisp Sauvignon. We bought two bottles but way more important than that we bought the book about this amazing man Peter Yealand titled 'A Bloke for All Seasons' the capitals are mine, by Tom Percy and a great read it is proving to be.
By the time we had negotiated our way back to Blenheim we were ready for lunch. The narrow road leading to the Brancott Estate was bordered with flowering roses and we could have hired bikes and ridden around the rows of vines with a guide enjoying a tasting amongst the plants and learning how they are another environmentally sensitive team of growers. Then we could have watched a falcon display using the rare New Zealand falcon but we were time strapped and more importantly, hungry.
So we dined by the window overlooking miles and miles of vineyards spreading to the Pacific shores in a very modern glass restaurant set neatly into a small rise in the land. The food was delectable and the tartlet pastry I had just melted in the mouth, how do they do that?
What a wonderful day, filled with genuinely open and nice people, fine weather, interesting history, beautiful places and lovely wine.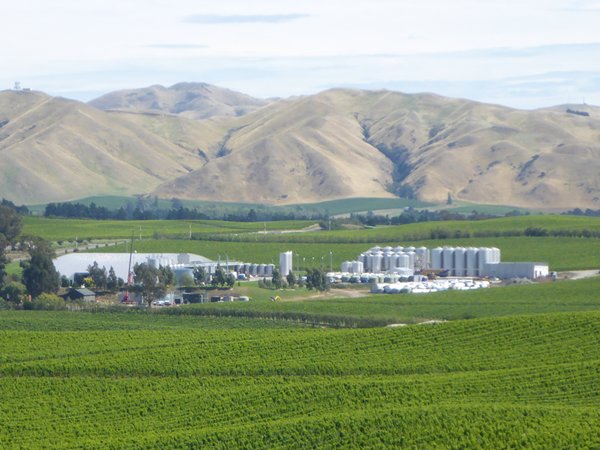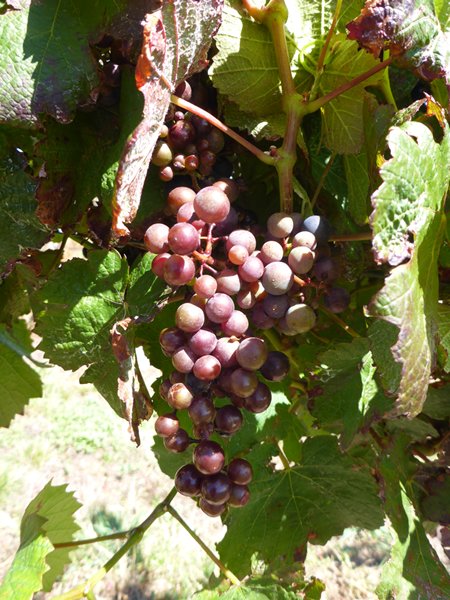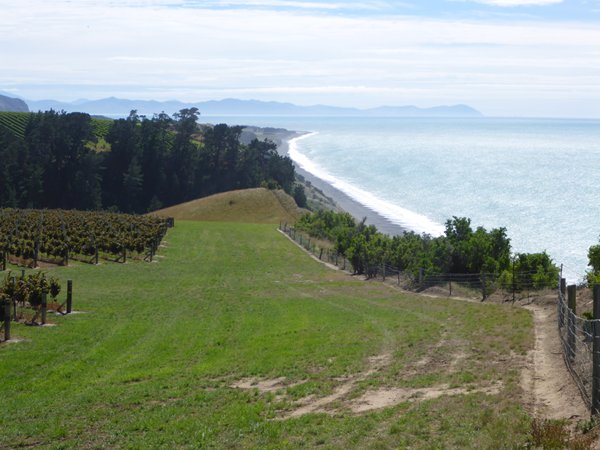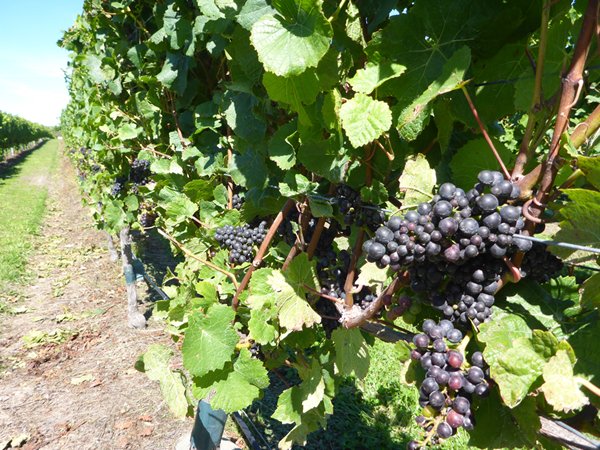 ---