2019 Aus Native and Newcomer Gardens

Zoonie
Mon 2 Dec 2019 03:30
Position updates 25:56.27S 153:09.91E
26:41.24S 153:07.4E
30:18.28S 153:08.84E
Coffs Harbour Gardens
Native and Newcomer
The smoke hanging over the hills to the west was all too visible the next morning as we made our way ashore for a wander. At the beach a teacher was unloading his Heron dinghies for a friendly potter around the harbour. They are a very popular class of family dinghy here in Aussie, especially on the south coast and it was a treat to see little Zoonie's sister ships making the most of the conditions.
Rob's IPhone showed us the way to the Aboriginal Creek Walk which needs little attention and tells stories of the first residents of the area plus medicinal and culinary plant uses. The meandering path led us to the recent botanical gardens that were suffering the same fate as those in Brisbane, the nature of their high cost maintenance meant they were easy targets for cutbacks too. A different government is all it takes. The little buses, so useful to the young, old and infirm were not running, the café was closed. Rather than maintain the once popular orchid and other exotics plants' greenhouses, they have been demolished with the promise of rebuilding, that was a few years ago.
We were sitting in the rose garden enjoying the atmosphere when a rotund, Bunnings DIY superstore straw hatted male decided we needed to hear his news. In brief, 5 wives, 6 children, knew more about plants than the aborigines and blew up a school, or that was what it sounded like. Rob reckoned he'd served time because of his home-made tattoos, and neither of us would have been surprised anyway! Maybe it's because we're English!
Yet again we were reminded of the strong relationship Aussie has with Japan, at the least on a cultural level. The Creek walk was delightful in that it explored the natural world as it lay and presented itself whereas the newcomer gardens relied on changing and transforming the countryside to create their appeal and tell their story. It was good to see the influence of the native inhabitants, preserving their story for posterity and being taught in local schools.
We completed our circuit back to Zoonie via the main road and had a nice beer at the Yacht Club before supper at Latitude 30, seated on the balcony overlooking the water Zoonie had sped across the night before.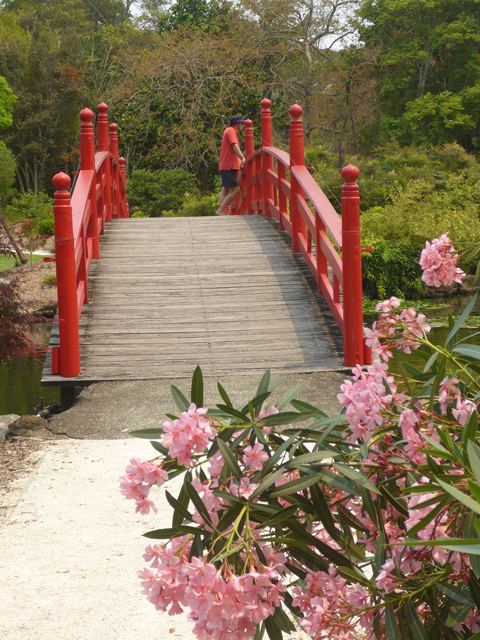 ---