Stretching our legs around Stavanger

Zoonie
Thu 25 Apr 2019 07:32
Stretching our legs around Stavanger
After a tasty lunch of carrot and potato soup with Irene and Svein in their green home overlooking Harastadvika, the tiny marina in which Lovinda Too is safely moored with Stavanger Fjord beyond we decided a long walk through the countryside and around the coast of where they live was called for.
Snug low lying farmhouses hugged the hillsides against the prevailing south west winds and storms and in one we met an old school friend of Svein's, a farmer who showed us his llamas and new born lambs. We climbed up a steep hill past the military centre where Svein had served for some years and out onto a promontory from which we could view the deceptively peaceful coastline and North Sea beyond and to our right the waters of the North Way from which came the country's name.
Svein has lived in Stavanger from when he was a small boy having arrived in this world at a lighthouse in the Lofoten Islands where his father was the keeper. So the sea is in his blood and his circumnavigation with Irene and in parts their friend Hans, who celebrated his birthday on Zoonie back in May 2017 if you remember, came as a natural progression as soon as they had the time to make waves.
They sailed from Whangarei in May 2017 and arrived home in the first half of 2018, taking residence back in the home they built 18 years ago a few months later. So they have travelled the route we are looking forward to and Rob and I wanted to hear all about their experiences, especially the Indian Ocean. Many cruisers sell their boats in NZ or Australia or have them shipped home so as to avoid the rigours of the Indian Ocean which is a long fetch of water over which the wind and waves build to giant proportions and Svein explained why.
The wind from behind is one desirable thing but Lovinda Too battled the waves that came from the southern ocean on the port (left) bow. From Cocos Keeling to Mauritius we will experience some lively conditions but our past experience and Zoonie's sea kindly nature give us confidence.
For now we were enjoying their company and sharing their success and seeing how they are picking up their new life back home. With Lovinda Too resting under her covers just a few metres away, sailing will definitely be a part of it.
It is not only New Zealanders who are good at picking up their wooden homes and transporting them to new locations. In the old part of Stavanger are the workers cottages, homes of the men and women who worked in the herring industry, fishing for herring and smoking and canning the catches in the restored factory. Many had been farmers who came to the city to find work bringing their houses with them. As industry changed to shipping, ship building and commerce the future of the cottages seemed to be demolition to make way for modern high rise blocks until one architect impressed on the powers that be the need to preserve the white painted, red-roofed cottages as part of the city's history.
Today they are all lived in and lovingly restored and preserved, taking their place in modern Stavanger alongside all the subsequent new buildings.
Stavanger has Catholic origins and was a group of islets with waterways around them which were gradually filled in to unite the buildings with roads and create a workable city centre, a little like Venice. The cathedral is part of the city park (Byparken) and sits alongside a bird lake complete with fountain. The British sculptor Anthony Gormley has been here and planted some of his self-portrait bronze statues as part of the city scene. The last time I hugged one was on Crosby Beach near Liverpool.
All around this welcoming heart are small courtyards of shops, restaurants, bars (not for us at £10 per pint) and residences and behind, the beating heart of business in modern office blocks. Despite their long and bitter winters al fresco socialising is encouraged with outdoor heaters and blankets and some of the arcades have been roofed with glass and polycarbonate so they are bright and yet warm inside. From the opposite side of the harbour we climbed to the fire tower (essential in a town built of wood and providing a good view of the harbour and beyond) and looked across to the workers cottages and the empty wharves which are host to frequent view blocking cruise liners in the summer. We were lucky and had the place to ourselves.
In the evening after a yummy supper we viewed our friends' photos of Vanuatu and New Caledonia to see what we have in store this year and it's all good.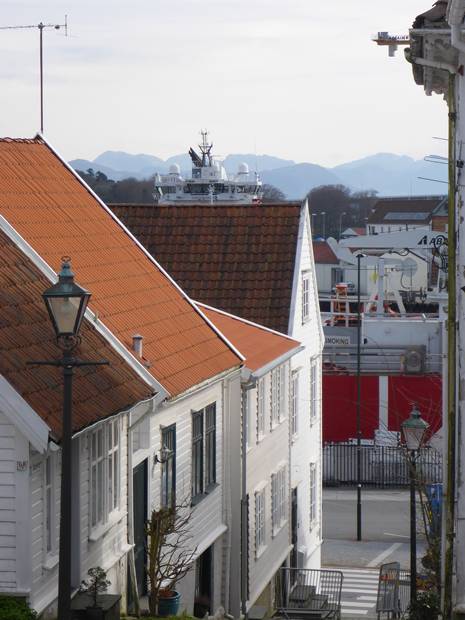 ---