Lazy Seals

Zoonie
Fri 12 Feb 2021 04:01
Lazy Seals
We haven't been to the Life Grand Café yet, although we are slowly working our way through the hostelries on the Waterfront; but we have witnessed the seals up close and friendly.
I remember the one that lived for a while on the pontoons in Whangarei. It was aggressive, causing boat owners whose vessels were beyond the seal and the shore to inflate their dinghies if they wanted to go walkabout. This one seal saw off most of the ducks in Whangarei Town Basin too. But on the long walk around the marina to the facilities many of the fur seals here relax on the finger pontoons their heads using the plastic covered foam fenders as pillows; well wouldn't you.
The way they hang in the water on their backs with their heads flopped downwards, fast asleep, or lie on their special platform with their rear end over the side into the water at a right angle to their upper body is comical.
During the might they grumble to eachother, or one will start a gravelly laugh like an old man with emphysema. Sometimes they will come alongside and tap tit bits crustaceans off Zoonie's hull, or emerge from a dive with a splash just to make one jump. They can be as languid and elegant in the water as flowing water itself, arching and rolling without even creating bubbles; but also shocking, when we first saw one snatch a sitting cormorant from underneath, shake it violently, just as orcas shake them when they catch them in the surf near a beach. Within seconds it had eaten almost all of the pitiful bird, leaving just a few bloody pieces in the water.
Often we see the up turned remains of cormorants with just one bite taken out of them. Every day their sad remains are collected and disposed of by the marina workboat. That is part of the problem here. The seals are successful because of the abundant food supply but they have no natural predator in the marina except man; so they are numerous and growing in numbers, enjoying the easy life.
You might well wonder about the last photo. It is of an upstairs window at the aquarium and I took it from Zoonie's cockpit. It is the penguin floor and there are two 'natural' penguin habitats in there. The one you see here from our vantage point contains the African Jackass Penguins whom we often see looking out of the window at the wider world. In between us from a previous photo the listing ship is the SAS Somerset, Warren from our rigging company tells us was built in 1941 to lay anti-submarine nets for coastal defence in WW2. Not a cable layer as I had thought, but at least its purpose was laying something.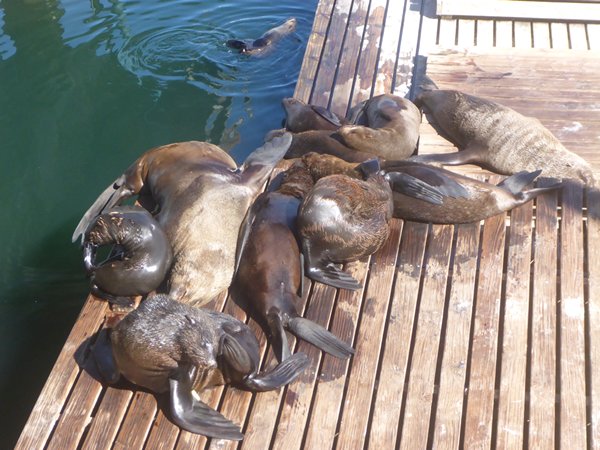 ---