2019 Tas Hobart First Three Days

Zoonie
Thu 2 Jan 2020 21:56
Zoonie Current Position 42:49.73S 147:18.17E
Swings and Roundabouts in Hobart
It was just eight days before Christmas, would we get anyone on board to help with Zoonie's repairs, to the fridge, the autopilot, the cooker, the heater, the wave generator and the hot water tank nut that had cracked? Would we get any spare parts this close to the big shut down? We were amazed with what Hobart and our suppliers as far away as Great Britain came up with.
Martin arrived with his gorgeous pure kelpie, Zoe. Martin is a marine electrician who came at first to look at the fridge while I chatted with his dog. He concluded the fridge would benefit from a new thermostat and perhaps even a new control unit. So Rob ordered them and they arrived at the marina two days later and he was able to fit them even before we went north for the celebrations. Rob then asked him if he knew anything about autohelms and over the next hour he used his magic meters to trace the fault to the motor on the old ram which was eating electricity but not using it as it should. A new ram was ordered (£1550) and that was the 'swing' that arrived after only two days from the mainland to a local dealership just in time for us to wrap it up and give it to eachother for Christmas because it felt better than just buying it. The most generous present we have ever given eachother by far!
That evening, daytime in UK, Rob called his old friend Teresa at Marlec and chatted first to an engineer who agreed the windcharger control unit misbehaved badly when it started to smoke and melt instead of just turning off in the strong winds. Teresa said she would contact her agent in Brisbane and see if he had one he could send to us all free of charge. That was the 'roundabout'. Again it arrived before our Christmas exodus and Rob promptly fitted it. See how 'scary' the old one became!
Juan arrived from a pretty little town (we discovered later) called Cygnet, just south of Hobart, to fit the Ebespacher air heater we had packaged up and sent to them while we were in Mooloolaba if you remember. He was perplexed because it still wasn't working right through to actually producing heat. They had spent many hours working on our monster of a heater, the biggest they had ever seen. They bought a new thermostat for it as we knew our old one didn't work and when we had used the heater it would heat up till our toes curled and we had to turn it off. Not an undesirable characteristic in an English winter!
So all he could do was re-install it and try it. Again it hummed and whirred and checked the surrounding air as it always does, confirmed the fuel quality and supply was right but the familiar little click of the fuel pump just would turn on and start to fuel the heater. Poor Juan, all that way and after all their combined efforts he had to go away disappointed.
But not for long.
The very next morning we just thought we'd give it a final try. Hummm, whirr….click,click and a few seconds later we had heat coming through the three big vents that send it into the three cabins from Zoonie's right hand side. Whoooo, as soon as was respectable we phoned Nick in their office and told him the news. Well he was as over the moon as the cow and I just wished I could see his and Juan's faces.
We went on a couple of jaunts in Bron's daughter's car that she kindly loaned to us over the period. One was to find plumbing bits so Rob could replace the plastic fitting that holds the pipe onto the hot water tank he had spotted was cracked. A big supplier couldn't help, even with ideas, which was surprising as they were recommended to us but on the way we had spotted 20th Century Plumbing tucked behind a residential house. There Rob met Mark who had just finished for the day and was most understanding that what a couple of mariners do not want when they are at sea is a boat full with hot water, even though it would make a grand bathtub. So he followed us back to Zoonie, took a look and some measurements and disappeared back to the plumbing supplier that he always uses, the same one that couldn't help us (?) and returned a few minutes later with the right parts and sorted the job, bless him.
That leaves just young Nial who came to look at the wave generator and found one of the three wires that goes into the control box in our cabin (you know the one Rob made the little grey hat for so our cabin would not be lit up all night like Portland Lighthouse) was not pressed fully home, so he pressed it fully home and we would have to wait until we next took Zoonie out before we could try it. Or would we?
A quick phone call to Greg in Jilliby and he suggested Rob used an allan key in his drill to poke it in to the hole in the centre of the prop on the Watt&sea and turn it that way, where it would normally be turned by the water as we sail along, while I watched the light on the top of the control unit. Would the red flashes start again telling us that something was wrong? No they didn't, the light just stayed purple as it should if it is producing that invisible gold, free electricity.
With all that work done and numerous blogs written it was time for some fun. Hobart City here we come.
We were drawn, as always to the waterfront at first where the first mate from the yellow and white square rigger Windeward Bound said we might come across them later in the west and then the lady in the Information Office suggested we explore the summit of Mt Wellington on the day as it might be closed under the total fire ban rules the next day. But not before a swift beer in the friendly, old style New Sydney pub, a rare experience we have found in Aussie which prefers the utilitarian, sports/pokemon bars that have as much cosiness as a hospital waiting room.
Apart from numerous other humans taking a look and taking photos of themselves taking a look we were lucky enough to see two long coated wallabies just outside the viewing room windows, busily eating something in the prickly, arid looking bushes. In one photo you can see the marina set just off the Derwent River where Zoonie is moored. Looking westwards away from Hobart you can see the country is mountainous and the whole vast area of south west Tasmania is virtually uninhabited. That is where we will be heading next in Zoonie, to Bathurst Harbour after our first encounter with the mighty Southern Ocean along the south coast.
But first the significant matter of Christmas in George Town to the north and New Year here in Hobart with our friends Ken and Bron.
Apologies for some of the photos in the last blog being on their side, sometimes the system gets the better of me despite my best efforts!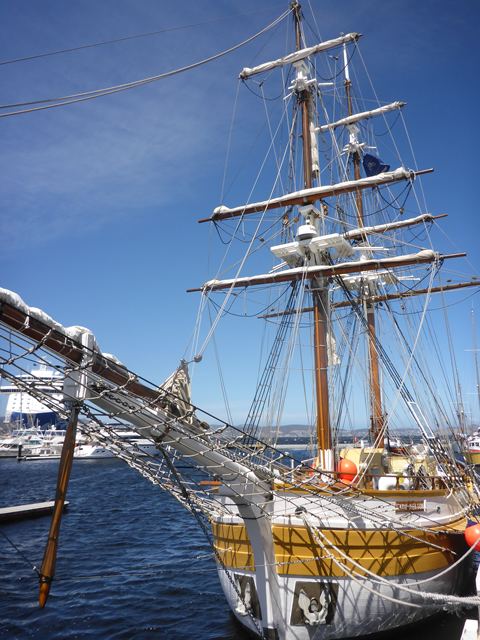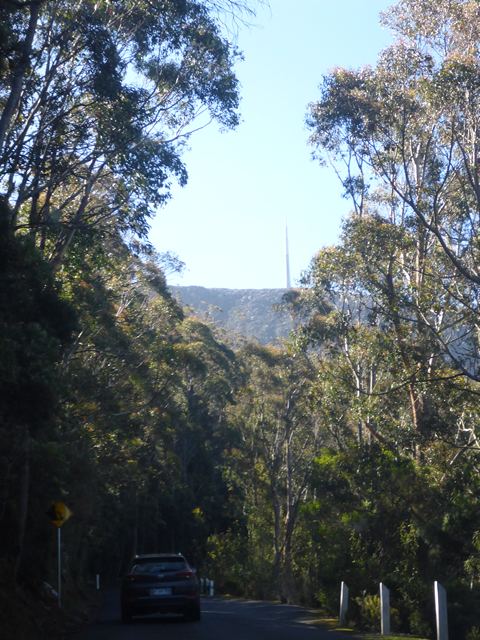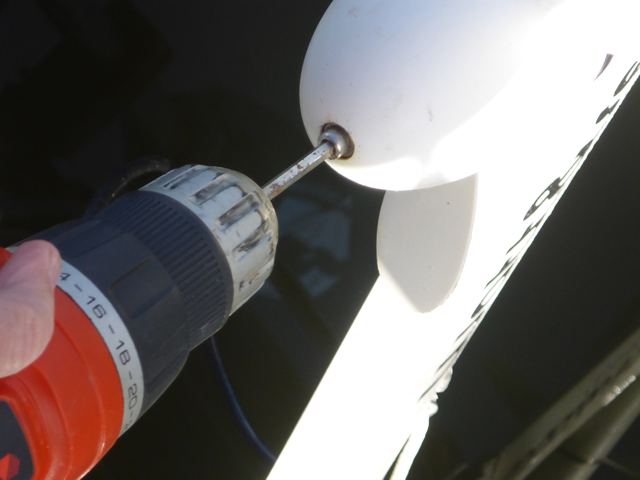 ---