Lions roar escape to Auckland and a conspiracy with Bear

Zoonie
Thu 22 Jun 2017 01:18
We could do with more of the rain we are enduring at present on Saturday evening to favour the Lions in their first test match against the NZ All Blacks. Tuesday night you may have watched their decisive victory over the Hampton Chiefs 34-6. As our defence strengthened the Chiefs fell about with frustration which showed as the game progressed.
Some negative NZ behaviour was reported when NZ supporters in their cars impeded the progress of the Lions coach to the stadium so they arrived only 60 minutes before kickoff.
But I suppose that is just human nature. To balance that it was nice to read on the plaque at the top of One Tree Hill in Auckland the reverence and respect that motivated Sir John Logan Campbell to erect his obelisk to the achievements and character of the Great Maori People.
Today such respect has been dissolved by the western greed for land, property and wealth. Andrea and Mark have for years watched areas of Auckland that were historically occupied by a wide diversity of cultures become the over-priced enclaves of the nouveau riche mainly descendants of European immigrants. Where large families lived, many of them Maori, the price of property has rocketed forcing their youngsters to leave Auckland to find more affordable homes. The parents then sell up to go and join them and their homes are bought by Yuppies.
This is just one of the many aspects of NZ life that reflects the western characteristic of environmental exploitation and greed in comparison to the Maori concept of land guardianship and respect for nature.
There are no photos of what must be fabulous views from the top of One Tree Hill because on the day we were there it sat on a cushion of fog. The one tree was chopped down by an angry Maori a few years ago and has been replaced by a number of saplings.
From the sheep dotted haven of One Tree Mark drove us to the Tasman coast and Bethells Beach for a warm walk amongst happy dogs frolicking off their leads and the black dots of surfers in Tasman's white lace roaring surf. We picnicked on salad, rolls and wine in warm sunshine. This is NZ in wintertime and it is very warm most of the time.
While I was walking Bear the other day we peeped in through the window at the Town Basin Marina and saw an envelope in the 'Z' pigeon hole post pox. Can only be for us I thought. Looking at the back I saw on the envelope, 'For the 18th' and realised it was a special card for Rob. I hid it in my bag and handed it over on the Sunday morning before the day got underway. Perfect timing for Father's Day on Charly's part.
Andrea planned a two pronged attack on Sunday as well. First we caught a ferry to Waiheke Island. Known as the jewel of the Hauraki Gulf the island is a haven of select vineyards, olive groves and fine beaches and is now sufficiently built up to be referred to as another suburb of Auckland. Fortunately we didn't see that bit. We climbed the short walk through pleasant woodland, restored by loyal volunteers after the ravages of de-forestation and over grazing, to the Cable Bay Cellar door. Andrea has wanted to eat at this exclusive and popular restaurant for a long while and by turning up just before midday we were shown to one of the best tables, with a fabulous view, without needing to pre-book.
The food was pretty special too. We shared a smorgasbord of deli meats, dips and cheeses and then three of us had roasted haloumi with mixed fresh herbs on a bed of almost raw beetroot and capers while Rob tucked in to grilled tail on prawns in a sour cream and cucumber sauce on a bed of salsa. One of the waiters busied himself raising the plastic screens when the sun came out and the picture shows him closing them again as the chill of shade permeated the restaurant.
Back to downtown Auckland (The City of Sails) we wandered through the Wynyard Quarter of the North Wharf where giant mooring bollards and modern yacht moorings are testament to the city's ongoing maritime connections. In the photo all the classic restored yachts shown were built in NZ and they are all made of kauri.
That evening we played a board game that Andrea and Mark invented after their safari in Africa called 'Game Drive' the ultimate big 5 safari challenge. It was really funny and entertaining and they kindly gave us two of the games, one to have on board and the other to take home and see if we might drum up some business for them.
It was a lovely weekend exploring our new friendship with them that hopefully will endure the passing of time and we left with reluctance on Monday as they had gone to work and we had to get back for Alex to get on board and finish fitting the prop seal and engine wiring loom.
On the journey Rob missed an 80kmph sign and was pulled over by a traffic policeman. Despite what was obviously a genuine mistake, (he overtook a vehicle at 98kmph thinking the limit was still 100kmph) this over zealous cop questioned Rob over his visitor status, UK licence, the fact Vicky's WOF had expired and even breathalysed him. After all that and our explanation that the required repairs to Vicky are underway he should have gathered we are law abiding visitors who slipped up, but no, $120 and two points on Rob's NZ driving record later he has left us with a negative opinion of how traffic cops like to spend their time. Harsh and unnecessary I thought.
A happy event back on board helped. Alex is a keen free dive spear fisherman and shot a 20kg Kingfish a few metres down at the weekend. His friends, family, neighbours and we all benefitted from the catch. I put two fat smoked fillets in the fridge and they lasted us four days, bless him. The pale pink flesh is sweet and tasty.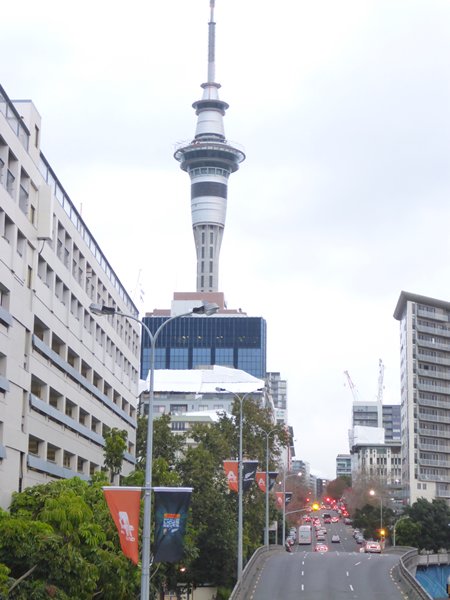 ---