Limestone Island

Zoonie
Tue 20 Jun 2017 02:23
Limestone Island, Matakohe
The red hulled Waipapa day trip boat is moored up near the canopy bridge and bore witness to Zoonie's near disaster being situated just metres away. She takes folks down the river on a variety of trips and the one we chose was to Limestone Island (Matakohe) in the Whangarei River on a beautiful Sunday in the winter season with only a handful of other punters and in the company of our good friends Gail and Tony. It happened to be the day the white van drove into all those innocent people on London Bridge before the occupants committed unspeakable atrocities on their victims.
Whangarei Heads, the high and mighty crags to the right of the river entrance we passed on our arrival all those months ago, were in the deep purple distance on that day. We moored up close to the old concrete wharf where the 1860-1916 cement produced in the nearby quarry was loaded on to ships for export.
The early Maori settlers turned the fertile northern slopes into Kumara (sweet potato) fields which can still be seen by virtue of their topography and lack of trees. The Pakeha or European settlers arrived in the early 1830's to process flax, build boats and produce cement and at one time there were 200 people living, working, marrying, making families and dying on the tiny 40 hectare island.
Today pretty little fantails flit around us as if showing off the heritage of their home. A few sheep graze and hop in and out of the doorless boardinghouse looking like appropriate residents standing at the open doors.
Volunteers assist the Friends of Matakohe Limestone Island Society to re-establish the ancient ecology of the island and North Island Kiwi, skinks and geckos now make the island their home.
We scrambled up smooth, well-worn paths behind shipwreck bay where the rusting skeletons of the Tiri and Victoria are strewn over the pebbles. Down past the Managers House, a perfect concrete shell of a once seminal home, to the Old Quarry Site. Back along the Ridgetrack we had fine views over the old Kumara Gardens and a neat little anchorage which we might use at a later date. Rangers are present on the island, keeping an eye on things.
We only had just over an hour to explore and planned our next visit, hopefully with Gail and Tony and Zoonie sitting happily at anchor.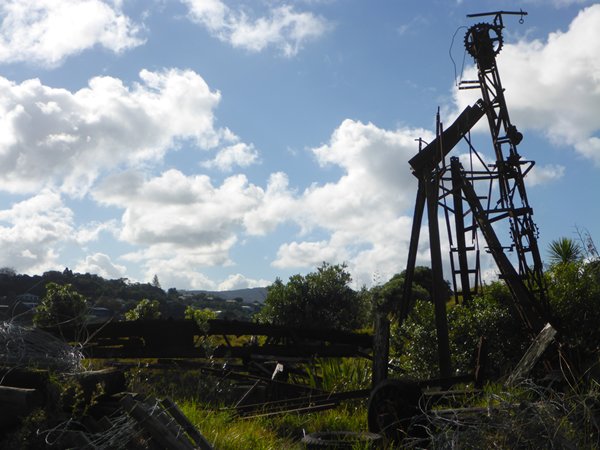 ---