Our tour withTaiyab

Zoonie
Thu 19 Jul 2018 19:28
Taiyab takes us on a Tour
Taiyab is pictured in number 979 and I think you may agree he has neither the looks nor physique of a father of three mature sons and I told him that. He learned to drive only four years ago and that skill combined with buying a 5 seater pickup truck (at nearly twice the cost as in New Zealand) has transformed his life. Instead of being employed and subject to wages and hours of work dictated by others he is now his own boss.
In the past few years he explained that vehicle ownership has rocketed bringing all the usual advantages and disadvantages, remember our queue at the sugar mill!
The first stop for our small group of Alison, Randall, Rob and me was outside Mum's Kitchen opposite the bus station and market hub, to collect four vegetarian curry wraps for our lunch. Then with the windows wide open we sped a few miles along the Cross Island Road until we reached a little red soil track that led down a steep valley towards the Savusavu Bay shore.
All the villages we have so far seen are kept pristine clean and are clearly loved by their regular daytime inhabitants. This one, which may have been Thorolo, was no exception. Once the children and workers have left the elders and young mums with their babes pursue their daily round.
The latter were sitting on large woven pandanas mats in groups under vast shady canopies, some chatting others making craft items ready for selling from the 'shop', another well shaded area of communal living.
I shall call her Maya as none of us asked her name and it suits her. Maya is a single mum and she is paid a little by the village for hosting visitors. We walked along clean concrete paths over soil terrain covered in a neat, flat broad-leafed 'grass'. With the recent rains had we not kept to the path the area would have become a muddy quagmire.
Maya explained that part of the communal living culture meant that if one villager was short of food then all they had to do was visit a neighbour who would provide for them. This is typical in indigenous cultures.
Maya then entered a tiny little open walled hut and very gently tapped a hollowed length of log with two thick sticks. It made a resonant sound that when used in earnest, three times on every Sunday, was the villagers call to prayer in the church.
A little further on is their creek which enters the bay a few metres away. Floating around a vast shady tree were the bamboo rafts the men used when they went fishing at night. The fish are smoked in crinkly tin smoke houses that hug one outside corner of each hut. Most of their food is home grown and their only major purchase outside the village is electricity, which Maya enjoyed so she could light her hut in the evening.
On our way back to the pickup we took off our shoes to enter the handicraft 'gazebo' where young ladies sat cross legged behind their jewellery, fans, bowls and matts. One masi matt took my attention because it reminded me of similar versions we had seen in Tonga. The bark of a tree is crushed and then crossed over itself and pummelled into a tight weave until a paper like area is produced ready for decorating with their home-made choice of mango stencils.
I bought one for $20fj from a young mum whose daughter Rosie sat on her lap and had been sucking mum's milk until we turned up. The atmosphere in the village was so ordered and peaceful and the women's harmonious lives in each other's company was slightly enviable.
Taiyab then drove us to a clearing on the other side of the track and we walked the short distance to the waterfall passing plants with fuchsia coloured leaves and a healthy green leafed plant we were told was the Kava plant. The root is harvested and laid to sun dry on crinkly tin before being ground into the powder that make the drink I have mentioned.
The rainforest here at these lower levels is more open and palm oriented than higher up in the hills. Up there one can take treks for a number of hours which are strenuous, steep and very slippery after rain, so we stayed on what we knew we could manage.
The fall water was cool bliss and the bottom of the pool was smooth pebbles. Taiyab did not swim as it was too cold for him, "I will join you in the hot pool," he said as he sat on the wooden form guarding our lunches and the box of sliced coconut and dates he had brought for our snack.
Soon a large group arrived with children whose verbal enjoyment gave us our reason to leave. We'd had our fun in this tranquil spot.
Refreshed and nourished we drove a few kilometres further until an escaped steer slowed our progress as it ran down our side of the road. As we approached it dipped its head toro style ready for the charge, which with his healthy horns could have seriously damaged Taiyab's pride and joy, so he spun the wheel and nipped past smartly.
A local and his dog came to say 'bula' before strolling off into the jungle to chop something for supper with his machete while we prepared for our hot pool bath. It was hot too and areas of the soft weed covered bottom were really really hot. Alison impressed us all by walking the entire length of a fallen palm that lay on the surface right across one side. Dirty Dancing Fiji style.
Today, the 20th July 2018, we will leave this lovely place and anchor for just one night in the Jean-Michel Cousteau anchorage before setting off eastwards for some cruising. I'd like to say more about Savusavu but really the next best thing if you are interested is for you to visit!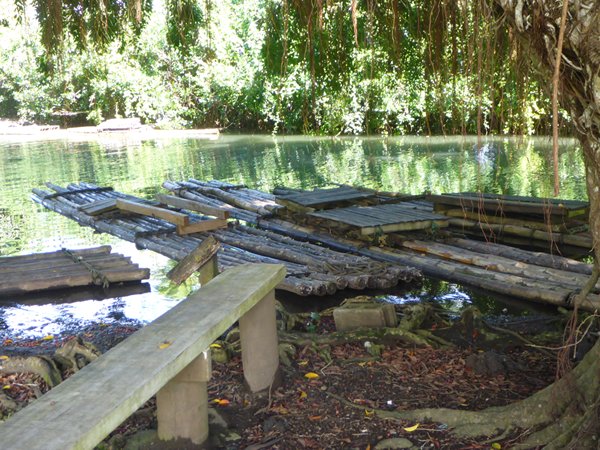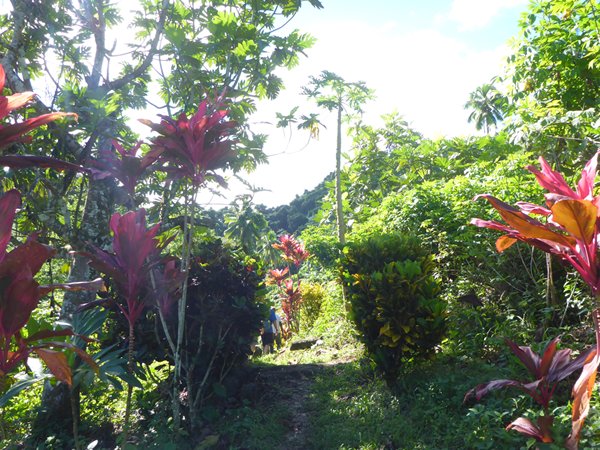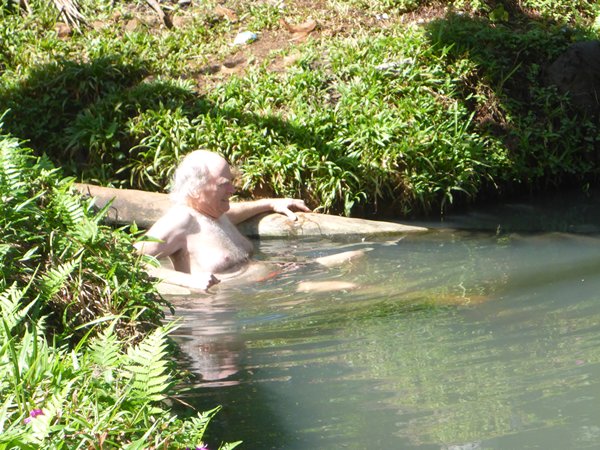 ---