The fifth and final blog on our tour of Faial

Zoonie
Mon 31 May 2021 14:04
I was going to call this blog, 'Oh deer, our tour with Leandro is coming to an end' but I thought that would be just too corny!
The photos I took within the Parque Florestal do Capelo, a much loved and well tended area that has been a favourite picnic and relaxation haunt for locals and visitors alike for many decades.
Man made grottos and picnic shelters created from the local volcanic rock make the area look as if the ground formed the structures just as it provides the raw materials. We walked on and I wondered where Leandro was taking us when we emerged in front of a paddock which was home to an extended family of fallow deer, some still in the making judging by the broad tummies of two does. We fed them on a non endemic weed which despite its infamy was relished by the pretty and healthy deer as they munched the succulent stems with relish. They looked very healthy with their shiny coats and long eyelashes and were quite contented.
Along with the deer there were lots of play things for children and the park was full with secret areas ideal for hide and seek. How our grandchildren would love this place.
One more stop near Horta was the rock and tunnel just like our own Durdle Door in Dorset, a reminder of home.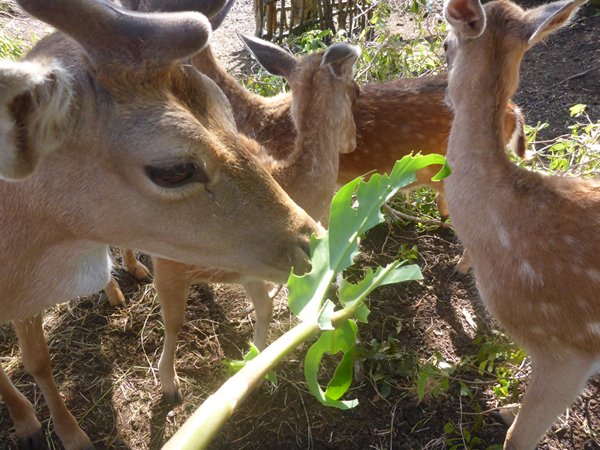 ---