Oakham Through Darcys Eyes

Zoonie
Thu 7 Dec 2017 15:43
Oakham in Rutland
Through Darcy's Eyes
"I know why you are looking at me like that boy, just a minute." I really like Sid, he understands me. I also like the smell in his shop. He has lots of men's shoes on shelves and they make my mouth water, "Here you go, gently now." I would only ever be gentle in taking the beefy chew from his hand as he holds it over the counter to me, I've been told I am a gentleman. I had come along to Sid's with Rob and Barb because she needed to have her boots resoled for their trip to London.
Just along Gaol Street, across the High Street and up a ways along Church Street we walk into Fords of Oakham, (the family's department store) one of my homes from home where I used to spend many happy hours in the office snacking on sandwiches that Tracey and Ingrid had kindly brought in for me and left for me to collect from their bags (!)
I had a friend then called Toby and we would play and snooze together as the others tapped on machines and talked on the phone. I haven't seen Toby for ages and he is no longer with Rob and Barb when they visit. I often think of him.
I am attached to Barb, and Rob is with us and we are making our way to the park for something to do with nuts. They start to rummage amongst the leaves and come across little round things with nasty sharp prickles on them. So Rob kindly ties my lead to the rail so I can sit comfortably on the smooth pavement and watch things.
They fill small bags, I believe they are the ones that are used to clear up after me, and then we walk on and I suspect we are on our way to see granny. I like her too because she always has something tasty for me and she leaves things around to entertain me like her pile of dusters on a low shelf in the kitchen.
While they are busy chatting I slip away, choose my prey and march back to where they are sitting. That usually rouses one of them to chase me into the kitchen where we play 'catch me if you can' around the round kitchen table. They haven't managed to get my prey out of my mouth yet but I always fall for being offered a treat when I have to drop what is in my mouth so I can eat the treat!!
Time to wander back home past the road that we used to take to Rob, Barb and Toby's home. Charly, my gorgeous mistress, used to drop me off there early in the morning so she could go on to spend the day talking to a lot of children. I would slip through the open doorway and run upstairs where Toby was ready with a warm welcoming kiss and then we'd go wild around the upstairs while Rob and Barb showered and dressed.
"Darcy where's my shoe," was a cry that often came my way,
"It's probably in his bed Rob" would come Barb's soothing response.
Just like Sid I've always had a thing about shoes and all my friends understand now that I will take any available shoe to my bed, or just leave it somewhere to find later. I am better at finding it than some folk but as I don't harm them everyone who knows me now knows where to find their shoe too. At least I don't smoke!
Toby and I didn't stick together much on walks though as we both had different ideas of what we liked to do. Toby quickly became a liver and white spec in the distance putting up any bird he came across. I could see the big black birds were teasing him, dropping down just infront of him and making him chase them just for fun. For me the fun was finding the biggest, fattest, longest stick possible and running past people just that little bit too close to test the reaction. I used to like running after the sticks if they were thrown for me but Toby never could see the point of that.
However one aspect of walking we shared was WATER. The stinkier and muddier the better. There is a long, straight pond where we used to walk and Toby would lower himself so carefully into the water, do a circuit and then climb out again, cool and soaked. For me the dramatic element was much more fun, a big splash that hopefully would reach everyone. The other day Barb had me out for a walk up Manor Lane where there are wide grass verges, not many moving boxes with windows and a really dirty, big, muddy puddle that smells wonderful.
I leaped into it as I always do because I love the reactions it causes, "Darcy you mucky pup!" Pup indeed, I'll show her 'pup', so I started from that puddle like a racehorse from the starting gate and sent rather a lot of mud and water up behind me. Well if Barb hadn't been quite so close she would have escaped, anyway she didn't seem too bothered, nice hanky by the way.
Have you noticed the strange goings on lately? Lights over the roads, rustling paper, lots of happy people in the house but strangest of all, the appearance of instant trees. Not only on the pavements but even more oddly in OUR HOUSE. It happens every so often and Charly tells me one of the trees is for ME! Well I know from times past the two forbidden 'P's. First I must not Play with the tree or any of the things hanging from it and the second 'P' is..….. well I am far too mature for that anyway.
I think instead I will just collect one of my soft friends from my box, retire to my bed and have a nice snooze until Charly and Tom come home. Happy Christmas!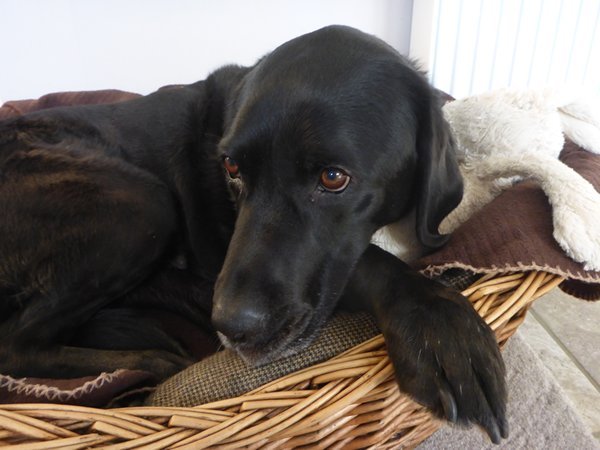 ---