Luca a little cat with a big heart

Zoonie
Tue 26 Sep 2017 04:51
A Little about Luca.
In my last blog 'Beyond the Itch' I included some photos of Luca, a cat with a difference and then forgot to write about him. He belongs to Andrea and Mark, with whom I stayed while in Auckland. I am not generally a 'cat' person being put off by their self-sufficiency and independence but Luca is different.
First he had the sense to choose Andrea and Mark as his life companions over the not very intelligent and indifferent couple he previously lived with just up the road.
Secondly he welcomes and remembers people he likes. Just like my brothers ginger tom cat 'Max', who decades ago would remember me when I visited Robin's farm in Devon even though I might have been away for over a year. As I climbed out of the car and he would slink towards me and wrap himself around my legs for a cuddle.
Thirdly Luca knows when a person is not quite right, which was a characteristic of my golden Labrador, Odin. Odin's orange eyes would look into mine with understanding and care as he leaned against me while I nursed a broken heart, yet again.
Luca stayed around me when I was alone in the house and would talk to me as soon as I returned from the hospital, "Hi Luca, how are you?" "Miaow, miaow?" cool, "I'm fine thanks." He could have gone up to his den and snoozed towards Andrea and Marks' return, but he chose to stay with me. I like Luca, he is my kind of cat.
We're on the road again.
Last Friday I pulled back the curtains for the last time in our hotel room after a lovely three week stay which saw Rob back on the road to good health.
I still hold the car keys so I suggested while we still own the car we should have a look at the north west coast, the giant Kauris in Waipoua Forest and Hokianga Harbour and as usual we encountered a lot more than we expected.
Still a stronghold of Maori homesteads who run the tourism around the Kai Iwi Lakes (Iwi is the generic term for Maori tribes) and in the Waipoua Forest we looked forward to exploring.
I wanted to stay in an old building, preferably a restored boarding house to get the feel of the past and Anne was pleased to oblige by booking us a room in her Commercial Hotel in Dargaville. More than one person had told us there is not a lot to do at Dargaville and the value of a visit there is more historical than contemporary.
We were mindful of the present fuel situation in New Zealand but with Vicky's tank being filled up before the present issue we were happy we would have enough, I enjoy driving economically anyway, off gas downhill, early light braking etc. A couple of weeks ago the main fuel pipeline from Marsden Refinery to Auckland, including the airport, ruptured causing an initial shortage of fuel with many flight cancellations.
Next the fuel was transported by road and sea to Auckland and now the pipeline is repaired and working to 80% capacity while the authorities are trying to track down the owner of the land on which the pipeline broke. It seems he may be unaware of all this as his is a lifestyle property and he lives elsewhere. Apparently a digger damaged the pipeline a while ago while uprooting bog kauri (possibly illegally) and corrosion set in over time to cause the final break.
Anyway we arrived after a drive through fine country at Baylys Beach for a look at the Tasman as we weren't expected at the Hotel until 3.00pm. As in many other places we saw bachs dating back decades to when a handful of folk decided to build their own seaside retreats. Modest wooden cabins with verandas and a nice little view clinging to the sides of a small ravine up which the wind whistled off the sea.
After a stroll along the beach was shortened by the high tide we embarked on a steep climb to the top of the cliff through a natural garden of spring flowering bushes. A threatening grey squall was heading towards us over the sea so we skedaddled back to Vicky's shelter. "Look under your mat Rob" I said and we found no coolant on the newspaper lying on the carpet beneath the passenger mat, so that problem was solved at last.
It was lunch time so we took the road to the top of the ravine only to find sections marked out for sale and the construction of luxury second homes. The sections alone cost $750,000. The road was too narrow to stop on for our snack and all the turning spots had their views blocked by the new builds so we drove away with a pang of regret that the modest atmosphere of the place was under threat.
We found a view at the car park to the Dargaville Museum, built behind an ancient Maori Marae on a promontory overlooking the great Wairoa River as it winds its way upside down, muddy bottom side up, into Kaipara Harbour.
Poignantly the masts of the Greenpeace ship Rainbow Warrior, tamed in concrete, look out over the river, separated from her hull which lies in the deep water off The Bay of Islands providing a challenging location for scuba divers.
Other masts, those of the square riggers that carried timber and gum among other cargoes from these shores in the first phase of colonial times, are now gone as well but their story is preserved and told in the maritime museum which is full of surprises.
Spades outlive the muscular grubby hands that wielded them to extract lumps of kauri gum from mud and sand. The tough diggers came from Dalmatia and Croatia and their lives are recorded in brief respect. The gum they gathered had to be washed in big tubs and the paddles were driven, in one instance, by the Blackstone Engine, manufactured in Stamford, Lincs.
Another surprise was a super model of Croydon Aerodrome complete with circus in full swing, there was no explanation for why it was here, on the other side of the world.
The Askoy II is a ketch with a chequered career. She was built in 1960 in Belgium, was impounded for drug smuggling in Fiji, once owned by Jacques Brel, the colourful Belgium singer who died young before he could fulfil his dream of restoring her and is buried near Gauguin in Hiva Oa, (Rob and I had our lunch next to his grave if you remember). She foundered on the notorious lee shore of Ripiro beach south of Baylys Beach, was exhumed recently and is now back home having a refit in the Belgium Maritime Museum financed by a country that has truly taken her to its heart. Some doors of hers have been kept as souvenirs by the museum. Maybe one day she will once again grace New Zealand waters.
In contrast what is left of the oldest pre-colonial waka war canoe is preserved for all to see.
The museum filled the time nicely before we parked in the car park of our hotel and met Anne.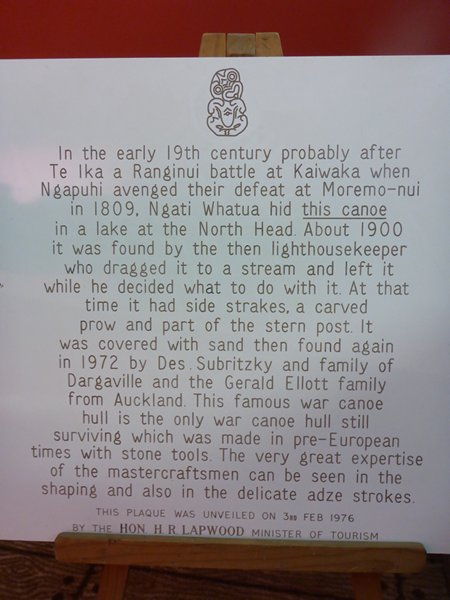 ---