2019 New Cal Islet Casy Our very own Isle des Pins

Zoonie
Thu 10 Oct 2019 04:15
Islet Casy – Our Very Own Isle des Pins
22:21.40S 166:50.51E
We had spent twelve days in Baie de Carenage when Zoonie poked her nose out into Prony Bay once more. We were on route to a mooring buoy off the West coast of Isle Casy (A governor in the French Empire). We had spotted them when we were approaching Somme Bay in what seemed many moons ago and thought an exploration would be fun. Where the water bed is mud and sand it is fine to anchor because no harm is being done to the habitat, but where there is coral, rock and sea grass these must be protected, so the government has laid free and regularly maintained mooring buoys, ideal for us because the holding in rock and coral was not good anyway.
Sitting in the cockpit planning our stay over a glass of wine, a long streak of pale green in an otherwise denser green water to Zoonie's side caught my eye and I thought nothing of it, a patch of sand maybe.
The next morning dawned bright and warm so we set off on our first walk around the island, a two hour exercise of ups and downs, verdant coast and pristine little beaches and fabulous all round views from the high and heavily worked by human hands interior.
Starting off to the right on an anti-clockwise route we passed some coconut palms and papaya trees and made a mental note to take at least a couple of coconuts back to Zoonie, now we had Ken's grater to make easy work of extracting the flesh. Rob used his new expertise to select a couple of nuts and we left them in the tender.
Some French campers were just striking camp and I noticed they had found a couple of ripe papayas from trees in the area and that fact and the open areas of level ground showing where the huts had been when some locals tried to make a go of a resort. The huts were removed 14 years ago so and since then the island has been uninhabited by 'man' except for campers. I will explain why I said 'man' at the end of our island trek.
We climbed the few metres to the fenced graveyard still carefully tended judging by the cut grass. All the robust wooden fence posts had rotted through and were lying on the ground. Imagine the scene aboard the French Corvette on 15th February 1859 when the visitor aboard, British pilot Captain Oliver, the first pilot in New Caledonia commissioned by the French to work with the sandalwood traders, married with three sons, suddenly died, whether from a health condition or accident we do not know. In such different circumstances to us his family climbed the same path to see him buried in the graveyard.
Ten years later some of the prisoners from the Prony Penitentiary moved to the island to farm sheep and grow beans and peas for the prison kitchen and right up to 1911 the kaoris and oaks were taken from the island for housebuilding in Noumea. Jean Alric ran the prison at prony for a number of years while living on the little island haven with his partner, Marie Marechal and their five children and they are the only other permanent residents of the cemetery.
Down we wandered to one of the many pretty beaches through the Arau Caria Circular Pines and cycad palms that pre-dated flowering plants and are still thriving here and all over the globe providing food, decorative leaves and medicine. This particular beach looked over to the Vale Nickel Mine with its numerous mining areas, processing plant emitting the smoke, residue piles and down by the shore in amongst the green foliage the residential area of the employees near the port. You can clearly see the concrete roofed conveyor belt weaving over the terrain with its load of precious ore for loading and exportation.
Nature worked with man to provide root steps at the more challenging inclines and as we emerged at the top for the views we found a lunar landscape of scraped earth. First the trees and then the ore and now somewhere for visitors to reflect on the activities of history and the beauty that is present day Prony Bay.
A ketch was making its way in to pick up a mooring near Zoonie and as numerous other yachties and visitors had done before, Rob carved Zoonie's name in the soft rock as a record of our passing.
Back on board Rob donned his wetsuit and snorkel gear and cleaned Zoonie's hull ready for our entry to Australia. There was little growth on there; the 12 days in Carenage where the water would have been more fresh than salt would have helped kill off the marine growth and we keep her as clean as we can to give us the best speed through the water.
He mentioned seeing some metal bars and an old sinker near to ours but it wasn't until I sat back into the water from Zoonie's stern boarding ladder and turned my masked face through the surface into the depths that I discovered to my surprise a fifty foot yacht lying on the bottom right near to Zoonie's stern. I couldn't be sure then what length it was, that came out later when we discussed it with Darryl and Carol who have visited here over the years and who we met up with again in Noumea when they moored two pontoons down from us in the marina.
The mast and spars were laid along the deck making me think she was the victim of a disaster and being salvaged when she was left on the old mooring. She may then have fallen victim to a cyclone and sunk on the spot, beyond hope of being raised and restored and has lain there ever since. If you look at the Vous etes ici aerial photo, in the mid left area of water you can see that she originally sat upright on the bottom before giving up all hope of being rescued and thus laid herself down easy.
We had to keep moving briskly through the water as it was cold, even with wearing wet suits. There was a good diversity of species of fish but not many samples of each and the reef showed a lack of life, covered in a browny red 'furry' layer. There were clams and sea urchins, we kept our feet clear of those.
That evening other yachts came to take up the six buoys. Next to us the pink catamaran, matched the morning sunrise rather well I thought. The skipper keeps her moored in Port Sud Marina in Noumea and I had watched him single handedly sail her by and pick up his buoy with the ease of someone who has done it many times before. This time he was accompanied by a friend and each retired into their own hull for the night, where judging by the beam of the hulls they would barely have enough room to turn over. A man with a true passion for the art of sailing.
All the exercise and excitement led us both to have the best night's sleep for a long while and the next morning we were ashore once again on a papaya hunt and another walk, the other way around the islet for our last South West Pacific Island jaunt.
We 'ooed and aahd' at the rock formations, admired the flowers and collected the shells and coral Rob is holding to place them on Mousse's memorial at the shore end of the pontoon. Part of his story is there for you to read. Robert and Carolyn (surname Port – cool eh) from Gallivanta heard about Mousse and were among the cruisers who took food to him on the island when they were visiting. Carol and Darryl knew that when the resort was packing up its buildings to leave sixteen years ago Mousse refused to go. Each time they loaded a boat he would slink off into the bushes. So they left him knowing they could return regularly to visit him and a local vet agreed to check him over every now and then.
As soon as the likes of Carol and Darryl arrived Mousse would wander down the jetty and eyeball them until they came ashore when he would lead them on a conducted tour of his islet. Until 2017 when he died he showed hundreds of cruising yachtsmen and visitors around his terrain. What a dog!
You may be wondering why I have included a photo of a row of pines, well if you look closely at the centre one it has a flat leaf canopy. Believe me as it is hard to distinguish, but there is an osprey nest on top with a single chick in it, we saw the parents fetching food for the fledgling and making that familiar raucous cry.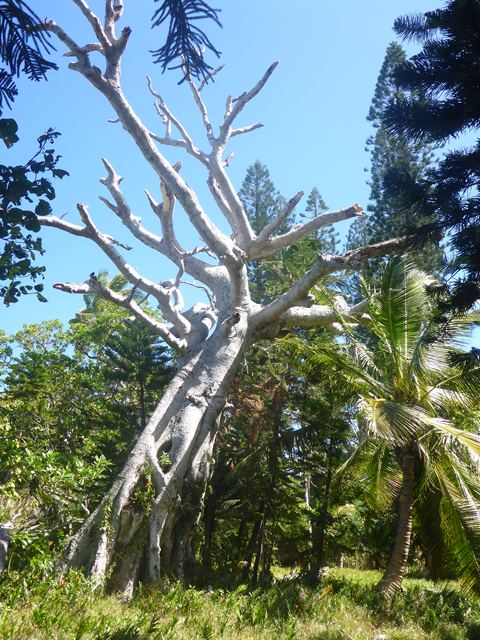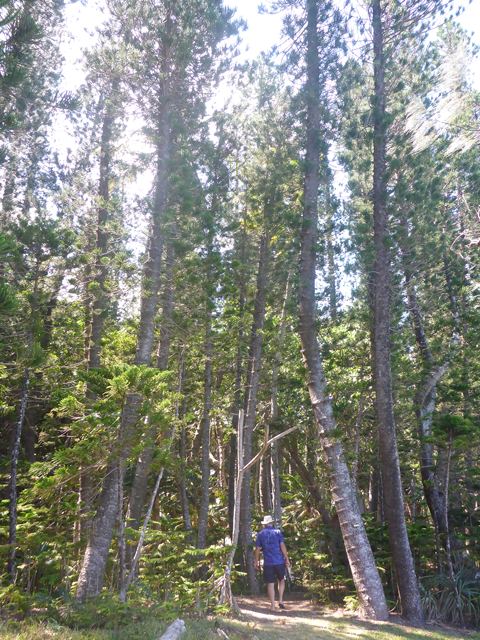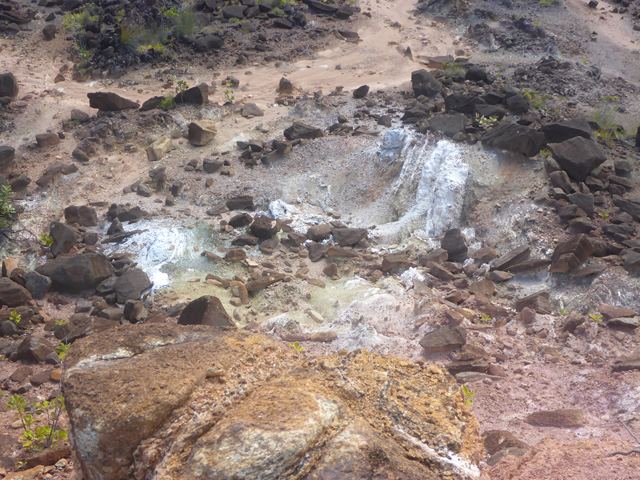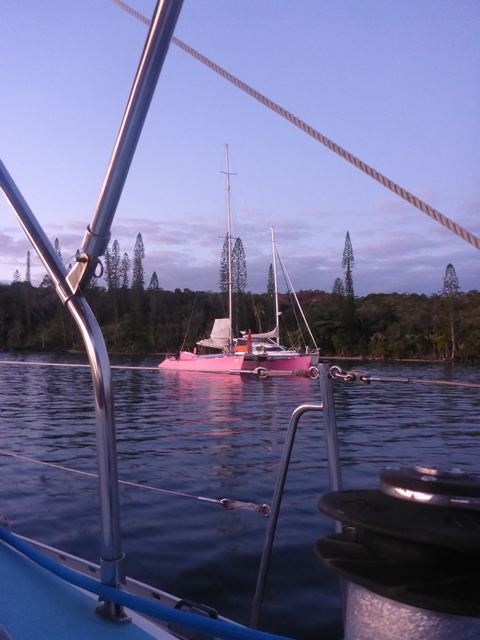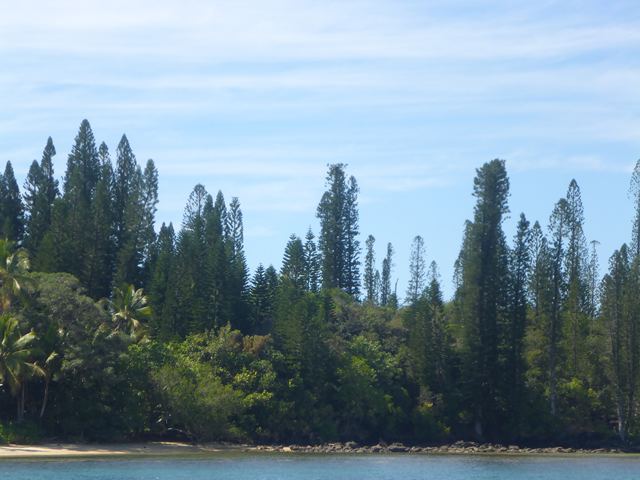 ---