Glacier Gold Rush and Graham

Zoonie
Fri 31 Mar 2017 02:27
Fox Glacier – the Good, The bad and the Ugly.
Far from being in mint condition Fox Glacier, named in 1872 after the then new PM Sir William Fox, is rapidly diminishing and receding up its valley under a thick layer of greywacke rock and shale. In its prime the ice river extended into the Tasman but now it is a mere 12 km long and by the time the tiny babies being carried on the chests of their parents up to the lookout are grown, it will be gone.
It can take 100 to 200 years for ice to flow down a glacier but here it only takes 30 years and we watched from our safe lookout as the creamy green water gushed from underneath the ice over the rocky riverbed eating away the ice river from underneath. The whole area is alarmingly unstable both on the surface and above when the weather is bad. In November 2015 6 tourists including couples from Cambridge and Hampshire UK were killed when their helicopter crashed into the glacier.
On the day we were there a body was found on the glacier. The weather that weekend was too wet and misty to recover it. I Googled to see if it has been identified just to see how long it has been there, but there has been no confirmation yet.
Our friend Paul who we visited later at home in Hokitika believes it is a young local man he knew thirty years ago who went alone to the Glacier and never returned. The lad's parents are both in the cemetery behind Paul's house but his sister still lives. How odd it would be for her at the age of 71 to bury her brother aged 20 years.
Rob and I were surprised at the risk people are prepared to take for some pictures. The last part of the hike up to the lookout is very steep and sheer sided and there are 'no stopping' signs at regular intervals, yet people were teetering on the edge posing and even going beyond the safety barrier for a better shot.
On a sunny day we imagined the glacier would look more blue and icy than the grey rocky surface we saw. It seemed amazing that this freezing giant exists in temperate and sub-tropical rainforest and we saw palm trees and giant ferns along the trail. We didn't fancy a helicopter ride to the top for a ramble lasting a few minutes though there are enough of the machines operating. From 8.00am they start their engines and all around the camp we hear the thumping roar as they warm up for another days work.
When we first arrived it was cloudy and damp so we pitched the tent and at 4.00pm hit The White Pub, one of the oldest in town and tucked into squid rings in batter and fish bites with chips washed down with Speights bitter.
The Glacier region boomed when gold was discovered in the area in 1864 and with the burgeoning population came well-dressed visitors to the area exploring the ice garden in bowties and long dresses. Farming was also thriving on land recently cleared of trees.
We drove past some of these family owned farms on our way to Lake Matheson which is famous for the pictures of the snow-capped mountains reflected in the lake. As we supped coffee and shared a gargantuan slice of carrot cake in the lake cafe, we hoped that maybe tomorrow the sun would appear and we would see that view. But it was not to be. Never mind.
That evening in camp I caught up on razoring 483 photos so I could submit them to the blog and we loaned cutlery to a couple who had none, so they washed up for us as well as themselves. We went to sleep to the sound of a distant cuckoo and raindrops on the tent.
The Second of our Dramas, (the first being Vicky's engine oil leak.)
Casey Ruth was originally from Colorado and has recently returned to NZ from a job in Antarctica. Deciding to have a short break before his next job in Christchurch he was motorcycling down to Invercargill to motor bike heaven as we left Fox Glacier heading north to Hokitika.
We were ascending a small hill towards a 25km bend when Casey came slowly around the opposite way on his bike as it toppled over and slid across the road infront of us. Rob read the situation in an instant and braked and steered us safely away from Casey. We rushed from the car and I signalled the traffic in both directions to stop while Rob went to Casey. Stop those first cars I thought and they will stop the ones behind.
Ironically the very first vehicle was being driven by retired nurse Ruth, out on their 30th annual trekking holiday with four friends and she came and examined poor Casey. He was in shock of course so blankets were whisked from Vicky's back seats and wrapped around him as he sat off the road. His left shoulder and ribs were giving him hell but like all devoted motor cyclists he was more concerned about his KTM with its off-road tyres. By this time other motorists had helped get the bike off the road and parked on its stand. So he could relax.
Half an hour later the incident had collected a paramedic, an ambulance and two police cars. We left our details with a friendly cop and made our way north beneath high tree clad mountains and over almost dry river beds. Rock and tree falls cleared to the road sides reminded us that this whole area is constantly on the move.
We were on the West Coast Highway that took nearly one hundred years to build and on our left the Tasman looked beautiful as it broke along the shore creating a crest of white froth. Our next town on route was Ross – Gold Town, surrounded by rainforest and nestling between the Southern Alps and the wild coast and the site of the first gold find in the Totara Region.
There are many historic buildings and relics in this town to help tell the story of the gold rush but the town is by no means a ghost town. It is alive and well and gold mining is still one of the industries. Rob and I set off on the Gold Walkway and had a quick fossick in Jones Creek which revealed a nice palm sized piece of quartz with gold flecks in it which looks quite impressive when it is wet.
Jane is Paul in Hokitika's wife and her ancestors, with the surname Ford, arrived in Ross and opened a butcher's shop. A nearby creek is named after Mr Ford, probably because he made a fortune engineering water to the mines, which among other things was used to blast rock loose on terraces and wash gold infused rock down wooden chutes.
Some of the pit heads were tiny with the remains of wooden ladders disappearing into the gloom and lock boards in the water leats still in place. An old miners cabin was a window through time showing an austere life of struggle and, more often than not, short-lived gain.
After booking into the Hokitika Holiday Park we went to have a look around the old quayside which was once a thriving shipping area importing anything to do with goldmining, settlement and farming and exporting timber, greenstone (jade or Pounamu in Maori) and numerous other products. There were even three opera houses along the foreshore on Revell Street.
Rob went to look around the replica of a wreck in the car park and I wandered along the quayside to read some history boards. I sensed someone was behind me and when I turned I was not at all surprised to see Ian whom we had met on the Doubtful Sound Cruise. "What did I say, we'd meet again" I exclaimed to a highly amused Ian. It transpired they like us had been filtered down the Holiday Park list, finding three of the four sites in the town closed and the fourth full, no surprise there. So we were on the same brand new site just down the road, a happy coincidence since they needed some help to finish a few half bottles of wine before their flight to Australia the next day.
"We're just going to get some food and then we'll be back," I said as we parted. You may wonder why I am going to tell you about a trip to the supermarket when there was much more interesting stuff going on.
Good question, so here goes. We were in New World Supermarket and had wandered from one end to the other, and were just about to leave when I remembered we needed potatoes. Back we go through the shop, unaware that fate was working away. Turning down the veggy aisle Rob suddenly stopped, stared and said, "Hello Graham, what are you doing here?" Graham Baines is the same age as Rob and was in the same class at school back in Oakham.
He was on holiday in NZ for a month or so and was doubly amazed at the coincidence because mutual friend Julie Munday had told him before he left to look out for Rob as we are somewhere in NZ. What chance, he thought, of coming face to face with Rob in NZ with a population of 4.5 million which doubles in the summer months. What chance indeed.
An amazing day of Casey's fallen motorbike, striking gold and a double coincidence. Phew, we needed a drink….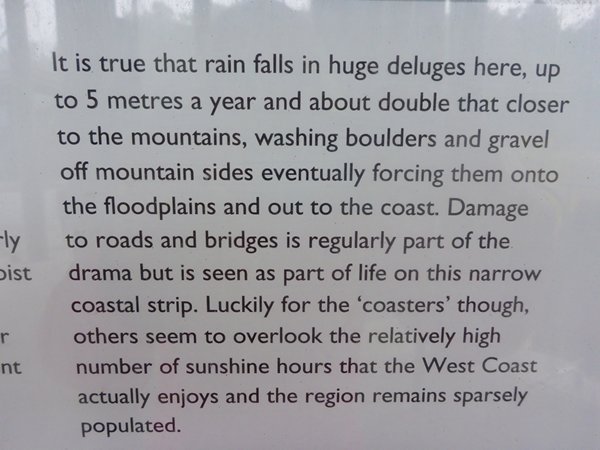 ---