Across Skye Country to Portree

Zoonie
Tue 30 Aug 2022 11:25
Across Skye Country to Portree
We love buses and coaches, Rob and I, and we've been on them all over the world and the trips we have taken this summer have been a great way of seeing around from a high vantage point without having to worry about driving on precarious roads unknown to us. What's more they are a very cheap way of looking around; buying a day pass has proved the best way enabling us to choose our return time and go on multiple journeys if we choose.
At 10.50am we climbed aboard the number 52 bus to Portree. It was grey and mizzling, but that didn't matter to us because a delicious wall of warmth on board hit us and cosseted us all the way. I headed to the first pair of empty seats on the kerb side where there was a window clear of its frame and took up my position.
At first, heavy showers moved in watery veils across the smooth glaciated slopes of the mountains and ran solidly down the windows adding a bleak atmosphere to the views. Then the rain petered out and heather in violet bloom on saturated moorland swept upwards. Rushing burns, racing and bubbling brown sometimes fell many metres in their haste to the ocean. Then again fabulous in the sunshine, small camps and backpacked walkers enjoyed the rarefied air and challenge of sodden tracks and slippery rocks, soaring heights and, for some long-distance hikers, welcoming bothies at the end of the day.
We wandered around pretty Portree, which took around twenty-five minutes and settled for lunch in The Isles Inn, set back from the main attractions of the square in a nice old building with friendly staff and even friendlier prices, the Guinness was 40p less than the bitters. I studied carefully what my vegan haggis contained and how it was assembled, sitting on top of a layer of neaps (mashed turnip/swede) and another layer of tatties (mashed potatoes) for future reference. The whisky sauce was worth writing home about and the whole dish will be re-invented this winter at Myrtle Cottage, as the log fires burn and we try to keep warm enough without resorting to gas central heating!
A young couple from Dresden came and sat next to us and we chatted easily for a few minutes until their burgers arrived. Weirdly I felt a flash of guilt and I almost apologised for our destruction of their city in WWII. But how illogical was that, all of us were born after the event and were in no way responsible!
The Dutch yacht with the two white masts, raked well back, which I included in my last blog pics 'What's Happening around Isle Ornsay?' had tried to anchor where we were, in the place of the same name and found he couldn't get a grip. He then felt he was too heavy for the buoy he picked up. So, he and his lady had to set off again, at the end of the day, with only a few hours of daylight left, into weather that was far less than ideal. At the time I felt sorry for them and wondered where they had ended up for the night. There are not that many options around here and going north through the Kyle Rhea narrows into Loch Alsh has to be done with a north flowing flood tide or face a contrary tide of up to 8 knots on the nose. Few small yachts would make forward progress in those conditions.
Well, she was safely moored in the mooring field when we arrived and tied up alongside another vessel while we were there. I like such closure.
Just before we caught the bus back, I bought a new pair of walking shoes just in case Rob cannot repair my walking boots. They didn't break the bank. We have found that buying expensive brand names in no way guarantees a longer life of the product and now that we are no longer in tropical and subtropical areas the glues will hopefully last longer. I hope you're listening little inflatable tender.
We were happy with the way our planned excursion worked out better than anticipated because of the unexpected. What really made it was not just the spectacular scenery and seeing the Dutch yacht safe and sound, but also the human contact we had with strangers. The adage 'never talk to strangers' doesn't work for me.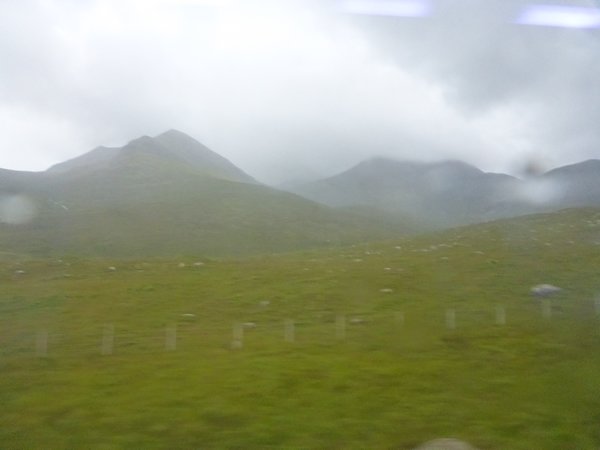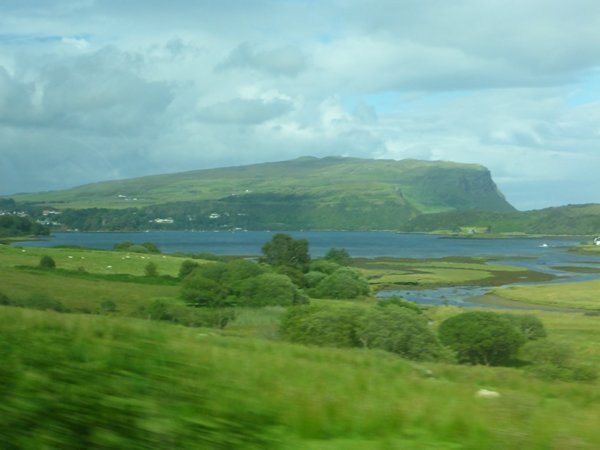 ---