NZ The Calm after The Storm

Zoonie
Sun 23 Apr 2017 19:18
NZ The Calm after The Storm
"I can't see her!" Naylene could not have known the weight of those words when we called her up as we drove home. No one had told Naylene of the incident that almost caused Zoonie to sit on the river bed beneath her berth, still tied to four piles. She did not know that Zoonie was moored just outside the window where she works. On further inspection she confirmed Zoonie was safely moored nearby.
Later we called our electrician, Scott and asked him to check Zoonie and while on board he opened the bilge pump outlet valve and heard the pump start once more. He was talking by phone to us at the time, while we were still on the road. "Ah did you hear that, the bilge pump just kicked in once, that's good, means that's still working then, oh shit she's taking in water again, its bubbling up….." He re-closed the bilge pump fitting once more, just as the rescuers had done for the first time since we have owned her and that gave us our first clue to the problem.
Sitting in Vicky on our way north we were sufficiently detached from the scene we could think objectively and being dedicated wine and beer brewers we were thinking along the possible reverse syphon effect and how this might be what had happened.
We arrived home just after 1.00am to a Zoonie who looked her usual self with nothing apart from the grubby marks of hard toil in the cockpit and a melted cockpit speaker to show for her ordeal. Down below all was clean and tidy, the windows were slightly damp on the inside but the upholstery was all dry including the mattresses in the fore peak where the bow had dipped lower than the rest of the hull. They are fixed higher than the settee berths in the saloon and that was how they had escaped.
With the car unloaded and parked we climbed into bed and grabbed a few hours sleep before the massive task ahead of us began. Instead of being almost ready to depart for the tropics once our family visit was over we now faced months of investigation and repair and an extended stay in NZ which would necessitate a visa extension for us both. Zoonie could be in NZ for two years before we would have to pay import tax on her as she is British, and NZ still likes us just a little bit, even though we joined the EU!
Our first few days back were busy with folk calling by Zoonie on their way along the pontoon to their boats, or making special visits, to explain their version of the events and their role in the rescue. It seemed that there were between nine and twelve people on board during the crucial two hour bail out. Questions started to arise in my mind like did this happen to any other boat, why did it not happen in Vavau when we had a day of heavy rain, or why has it never happened before since she was built in 1989? Did the bilge pump fail or was it overwhelmed by the back syphon?
I started asking questions and I needed to find out things like the wind direction at the time, was it down or up river? Gradually over the next few days the chain of events unfolded with the help of witness accounts and meteorological facts.
Cyclones rarely track this far south, or over NZ, that is why yachts come south to get away from them from November to April and insurance companies reward us for doing so. I knew already that the late season cyclones and hurricanes (the latter the same thing but in the northern hemisphere) are the worst and most powerful and are worth avoiding.
Two fellow cruisers, a German couple we met in Marsden Cove when we arrived back in Nov last year, set off just before Cyclone Debbie made it's way towards NZ to get to India for July and meet up with friends. They left really early, usually May is the earliest and some NZ sailors wait until as late as possible as the cyclone season is getting later every year. Their sturdy boat was sent into an eskimo roll by the raging sea and they were dismasted. Both survived and they were motoring to New Caledonia when they made their report. The only deadline sailors should bow to are weather ones but the weather this year is unpredictable and is not fitting in with historic patterns.
The window of opportunity between the end of the cyclone season and the beginning of the storm season here, when winter storms race up and over NZ from the southern ocean and into the Tasman Sea, is getting shorter. Also the time periods for the gap between low pressure systems is around two to three days instead of a week as we found on our way down.
Sailing cruisers need 48 hours minimum to get clear of NZ on route north to clear bad weather and that is barely happening this year. Each day now we see yachts leaving. Our diaspora of cruisers is also sending some, like us, off to explore by land, and others are setting themselves up house minding in the area to give them more living space for a few months. The remainder are spending some time back in their own countries, leaving their boats under watchful eyes here.
The insurance company claim form had a three inch area of space in which we could file our version of events. So I simply wrote, 'see attached report' and proceeded to complete 3 pages.
The prevailing wind direction here is SW, rather like in the UK, and the hills around Whangarei often ward off the bad weather and protect the town and marina. Michelle said she would ask her husband Alex if he would confirm the wind and thus rain direction over the days leading up to Zoonie's flooding.
An extreme amount of rain and a lot of wind had hit the area as Debbie passed, all of it coming up river. Zoonie faced up river and was pinned in position, unable to swing to the wind as she had on her mooring ball in Vavau. So instead of the rain hitting the front of the mast and travelling down to the deck and harmlessly over the sides, a constant trickle ran down inside the mast into her bilge where it triggered the bilge pump.
The pump worked constantly on and off and a column of water was formed from the trickling rain supply, through the pump and up the pipe, over the swan neck that reaches the side deck inside, well above the outside water level and down to the hull outlet. This is below water level as they are often designed to be so they cannot be seen. The Dutch apparently always have them just above the waterline so there is always air in them to prevent any syphon effect.
One would have thought the height of the swan neck would be sufficient to break a solid column of water just by gravitational pull, but no it wasn't. A solid column of water started to flow from the river into Zoonie's bilge later joined by more through the sink from where the plug hole drain enters the cockpit drain.
If this had happened at night Zoonie would have sunk and I prefer not to follow this line of thought as it was there by the act of kind people we did not go.
So why did this not happen to other boats, well actually it did, but not sufficiently to cause a flooding. I know that Miriam on Enough, whose two sons were amongst those who raised the alarm, spent some time wringing out the towel that was shoved into their mast-well. Like us they faced up river and have a keel mounted mast. We were not on Zoonie at the time to oversee preventive measures. Also many other yachts have deck mounted masts with no hole through the deck to the keel so rainwater flows harmlessly overboard.
Fortunately the insurance company accepted the claim as caused by Extreme Weather, they had already seen the national newspaper report showing a picture of Zoonie's rescue. So we could get on with gathering together estimates for the repair work.
The next three weeks before the arrival of Gary and Emily, Henry and Ruby and close friend Lauren on their long planned holiday with us we had our work cut out playing a tennis game of responding to emails from numerous sources then pinging 'the ball' back into their court as quickly as possible.
Rob acted with his usual sense of immediacy and within a couple of days of being back on board Zoonie had breathers on all her swan necks, shut off valves on all pipes and non-return valves where they hadn't already been fitted. Seemed strange to have to make a hole and cut a pipe to prevent a leak.
Gerry was our insurance assessor and after a lot of investigation and thought based on the evidence and his existing knowledge and experience we came to the same conclusions as to the cause and when I asked him to look at my report and tell me what he thought of it he simply wrote, "I wouldn't change a thing'.
Happy Hour at the Love Mussel on the Quay provided a bit of light relief when many of us visiting cruisers meet for half price drinks and we had numerous dinner parties on board for our new friends who had helped in Zoonie's rescue and for other pals who were leaving soon on their yachts and heading north. Wayne and Barry have to start work back in the UK in June 2018, so they have their work cut out in Naughty Boy. Kyle and Shelley in Bubbles cannot wait to get to Fiji and start helping school children with supplies. Judging by the position on their blog they could well be there already.
We have always felt the need to be flexible in planning our cruising and that belief is certainly getting practice now. Our friends Gail and Tony are staying put with some big jobs to do on Cetacea and numerous others are here until next year. A prolonged stay means we can also take advantage of cheaper flights home between August and October and we are free to explore this lovely country some more next Jan and Feb.
The silver lining to the grey cloud.
Just before our family arrived we underwent our medicals, chest xrays and blood tests required for the extension to our visas. They revealed that Rob has a leaking heart valve, which is not serious and apparently most members of the population have to some degree, but we can check it out when we come home. Also, having had the medicals is no bad thing anyway.
Between Cyclone Debbie and the arrival of Cyclone Cook there was plenty more rain drenching the already saturated land. The Coromandel Peninsula was closed and hundreds of people had to flee their homes to escape the rising water. We know this is the buffer year between El Nino and La Nina and uncharacteristic weather is to be expected and poor NZ is certainly getting more than its fair share.
How would it affect us as we camped through the central North Island with our family we wondered? We were about to find out.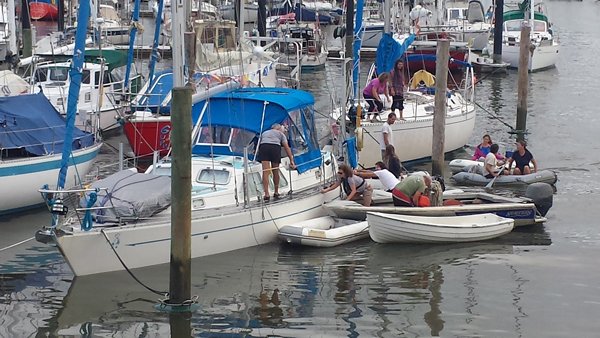 ---