Hurghada - The Town

Blue Magic
Mark & Chris Dewey
Fri 9 Nov 2012 13:40
Hurghada Town Sat 3rd November to Fri 9th November
We have pulled out and dusted off the bikes and we are beginning to find our way around Hurghada town.
The locals find our Brompton bikes fascinating and Mark is always stopping to demonstrate how they fold up to great amusement.
I don't know where to start to give you a flavour of Hurghada Town, it is friendly, lively and bustling, has great diving shops, unfinished buildings everywhere, piles of rubble dumped in the streets, no traffic rules, car horns sounding continuously and five times a day there is the sound of wailing from the loud speakers of tall minarets from various mosques competing to call their worshippers.
Below is the road junction into the marina, as you can see there is a pipe line running above ground across the junction which we have to climb over and traffic is unable to enter, on the opposite corner of the junction is a typical 'pavement'.
The main Road leads to our favourite supermarket, Metro, which has a good stock of most things.
You can see the pavement area here is also half finished with piles of rubble.
A few kilometres further and you find the covered fruit and vegetable market, the photo on the left shows the entrance.
Some of the produce displayed is rotting and covered in flies, however if you pick and choose your stalls you can usually find some good, locally grown, fresh items.
There is no lettuce however we bought three bunches of fresh rocket for 10p !
We gave the olives a miss as the shop keeper had his feet buried in them and the hanging meat was attracting lots of flies so we gave that a miss too !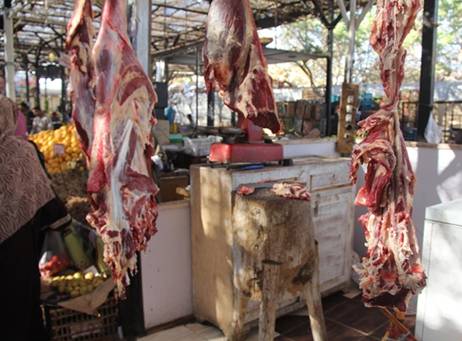 The culture here is very much 'fix and repair' which is quite refreshing since usually our only option is to replace anything that goes wrong with a complete new part at huge expense.
Yesterday we had a visit from the local engineer to take a look at a leaking elbow on our engine exhaust. He removed the corroded part which fell to pieces in his hands however he was back to us a few hours later with it cleaned, repaired and welded back together.
He fitted it back on the boat and charged us a total of 275 Egyptian pounds (£27.50), the new part costs over £600 !
Of course it is impossible to obtain some of the things we need so we will be scheduling another visit to the super efficient after sales team at Discovery Yachts whilst we are home over Christmas.
There is another main Road running parallel to the marina which is more for the tourists and includes some restaurants and gift shops – photos to follow.
When you turn off the main road the streets soon deteriorate, however we are always finding interesting little industries down these back roads, below the local Yamaha dealer !
After more hassle with our agents yesterday when we handed over another 230 $ US we were finally issued copies of our cruising permits so we are now able to leave the marina and we are looking forward to exploring some of the nearby dive sites.
It is very hard to establish if the fees are genuine and we feel unless we question them they will assume that we have an endless supply of money !
It is important however to keep smiling and go with the flow as I am sure they could make things difficult for us if negotiations break down.
The rally spirit is great, we have several volunteers looking into tours including a visit to nearby Luxor and a Nile cruise and there are lots of ideas for activities.
We had a curry evening on the pontoon a couple of days ago, the local restaurant kindly donated some tables, whilst ralliers bought chairs, lights, music and lots of delicious curries to share.
---