Photo update Kupang

Blue Magic
Mark & Chris Dewey
Thu 28 Oct 2010 04:35
Kupang
This was the view from the anchorage, showing the back of the high street shops and the small beach where we landed our dingies and paid the local 'Mafia' to look after them !
The bright coloured vans are 'Bimos', the local public transport. You sit crowded together on two bench seats in the back, there is not enough head room to sit up straight and the whole van vibrates from the deafening music blaring out of huge speakers under the seats.
The food from the local market and street sellers was very good, chicken satay, nasi goring rice and fried noodles all with very hot chilli sauce are the local specialities.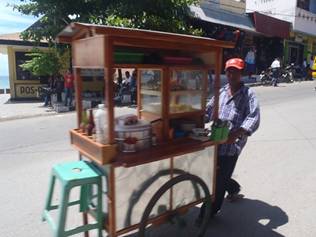 Blue Water Angels take to the roads again to explore the island. This is the local fuel station below, old spirit bottles filled with petrol sitting outside in the hot sun !
The 'Angels' cool off at the local waterfall and swimming hole.
Lunch was a local delicacy of strips of marinated pork laid on the barbeque and then covered with fragrant leaves, served with rice and blow your head off chilli paste.
Everywhere we went the locals waved and we were a great source of entertainment for them !
We completed the tour by stopping off at the monkey caves, they were very gentle and took nuts from our hands.
---