North Crete Coastline

Blue Magic
Mark & Chris Dewey
Tue 20 Sep 2011 13:27
Position 35:22.39N 24:29.22E
After picking up Sophie and Simon from the airport in Iraklion we motored across to the deserted island of Dhia where we spent a couple of very peaceful nights anchored in a tiny bay surrounded by high rocky cliffs. A good place to start their holiday, relaxing, swimming, rock climbing and barbequing off the back off the boat.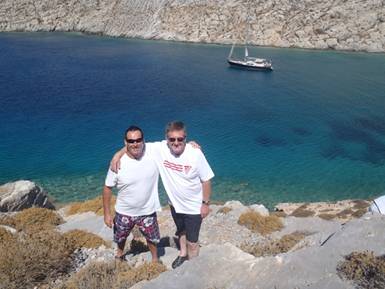 From there we followed the coast West, motoring into the gentle breeze until we arrived at Bali Bay. This bay has beautifully clear water with three sandy beaches and several tavernas, shops and bars ashore.
It was a lovely swim to the beach and Sophie enjoyed a bit of diving.
We anchored for a couple of nights and then set off West again to the port of Rethimno, an old Venetian town and harbour full of tiny streets crammed with local shops selling spices, soaps, and every kind of local raki and ouzo. After a tasting session we succumbed and bought a small bottle of ouzo with cinnamon which sounds disgusting but is very drinkable!
<![if !vml]>
<![endif]> Mark shows Simon some of the navigation equipment !
The next day we decided to hire a couple of scooters and explore, Sophie was a bit unsure about riding on the back but in the end she loved it !
We wandered around some typical old Greek towns, not a tourist to be seen.
Coffee was interesting – a very small cup of muddy water, no wonder it is served with a glass of water to help it down !
Lunch stop was Argyroupolis a watery oasis formed by mountain springs which rush down the walls and spout out of everywhere supplying the entire city of Rethymno with fresh water. The restaurants serve fresh water trout and local lamb all cooked on wood fires, delicious.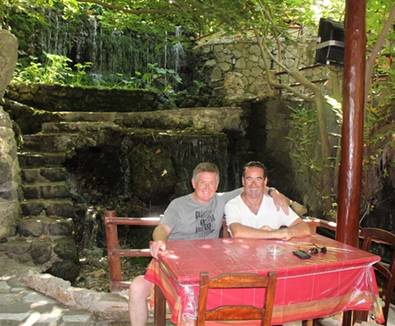 From there we walked around a beach resort along the coast and then finished our tour in the next large town of Hania.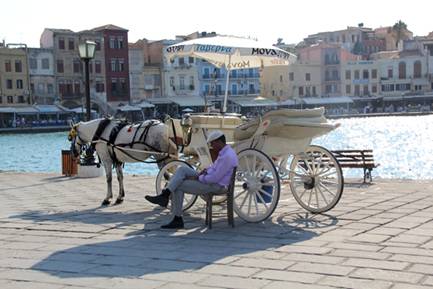 ---