Steaming to England

Suzie Too - Western Caribbean
David & Suzanne Chappell
Thu 28 Jun 2012 12:27
Well after lots of deliberation about where to haul Suzie Too, either here in the Caribbean or leave and sail up to the USA, we have finally made a decision. Weather systems have started building over Bermuda already and these systems have influenced our thoughts, Antigua is very quiet, our friends are in Grenada where the humidity and mosquitos are driving them mad, and of course neither of us want to do a 10 day sail, so it's haul out in Antigua.
On Monday we went to have a look at what was still available on Antigua, we had 3 choices, Baileys Yard in Falmouth harbour, which is very expensive, not that secure but preferred by our insurance company. Then you will have read of our consideration of North Sound Marina at Crabbs Quay, where Suzie Too would be sitting on concrete in welded props, the yard is remote and secure, but very HOT and it would be unkind on our blue hull.
This left Jolly Harbour, where they still had one cradle left and just as we were walking off the North Sound marina site discussing our options, that spooky thing happened and Jo the General Manager from Jolly Harbour rang our Digicel mobile, with a deal for us and asked if we could we call in at her office. Jo presented us with a very good offer, we were very pleased as we always wanted to lift out here as we think the protection with the hills around will offer good protection, then we shook hands on the deal and paid up for the 4 months immediately before anyone changed their minds.
Now the next issue, travelling home, the most expensive time to travel to the UK is in July with Olympics fever in full blast and guess when we go home, mid July and of course we want to be there to enjoy the atmosphere as well. We had a shock when our travel agent came back with Virgin and BA flight prices that were nearly double what we normally pay. Then Suzanne remembered Celia and Andrew from yacht Alice, went back last year by "ferry" from New York, so we began investigating the possibility of coming back with Cunard aboard their largest and most luxurious liner the Queen Mary 2.
That was how it all started, with Suzanne convincing herself the price was not that much different. Well she hadn't factored in the frock and shoe wardrobe allowance, or the fact that I can't rock up to the ballroom in my Caribbean clothes of shorts and flip flops! Anyway it's only money and it will be great fun, another one that I didn't even know I had on my Bucket List. Suzanne is really excited it meant shopping, no cleaning, meals prepared for her, no lugging shopping in the heat by dingy and doing the cockroach routine on the aft deck, she can dress up, use a hair dryer, shower anytime of the day and stand under the water for ever, have air con all the time, wear shoes and not flip flops. She has already got a couple of stunning evening dresses, well the dresses are great, but she looks stunning. And, you should see the shoes, the babes on TOWIE would be dead jelly – very naughty, will blog a piccie later. As for me, my daughter Lisa went down to our apartment, bought me a new suitcase and packed up some outfits and then I have also ordered a couple of suits from Moss Bros on line – and our girls at TMS are shipping the suitcase by FedEx to our hotel in New York.
So that's it Suzie Too comes out of the water on Friday 29, we are staying at an all inclusive hotel for the weekend here on the beach at the complex called Jolly Beach. Then on Monday we fly with American from Antigua to JFK, New York to stay in Murray Hills Manhattan, on 37th St and Lexington, before heading to the Brooklyn Cruise Terminal for embarkation on Friday 6 July. We then have 7 nights at sea and arrive back at the Cunard Terminal in Southampton on Friday 13 July, with no jet lag fully rested and some suits that will no longer fit after all the sumptuous banqueting. It will be strange at sea with no Chartplotter, not doing any navigation and no night watches. So another Atlantic sailing, this one will also be downwind, should be a nice easy crossing, unless we get a decaying Tropical Storm chasing us, but I think QM2 will be able to outrun their typical speed of 10-15kts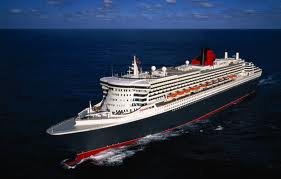 ---