Newport Rhode Island 41:29.795N 71:19.742W

Suzie Too - Western Caribbean
David & Suzanne Chappell
Sun 31 Jul 2011 21:20
We had a wonderful time with Chrissie & Rick, Thanks guys. We loved the Cape Cod area, Nantucket & Martha's Vineyard. Our original plan was to go up to Maine but we enjoyed ourselves so much in this area we decided not to go any further north and stay and have a good time here.
We got the bikes out and every day we cycled around, explored the area, Chrissie & Rick introduced us to the Vineyard and Chappy where they live, what a beautiful place and the weather was just perfect, not too much fog, a nice breeze which kept the heat wave bearable. We have had temps around 90 most days but a nice sea breeze.
We visited Cutty hunk for a day which was small and quite cute, we walked around the Island and had a fab breakfast at the fishing club on the hill. Very small Island paradise if you could stand it!!
Friday, as we left Rick came by in his bosses 6m Sea Legs RIB (sorry no photos Ed) and we waved a final goodbye as we sailed down to Rhode Island, Newport on a lovely reach, but we were quite slow it was frustrating as Suzie Too's bottom is soo dirty. We anchored behind Goat Island just before the suspension bridge it's slightly rolly but away from the noise of town, where there is a Folk Festival on all weekend. Town is so busy and hot it's one of their busiest weekends of the year . All the BIG super yachts are in the marinas and the mooring buoys are all full, they are all getting ready for the Newport Race Week. Everything is so busy, too many people and cars and also the water if full too as everyone is just anchoring off the headland where the festival is being held so they can listen to the music and see the big screens. We sat on board Suzie Too in the cockpit last night just listening in comfort with a cool bottle of wine, we had the radio switched onto the festival station so we could hear the music more clearly. It was a beautiful calm night and the sunset was divine.
Saturday, we caught the No 60 bus, $2 each to West Main Street, Middletown where there is a large West Marine as David had a long list of things we needed, filters, bolts, blocks and fans for the cabins as it's so hot at night on the mainland. So his job this week is fitting these, they are 12 volt and they have a timer so we can just set them and they can run all-night or just for a few hours, they are very quiet too. Anyway West Marine didn't have everything but they have put an order in so everything will be here for Tuesday morning. We also spotted the Seaman church Institute on the Wharf which you recommended so we will try to have breakfast here one day.
Sunday is the day we try and Skype everyone, so we are just sat on the back of the boat watching the scenery and all the huge boats sailing in and out of the harbour quite a spectacle. Alice appeared later that day and we ended up having drinks aboard, with them and their daughter Lizzie.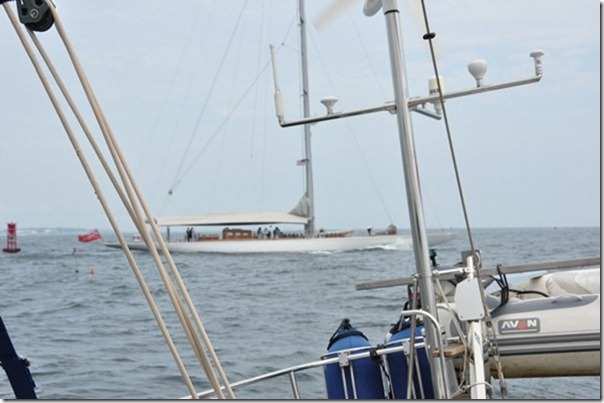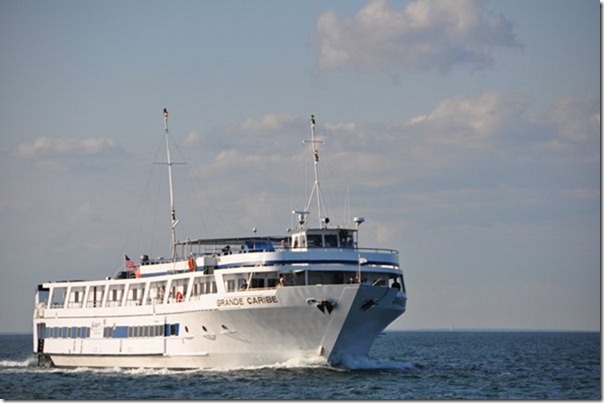 ---