Crossing the Equator 00.00.000S 28.02.440W

Suzie Too - Western Caribbean
David & Suzanne Chappell
Wed 9 Dec 2009 18:14
At 0700z on Wed 9 we crossed into the southern hemisphere. I got Suzanne to heave to as we came to the line and took the obligatory photo of the GPS and we are now halfway to Brazil



While I was below deck apparently some guy rocked up with 2 scantily clad sirens and cracked open a bottle of champagne and some chocolates. Fortunately Suzanne got a photo of the whole event and as you can see he looks a bit of a dodgy geezer in a drag outfit. Anyway by the time I got back on deck it was all over, he had gone and taken his vixens with him.



So Suzie Too has now sailed in every hemisphere and crossed the equator, sailed into the Med and we have covered 4,000M since we left Portsmouth on May 1 this year

North to Helsinki, Finland 60°N - 2008
East to Tallinn, Estonia 25°E - 2008
Now to Salvador da Bahia, Brazil 13°S - 2009
And East to Salvador da Bahia 40°E - 2009

Finally we have the wind, we are in the SE trades with only 12kts at 140° close hauled making 7,5kts and a COG of 210. You should look at my tell-tales and weep - just like in the text book, all 3 sets on all 3 sails streaming perfectly and rudder fairly neutral and Suzie Too just eats up the miles hour after hour.

Today on the position report we are up to 15 place, we are a bit tight on the wind but I don't want to go any further west yet and the current is now setting WNW at 1,5kts. We aimed to cross the equator at 28°W and are now heading for 07°30S 30°00W some 460M from here, the RIDS gave us 2 waypoints to keep west of 130M E of Fernando da Noronha islands and 300M E of Natal, so we should be well east of these.

I think my routing has been quite good, but I would use a slightly different route next time, still go 35M south west from Mindelo in the acceleration zone, then head south, but make up some easting to free the boast up to cross maybe further east at 26°30W, cos when the wind is from the south I didn't have much room to let the boat breath without going west of 28°W. It was just frustrating seeing all the other boast going south as I went west, now I understand they all motored in the lee of the islands, but I didn't want to give up the westing I had made and lose any more distance to them, because after all it's not a race - just a series of position reports.

I think the girls are starting to go stir crazy, no retail therapy, no phone calls, no texts and just me to talk to - well, yes I can see their point. We have seen no ships for 2 days, but Lisa saw her first pod of dolphins that came bounding over and escorted us south towards the equator, about 50 of them. On Mon night we had "Big Bird" a white ibis wading bird, he stayed for about 4 hours, refused food, and flew off, but 800M from land and he look well knackered - I doubt he will make it

Still no fish - No radio contact with other boats - See you soon

Best Regards

David, Suzanne & Lisa

Moody 49 CC "Suzie Too"
Transat Racing Team

Iridium: 00881 631 570 846
Web Blog: www.mailasail.com - Click "Diary" Click "Suzie Too"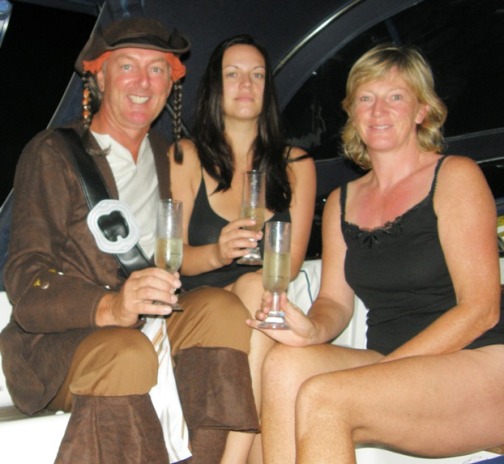 ---