Dodgy David's Scilly Mooring tips

Suzie Too - Western Caribbean
David & Suzanne Chappell
Tue 9 Jun 2009 18:18
A Techie tip for anyone who is thinking of coming the Scilly way
David say's –
On a Scilly mooring buoy – typically with either a huge mooring chain as a strop or no strop at all – when you hook up on these be very careful of using rope – we used 18mm with a turn around the link and blew the line apart with chafe in a couple of hours. Of course we had 2 spare lines so were safe until morning and that was only a F6, the main F8 was out in the Irish Sea, talk about rock and roll in St Mary's Pool – it was the worst we have ever had.
TIP- We have 2 lengths of chain (about 3m of 10mm) that we used in the Baltic for bow to mooring and now have rigged this with a Korg hook to attach to the buoy and then have a shackle inboard to put a round turn on and then a bowline back to a cleat, making sure the chain and not the line is running through the bow roller. The draw back is the chain graunches in the bow roller all night, but it's when it stops you need to wake up. Then we rig 2 other lines as safety and sleep soundly, well apart form being thrown out of bed by the swell, we have added lee cloths, but are thinking a couple of bungy straps might be more use. It is much easier to add the extra safety lines from the dinghy – no heroics trying to haul in the mooring chain, thread a line through twice and bring it back it on board, especially if 2 crew are fighting for position in the pulpit.
Don't forget the old lasso trick if you are worried about getting the chain onto the buoy first time, just cleat off a good length of heavy line on both bow cleats into a long loop, hold the slack in both hands and launch the line well over and past the buoy so that it sinks (Suzanne has shown some of you ladies this old Indian rope trick), then you can sort out proper lines at your leisure. Don't be tempted to leave this lasso line on as a safety, as I heard of someone who did this and in the morning couldn't retrieve the line as it had wound itself round the buoy anchor chain during the swings of the tide – so be warned.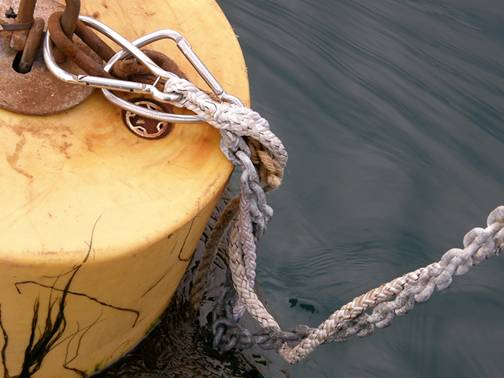 As you can see their chain is about 12 inches long (3 links) I used my boat hook and clip and clipped straight onto the main link one clip with chain and one with line as a safety
Love Suzanne & David xxx
---