Bonking all Night

Suzie Too - Western Caribbean
David & Suzanne Chappell
Mon 29 Aug 2011 00:39
Just like being a teenager again, except someone/something else is doing the bonking. Trees, logs, dustbins, pallets even a tv all going past the boat, some hitting the hull under water, with assorted floating islands of weed (no it's too wet to smoke) and the water has gone a coffee colour, it's so deja vu for the Amazon. Another boat that had been in Rondout Creek overnight came out to join us at anchor and call to warn us over the VHF about 2 small sail boats heading for us, later even a pontoon went by.
I have just spoken with Aussie and he was fine until 0300 when his anchor dragged across the rocky ground he had chosen and when it reset he was rather nearer some boats than he wanted, so he had to re anchor at first light in 50kt winds.
Tonight at 1830ET the river is still quite angry and in full flood with the wind has just gone through 45kts, but we are heading south. Suzanne has had a Facebook from Michelle at Liberty Landings to say they survived reasonably well and will re-open in a couple of days, so we are going down river at sun up. We have looked at the tidal and current calcs, but with this much flood water everything is going down river and I guess all day, probably to burst the banks of the Hudson again, well 24 hours of rain has to go somewhere.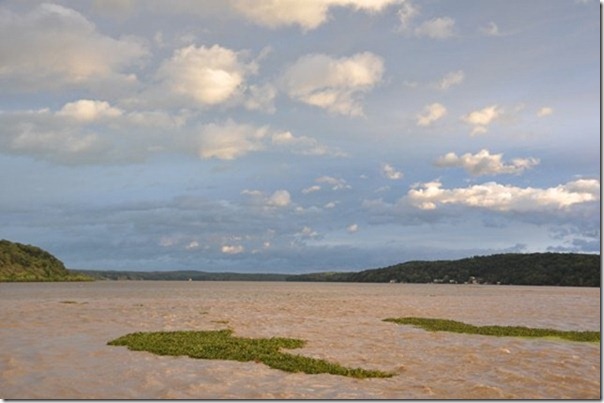 ---