A day in The Isles of Scilly

Suzie Too - Western Caribbean
David & Suzanne Chappell
Fri 5 Jun 2009 17:10
Can you guess where this is?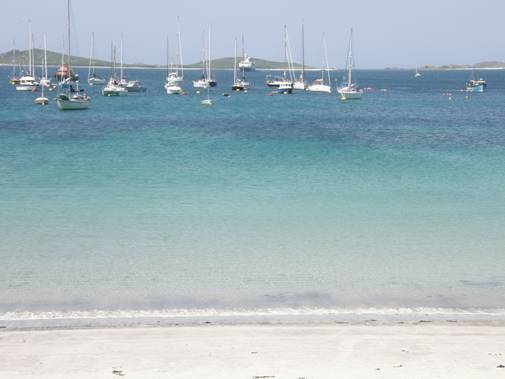 The Caribbean, somewhere exotic?  No The Isles of Scilly.  Anyway it's not bad here – a cross between Anholt (the Island we visited with Kaikoura in the Baltic last year) and Alderney – rocks, sandy beaches, funny pubs, a great Cash & Carry provisioning store with tins on wooden shelves and a laid back attitude and so far plenty of sun.
You need the camouflage to blend in, the male uniform is the ubiquitous beige shorts with an M&S shirt (preferably blue or beige, Tilly (Elephant proof) hat, brown sandals with black socks and flip up sun shades for your bi-focals and the adjustable aluminium hiking stick – then you blend in fine.
St Mary's is beautiful and unspoilt the birds and wildlife are all so tame and friendly coming right up to you, we have cycled round the whole island stopping at many views, gardens with such tropical plants, tea shops, beaches and stalls selling home grown food, walked the coastal path along the rugged coast line.  The locals seem to be very friendly and ready to talk to you and invite you to enjoy their island. 
We did a deal at the harbour 3 nights for £69.00 with an extra night free and free internet, so we are safe on a buoy, as we have noticed that other yachts have to constantly move as the wind direction can change a few times a day, we felt safer on the buoy so we could go off for the day exploring.   All the islands are a rib ride away and tomorrow we are going to Tresco
Have a look at all the picture and you will see that's it's a place to visit..
Boat moored up in St Mary's Pool
Hi from both of us, having breakfast over looking the eastside of the island
Great use of old buildings over looking the sea
Talking to the locals they are so friendly and welcoming
Another beautiful beach on the west side
The daily boat from Penzance
 Very tropical looking
The picture does not do this justice, as the colours and range of flowers was magnificent
Our little bird friend wanted to say hello they are so friendly and come right up to you
The heat haze was with us all day, but the views were still stunning
Is my bum big in these… The Scilly's are hillier than you think!!  We biked around St Mary's in a day stopping off at most beaches and cafes on route.  There is also a narrow coastal path which goes around the Island, we also did this but on foot as some of the paths have crumbled into the sea, so a lot of climbing is involved and proper walking shoes are required.
Very shallow at springs, but clear blue tropical waters, the locals swim most days in this bay.
Our suggestion is that you put this island on your places to visit list before you die as it is beautiful.
---