Transat Racing

Suzie Too - Western Caribbean
David & Suzanne Chappell
Mon 14 May 2012 20:19
Saturday evening we had Magic and Truant over for drinks and nibbles – good old Suzie Too – still THE party boat a really fun evening, with great wine (well this is France) good food (Suzanne is THE Demon Galley Chef) and great company (well, not just me this time).
On Sunday as we left Gustavia in the RIB in the afternoon the first place Figaro 40, Cercle Vert, came into view around the headland at the north end of St Barth's with spectator and press boats all around it. We took a few photos and then sat last night watching as they all came in after 3,850M and almost 23 days at sea, with second and third place changing at the turn – just a couple of boat lengths between them after all that way. Even further down the pack about 6 boats came in within a few minutes of each other and again places changed within metres of the line – such close racing – and soul destroying to lose a place within sight of the finish.
In the end Artemis chose to go north of Barbuda to protect their rig after the forestay broke away from the mast and came in 12th at about 2300 local time, by which time we were in bed, other competitors were drunk and the spectators had gone home. But today we caught up with Sam, Nick & Bob had a chat (thanks for the heads up on that Henry – and well done on your Solitaire result 15 out of 23 – excellent).
We have now cleared out of St Barth's for 0800 on Tuesday and will head up to St Martin (the bi-sexual island – well it's half French and half Dutch), which is about 12M away after having first been in to the Race Party tonight.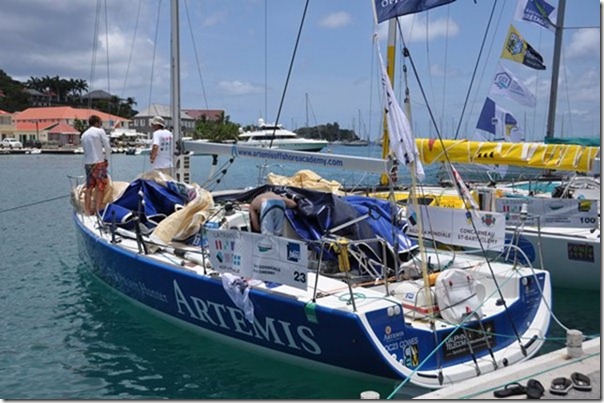 ---