Faro in the Algarve

Suzie Too - Western Caribbean
David & Suzanne Chappell
Sun 9 Aug 2009 21:30
Hot, hot, and hot, its lovely getting up every day and knowing what to wear and that its going to be hot and sunny so all the UK tee-shirts have been packed away and all the nice flimsy stuff which has hardly ever been worn is having an airing.
We are in the marina at Lagos which is very protected from all winds if we had any, hugely expensive at 63 euros a night. The only reason we are in the marina is because we still have problems with our Mastervolt Inverter, Mick Woodruff from Ebenezer lives in Lagos and has given David a contact who we met yesterday, he's been very helpful and helped fit a new charger (which we bought back from the Uk) and taken out the old one, which works perfectly but not big enough for our boat. So at least we have some way of charging the batteries.
He then came back this morning to take out the faulty Mastervolt inverter. Now the dilemma is how do we get it to Amsterdam or the UK as its still under warranty, we either book a flight or DHL so we are looking into the cost etc with a flakey internet connection.
Both fed up and bickering as we are frustrated, we are both threatening to escape to an anchorage asap, but we need to sort out the package first.
Anyway, Lagos is very touristy, lots of restaurants, beaches but just very busy as main holiday time, but you can still find traditional place especially if you someone like Mick telling you where to go. We went down to the fish docks and there was a lovely basic restaurant doing catch of the day with potatoes and salad and a jug of wine to wash it all down, we all sat on trestle tables and shared conversations with a couple from Holland and a Portuguese family all were able to speak some English. We both felt revived afterwards to be able to put the boat back together again and get ready for the escape if possible on Wed.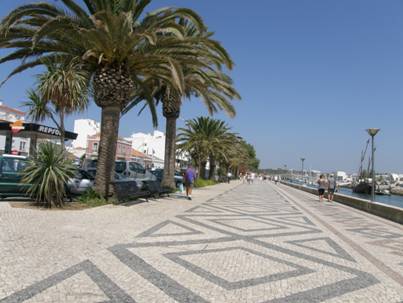 Love to All
Suzanne & David xx
---