Transat - Day 1 16.40.00N 27.15.00W

Suzie Too - Western Caribbean
David & Suzanne Chappell
Thu 25 Nov 2010 20:34
Mindelo is a great place to stop, we moored with all the new 2010 Rallye Iles du Soleil boats, met up with Patrick, Jacqueline and Nicholas. The marina and restaurant staff recognised us and Suzie Too from last year, so renewed acquaintances – it is really nice to go back to some of these places again – thank you RIDS. Cape Verde is where Europe meets Africa, culturally very different and quite poor with tourism its real only income.
We managed to get a few things sorted on the boat, hopefully the batteries will behave better on this leg, I cannot fix the leak in the water maker module, but the sail we hope to manage until we have it repaired in the Caribbean.
As we left the RIDS boats gave us a noisy farewell and we hoisted sail and set off with 2 reefs in the main and the yankee poled out wing on wing. We had a call on the VHF "Suzie Too this is Chamalou" – another boat from last year's RIDS - our friends Hubert, Michelle and Vic the dog on their Dean catamaran – such as shame we missed them – but there is always Guadalupe, their next port of call.
We began over hauling the other yachts that had set off during the day, but had to motor for a couple of hours as we fell into the wind shadow of the archipelago. Overnight, again accompanied by dolphins, as we moved further out into the Atlantic, the wind filled in and in the morning we made a sail change to full main and our new Code Blue furler and have been making 3/4 wind speed all day – 9kts in 12kts and making up lost ground.
1,886M to go to Bridgetown, Barbados.
Suzie Too and Crew
Suzie Too in Midelo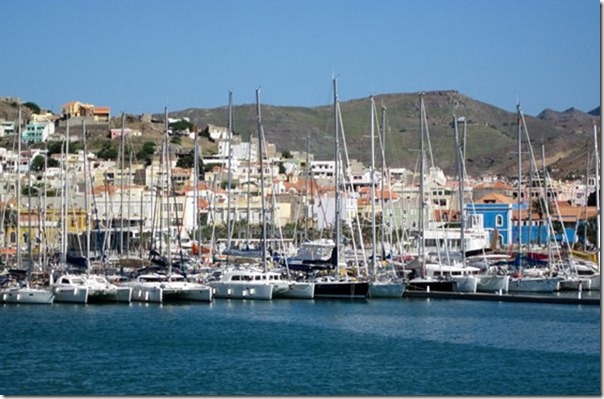 Suzie Too & RIDS 2010 Boats
---