Kourou French Guiana 05:08.900 052:39.000W

Suzie Too - Western Caribbean
David & Suzanne Chappell
Tue 27 Apr 2010 11:07
Just a quick note to say the last 3 messages have been sat in my Outbox for about 1 month, waiting for a decent connection - so they are not in sequence - but I hope you enjoy them - anyway back on track now.
So today was an early start to ride with John to work at the ESA at 0715, then wait until the tour started at 0815 - he is the only Brit at the centre, the UK does not contribute to Arianne. Apparently we are starting our own Space Program - how bloody stupid the last time the UK launched something that idiot Professor Colin Magelwurzel mixed up feet and metres and smacked the thing into Mars - for Christ's sake and made us all look real plonkers!
Arianne is the largest launch vehicle in the world, currently with a 10 tonnes payload, increasing to 12 tonnes next year and with a Russian Soyouz program at 3 tonnes and a Vega program at 1.5 tonnes all on the same site, so where is the gap in the market for the UK? All the rocket section are made in Europe and flown by plane to Cayenne then by truck to the launch site, all the satellites are assembled by the customer in the various countries and then brought for assembly to the launch vehicle. A typical satellite weighs around 5 tonnes so Ariannne can lift 2, halving the launch cost for the customer - they also have the most reliable launches and can get the satellite to within just a few metres of its geostationary position, meaning the life of the satellite is longer because it uses less fuel for final manoeuvring. Since Sputnik over 4,000 satellites have been launched, but because of their lifespan there are now about 400 in orbit.
We have just heard that African Seawing, who went to straight to Paramaribo has left after one night, cos it was awful with no yacht facilities and a fierce current in the river. He is now sailing for a haul out in Grenada, cos the tree he hit coming out of the Amazon has damaged a rudder and it has dropped 10cm and is letting water. So we will probably sail the 650 or 700 miles straight to Tobago or Trinidad later this week and miss Surinam.
At the moment it is RIDS Part II cos most boats are here and we are all anchored, meeting in restaurants - eaing bush meat, see the menu image below - and going to a Jazz evening tonight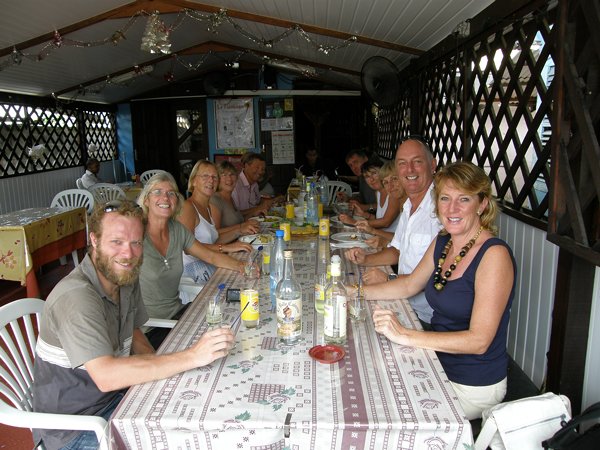 ---