Going Down

Suzie Too - Western Caribbean
David & Suzanne Chappell
Mon 29 Aug 2011 16:57
This morning we got up just after first light, the boat was already to go as Suzanne had cleaned, tidied and stowed everything away ready. We had to use the oil change pump to syphon some water out of one of the bilges, it was fresh water and we think we may have a leak in the fresh water system, rather than rain coming in, cos is was a good bucket full.
Then up with the anchor or not, just like the Amazon with a big Isle Flotante around our chain, so out with my trusty machete as we have no Bombieros here to help. Had a great conversation with an American yacht "Gertie" anchored inside of us during the hurricane, he was struggling with 2 separate anchors and a 5ft wing keel, with his boat yawing wildly. he said "You guys were just great out there, you never moved".
Certainly this boat is much more stable at anchor than our previous yacht, she used to do the Suzie Too Waltz around her anchor. The tandem anchor works really well, especially in a river where the current reverses, as one holds up river and the other sets opposite on the turn. It only takes 7 or 8 minutes extra to deploy and recover, but worth it. If you're not sure how to do it look back on our Amazon blog where the whole method is described, we are going to need a new snubbing line though, going with 10 metres of 25mm octoplait.
Going down river is all coffee coloured is fast on the flood water but we are steering around the trees and logs. Amtrack 4x4s with skinny tyres and a rail wheel on the inside of it are checking tracks, removing logs but some areas are beyond simple repair, see the photos of subsidence. Then there are the yachts that broke free and even a small sea plane, a USCG helicopter has just flown up river and back checking damage and Liberty Landings Marina is still closed until tomorrow, as are the ferries and the subway may open at 1500 today. So we will be at anchor again tonight.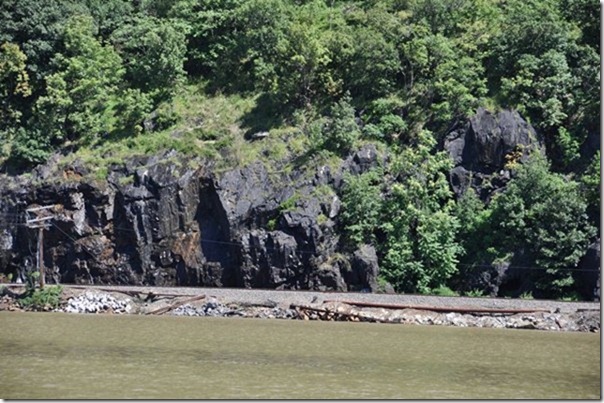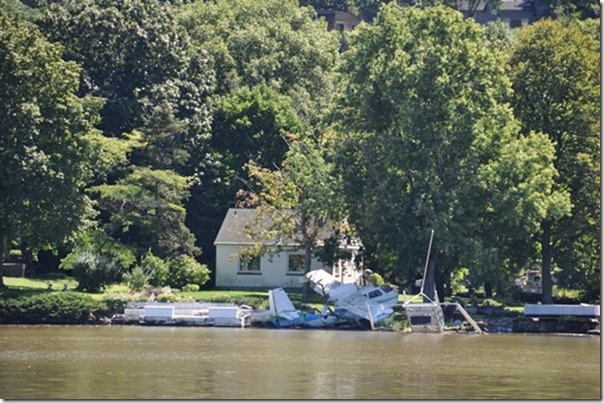 ---