New York Again

Suzie Too - Western Caribbean
David & Suzanne Chappell
Tue 16 Aug 2011 22:51
Rather an unexpected week but just wonderful, my Daughter Helen and my Grandson Ethan decided to visit us at the last minute, they arrived on Sunday into JFK for a week as there was no nursery school. The weather was HOT 90+, sunny but sticky. We spent the next day getting Ethan sized up for a life jacket as he's never been on a boat before and moving things so the boat was child friendly!!. He's 2 and just wonderful but he wants to touch everything especially Granddad's electronics. Which Granddad was not very happy about, but Ethan learned very quickly what he could touch and not touch. We also got him a paddling pool which we set up on the back deck and we all ended up sitting in as it was so hot.
We had a wonderful time visiting New York City by train, it took 30 mins into Grand Central Terminal, which is spectacular, we got a quick bite to eat from the deli, then started walking down 42St then up Broadway to our destination, Central park, where we stopped for a few hours, watching the ducks, squirrels and riding a horse and carriage. The carriage driver even gave Ethan a large carrot to feed his horse, which Ethan thought was wonderful!! Our next stop was New York Zoo to see the animals, tigers and bears.... our favourites were the penguins, their area had clear glass to the floor so you could see then swimming down below the water level, also the monkey's which are always devils. The day was finished off with a New York Burger and Fries then it was a train home to Mamaroneck in Long Island Sound where Suzie Too was moored.
Over the next few days we visited different bays, David spent a lot of time trying out his new AB rib with a 40 HP engine, Ethan loved this going fast with Granddad and I enjoyed it as well as I didn't get wet in the new rib. So everyone was happy.
Saturday, we were on the way back to New York City, Liberty Landing marina for a week, we had to motor up the east river at slack tide as there is 5-7 knots of current if you get this wrong, this meant that we had to make the passage early morning which is not a problem when you have a 2 year old on the boat as they are up at 6am...
Well Saturday morning came and it was horrible, thunder, lightening, rain, rain and more rain, so again for the 2nd time the entrance to New York was dull and grey, they had 8 inches in 1 day (more than most girls get Ed). Everywhere was flooded. We motored past the Statue of Liberty and took more photos just to say we have been there again with Helen and then motored up the Hudson to Liberty Landing marina where we had stayed before.
Sunday morning and it was slightly brighter, we booked Brunch at the Liberty Restaurant over looking lower Manhattan, what a wonderful view even in the rain. The Brunch was washed down with 2 bottles of red, drowning our sorrows as Helen and Ethan's flights were that evening, they were going home, a week is not long enough. It was soon 5pm and we were climbing into a cab to JFK to wave goodbye, I hate goodbyes at the best of times, always cry.. and seeing Helen and Ethan off was hard, I sobbed all the way back in the taxi back to the Marina. The traffic on the way back was terrible and when i finally arrived back to David I had dry red eyes.
The only good thing is we will be home in Sept so not long before I see them again and all my UK sailing friends whom I miss so much
PS (Ask Ethan who got sun cream on the camera lens and made the images fuzzy Ed)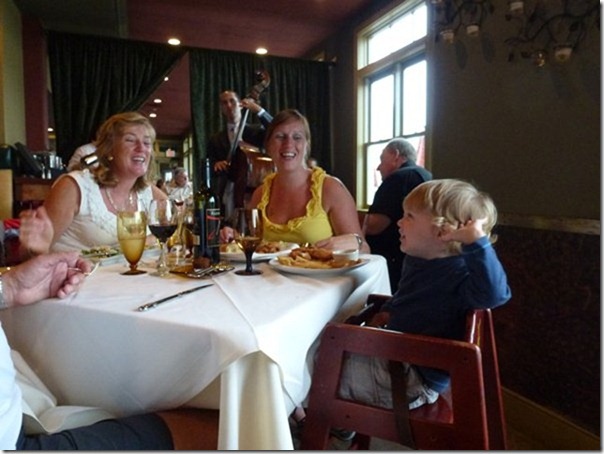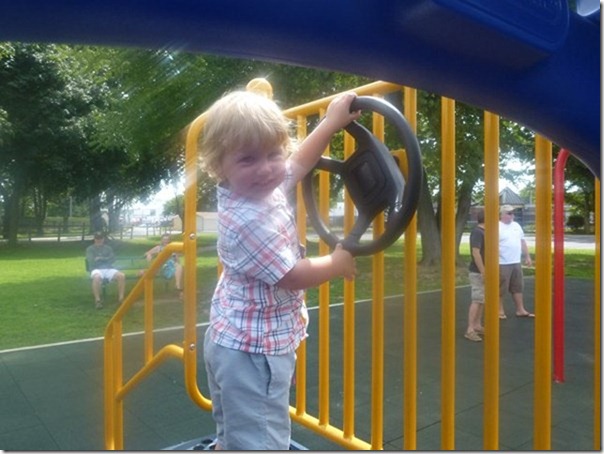 ---