Suzie Too - Generator Top Tip

Suzie Too - Western Caribbean
David & Suzanne Chappell
Mon 28 May 2012 15:17
OK Guys – here's one – I thought had the impeller covered with my inline raw water strainer in a position before the heat exchanger to catch all the impeller blades, but No – my French friend has gone one better. I had often discussed with experts installing a 12v or 24v DC pump to push the raw water around the cooling system, but was warned against it. It often ends in disaster cos the pump runs when the generator is not and floods the engine – not good, so I've never done it.
Anyway Jean François, with his new Amel 64, Tog Gwen (Hull No 6) has come up with a fantastic solution – being the ex Mr Cristec and extremely knowledgeable on all things electrical (his new yacht has 13 x 2v MasterVolt batteries at 275Amps – 3,575Ah - and a 22KVa generator) and he is using a 220v pump. So simple – he has removed the impeller and replaced it with a 220v pump and of course it cannot start until the generator starts and it also cuts out whenever it stops - for whatever reason – so no hydraulic lock in the engine.
Well that's a demon modification on my list, cos today was another impeller change after 150 hours, plus the annual anode change and I also did the oil and filter – all before breakfast. Then we swam around the boat for a few laps to cool off, great with our new fins, we go miles and I did an anchor check at 7m – not bad getting 23ft down for an old guy. Yea, I know we can see the anchor from the boat, cos the water is so clear – but it's fun and it's starfish city down their – maybe you call a collection of starfish a constellation ?
So take a look at the new Dometic Pumps – they are made for use with their Air Con units, are fully submersible and run on 50/60Hz – I just need to work out the flow rate of the existing Onan impeller and get a similarly rated 220v pump.
BTW – Do you like the hard top on the Amel 64 – we do – now where can we get one made ?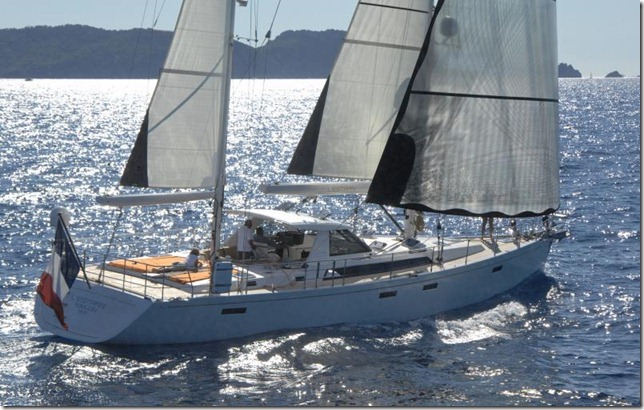 ---