Cycling on Nantucket

Suzie Too - Western Caribbean
David & Suzanne Chappell
Sun 10 Jul 2011 07:32
Last night was a very windy, bumpy night, where did that wind and rain come from. This morning the RIB was half full of rain water and we were very near the mooring buoy behind, so close that the Mooring company asked if they could move us to another spot with more swinging space. So after breakfast we moved to C3 to nearer the entrance to the mooring field a little further in the dingy every trip but a quieter spot. By 9 am the day then got better and better, my Blackberry started working after about 4 weeks of not getting connected and the sun was shining with not a cloud in the sky!!
We set off on the bikes again to another destination on this wonderful little Island a 6.5 mile cycle ride to Madaket, which is a very small village on the west side of the Island. The cycle path was rather undulating, so the pedalling was quite hard work especially in the heat of the day, but the scenery was outstanding, so green and full of wildlife, we saw a snake on the path, an eagle soaring, 2 huge seals in the surf watching the surfers, a blue crab which was being caught by a father and his 2 sons, there was lots of squealing when they were trying to get the crab off the line into the bag to go home.
At the beach there were already a few people enjoying the sun but also enjoying the Surf. It reminded us of the surf and waves of Australia on the Great Ocean Road, huge breakers rolling in, with spray, foam and 3 hunky men in the Bay watch tower in short red trunks watching over everyone.
Everyone is in holiday mode and much more friendly than the mainland. If you ever get chance it is an Island to visit so much character.
We are going to miss this place as this is our last day here, we are off to Cape Cod, Hyannis in the morning if the fog stays away.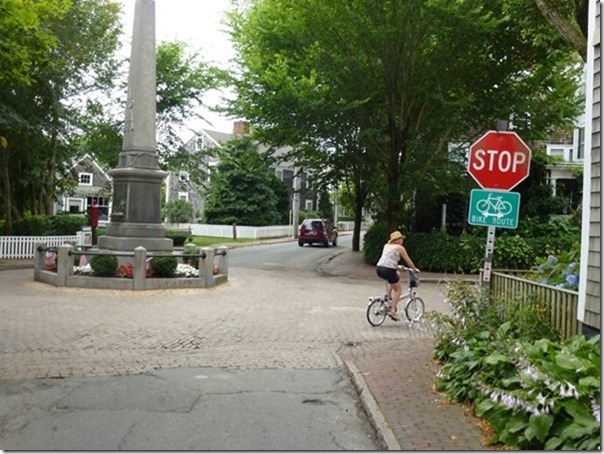 ---