Gibralter Straits - Morocco

Suzie Too - Western Caribbean
David & Suzanne Chappell
Sun 23 Aug 2009 19:34
Well the tide calculations were done and the weather forecast downloaded, we still had F7 in the bay in Barbrate in Spain into wind unfortunately, so we had a day's window to move, so we took it. At 11am we set off, met a fishing boat in the harbor entrance and both had to do an emergency stop…. Good start and it didn't get better.
The sea was wild, big waves and the wind was directly on the nose so not easy to sail properly, we were poughing through the waves, taking waves over the decks. We should have had the tide with us all the way, but we had a knot against us and so much wind 38.4 knots was the most. So felt quite beaten up by the end of the straits, into the Mediterranean, we crossed the famous TSS, dodged the big ships and ferries turned the corner to go down towards Morocco and the land then protected us from the wind, the wind went down to 20 knots and we had a lovely sail under Genoa down to Smir. I made a quick curry and rice as we were both hungry, then we both had a shower and tied up so we felt refreshed when we arrived.
We rang our friends Robin and John to say we were 2 miles away then sailed into the wrong marina, even tied up to the pontoon, looked around then realized that we were in the motor boat marina, so set off again round the corner 1 mile back to Smir.
Smir is new and very posh, the king of Morocco has his holiday residence next to the marina, he was also in residence so the security was high it was also Ramadan so no eating during 4am and 7pm. The marina and surrounding area was so clean and pristine you could of eaten off the streets. They were also 2 hours behind the UK time…. The formalities are not too bad, they hold onto your passports and ships papers and you get your passport stamped in and out of the country.
The next day we set off on a tour, with John & Robin and a private tour guide Khalid to show us the typical morocco the city of Tetuan. 30 mins in a minivan with air con which was necessary as 38+ Didn't know what to expect!!
Very hot and hazy
Khalid took us to the Kasbar which is the walled old town, tiny windy alleyways, people selling fruit, herbs, carpets anything thing they could sell. We visited a carpet factory, drank mint tea, experienced a herbal shop, different smells, a completely different way of living.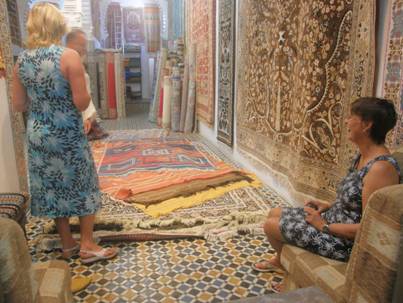 Bought a very expensive throw for the sofa's on the boat.
Our local camel
What an experience.
Love from Suzanne & David xxx
---