Never leave your Dinghy down

Suzie Too - Western Caribbean
David & Suzanne Chappell
Sun 28 Aug 2011 12:50
Yes, exactly – never leave your dinghy down in a hurricane when you are at anchor and you should ALWAYS use 2 lines to attach to the yacht. The 10mm metal locking cable snapped clean through in the night and left just a single 10mm multibraid line connecting the dinghy to the yacht – that was always going to be upgraded to spectra. Difficult to take good shots, cos I don't want to get my Nikon too wet, but we have floating islands of vegetation building around our anchor, not quite as impressive as the Amazon though.
So we are both on deck with the lightweight oilies and life jacket, take 2 spectra lines which Suzanne has already secured to the yacht, lower the swim platform and leap into the dinghy when it is thrashing somewhere between 1m above and 2m below me and fasten the spectra lines around the davit lift points – and then leap back to the yacht, all in 45 gusting over 50kts of wind and driving rain. God we are a good team.
Then we reward ourselves with a celebratory cup of tea and Suzanne calls out "There's a motor boat drifting down the river". Shit, back on with the wet clothes up in the cockpit with the binos and check out what's going on. Yes, drifting with all his nav lights on and his anchor stowed on the bow roller, strange. Anyway, eventually someone in a bright orange survival suit emerges from below, problem sorted I imagine, fires up the engine and makes very slow progress against wind and current up river.
We can see from the land each side there are no lights, so assume they have lost power. From what I read on CNN most of the Nuke Plants have gone into auto shut down because of the high winds. Anyway the anchors are working well (famous last words) but clearly this is not going to be our usual "Chill Out Sunday" – so may have to postpone the Reiki Clinic this week – Sorry ladies, but will let you know.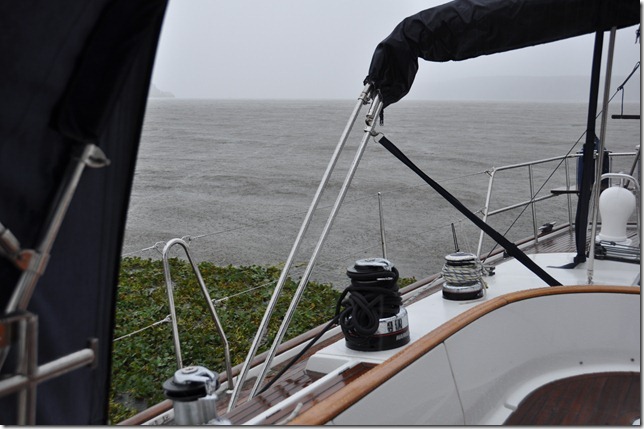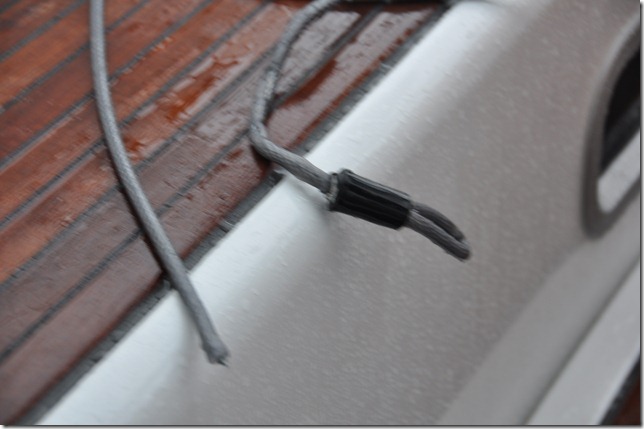 Latest update is Irene will be centred on New York at 0900ET and the 3m Storm Surge has affected downtown Manhattan, Brooklyn and Jersey City with water as far as Wall Street and no more news as our WiFi's and Mobile go off line with the power outages. Good job we have a Iridium satellite phone !
---