Bank Holiday weekend in Falmouth

Suzie Too - Western Caribbean
David & Suzanne Chappell
Fri 22 May 2009 16:55
Arrived in Falmouth 35 mile sail, watched out for black rock on the entrance and went into Mylor Marina for the week. This is part of the Trans-Europe group so negotiated a 50% discount on the berthing fee. £22.00 per night inc electric
Sun, Sun and more sunny weather this weekend so far, it makes such a difference to see people on the beach in shorts and having BBQ's, everything looks great when the suns out in England.
Walked along the beach to Flushing where David had another Cornish pasty and beer.
Falmouth has their festival week this week and there was musicians playing on every corner.
On Sunday we ribbed up the river to Pandora's Inn and then further to The Smugglers Cottage, where David had another Cornish pasty & beer….he keep trying a different type of pint everywhere he goes and now has come to the conclusion that Cornish beer is thin, his favourite so far was in Devon called Doombar, I was ok with the Cornish cider
Going up the river on the rib on look out at low tide, the water was so clear you can see the bottom
Pandora's Inn with floating pontoon
Huge container ships just parked up in the river.
Smugglers Cottage, another of the areas where the D-Day landing went from officially know as LST's know by the lads on them as Large Slow Targets
Confusing toilets good job they had a picture on them.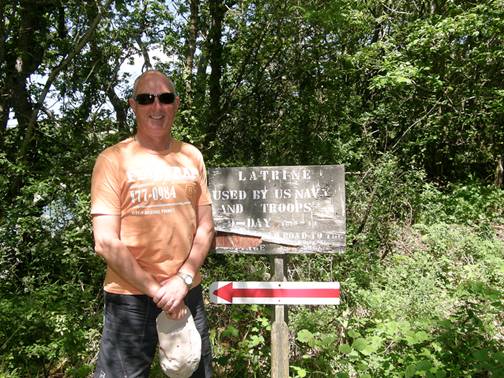 David had to go as well as usual in the bushes.
Very picturesque, look at those lovely blue skies.
We have now picked up a hire car from Falmouth as we are heading back to work for the week, 4-5 hours drive back to Abingdon.
Have a good one
Love Suzanne & David xxxx
---