Starting up the Brazilian coast 1st stop Joao Pessoa

Suzie Too - Western Caribbean
David & Suzanne Chappell
Fri 29 Jan 2010 18:55
Up the river anchored just outside the Jacare Yacht club, 38 degrees, with heavy rain most nights as we are in the rainy season. The days are long and hot the sun comes up at 4.30am and goes dark at 6.30pm as there are not many lights on shore its completely dark after 8pm.
The holiday is season is on here in Brazil and lots of Brazilians are visiting the area, so every night they crowd the bars and restaurants to watch the sunset while a musician in rowed in a canoe up and down the river playing Revel's Bolero on his Saxophone. What a wonderful sight, this was the highlight of our wonderful day we had spent with about 40 friends from the RIDS as tourists on a river boat visiting the sandbanks for swimming and then the mangroves with free flowing Caparina's all day ( Rum & lime & ice) delightful but lethal. Dingy ride back to Suzie Too was good fun…we forgot to leave on the anchor light not easy to find a dark blue boat.
Do you want an ice cream.. novel
Brazilian bottoms on the sandbank, they had parasols and chairs and bars selling Caparina's all erected while the sandbank was there, how about a business doing this in the Solent!!!!
Our mode of transport for the day, the sandbank we were heading for in front
I'm in the bikini that matched the boat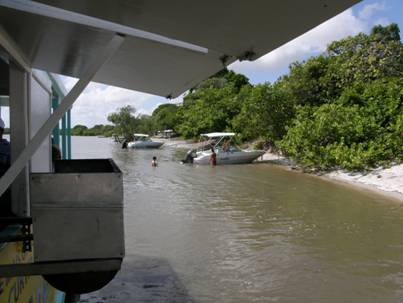 Lunch stop at the mangroves before the river music.
Tonight its Samba dancing lessons, we will take some pictures as it should be entertaining. A lot of bottom shuffling. We have to get the dancing practice in ready for the carnival in 2 weeks time, were its dancing all day and night can we cope. Office work or dancing wish you were here to enjoy this with us?
Next stop Fernando De Noronha, which is a 36 hours sail and the winds are picking up so should be on a good reach.
See you there xx
---