Jost Van Dyke BVIs 18.26.250N 64.54.750W

Suzie Too - Western Caribbean
David & Suzanne Chappell
Mon 27 Feb 2012 21:21
We left Marina del Rey at Fajardo in Puerto Rico and bounced upwind on a reasonable sail and decided to anchor for the night at Isla da Calebra in the Spanish Virgin Islands. We didn't go ashore as we didn't want to have to clear in and out and pay the fees as we had no time left to spend there, David and I had a swim and we all relaxed reading, sun bathing and planned the last few days heading for the BVIs.
We left at first light and had another upwind sail again and arrived at Jost van Dyke island in the middle of the afternoon. It was Sunday so we decided to leave Customs until the morning and headed for the shore to join all the day boats and Americans over from St Johns in the US Virgin Island. We had a couple of Painkiller cocktails from the Soggy Dollar Bar and sat in their beach chairs with our feet in the sea, watching all the dudes in their motor boats blasting their sound systems then taking their bikini babes off home for the night. A good people watching place, as long as your wife doesn't catch you – otherwise it can be painful, but not really to Suzanne's and my taste, we prefer quieter beaches with less people.
The "town" itself was really lovely (Opps Sorry Bob – You are so right) and actually reminiscent of Bequia in the Grenadines. We did Customs, dumped the trash, meandered the street and then hit Foxy's for a lunch of more Painkillers and a Chicken Roti – which was excellent – almost as good as the ones from Grill Master in Spiceland Mall on Grenada, but of course twice the price.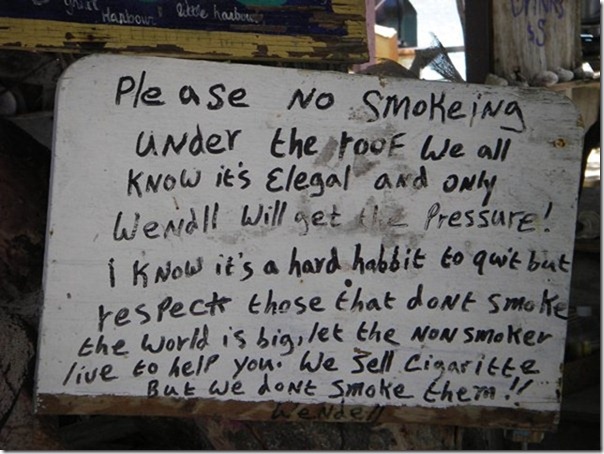 ---