A night under the stars in Dakhlar

Suzie Too - Western Caribbean
David & Suzanne Chappell
Mon 26 Oct 2009 08:44
Arrived Monday 26th October into Morroco Dakhlar, anchored in a lagoon outside Hotel Bab El Bahr, first time the rally had visited Dakhlar.
Local shop on high street – Our new business opportunity. We had no mobile signal or internet while in Dahklar, the next village is 550 miles away north and 350 miles west from any other village it's just surrounded by desert.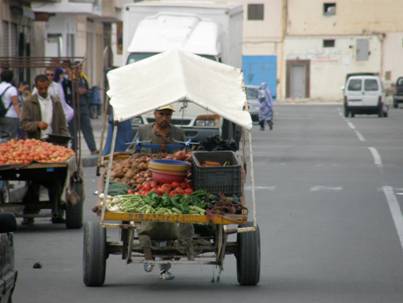 Local Veg shop, bought Tomatoes, bananas, lemon, all of which has to be driven in everyday by 4 x 4 350 miles.
Our friends and overnight communal tent companions These families have adopted us, little Guinel who is 4.5 keeps saying" I Love you Suzanne" it's the only English he knows other than hello., Miss my family and friends so much this has helped so much
Hotel pontoon dingy bay, not very safe and rocks and rolls….
This was our desert convoy
Lunch under the nearest shade in 36 degrees, in the desert at the Tropic of Cancer in Porto Rico.
In our glorious tent before dinner, we then had a swin in the sea and walked along the beach before dinner at 9pm, after dinner sat round the campfire and chatted until the fire burnt its self out.
Sybil and 2 of her children, Marim & Priscil, Emma, Rachel and Eliza
Our dining room with sea view, 3 courses where served, Aubergine salsa, goat stew then custard tarts all washed down with water as in Muslim country no alcohol…
Our bedrooms for the night, we slept in the tents with the roaring sea just outside, showers and WC where basic but ok in separate tents. All the children had a tent together.
Had a blow out on route back, and someone had an overheated radiator, there were no seat belts and no suspension…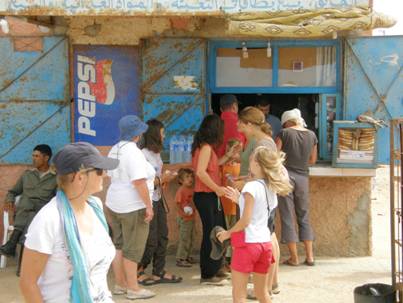 Local snack bar on the main road back to Dakhlar
Felt like a war zone still, we were told not to wander off the tracks as there were still mines about. So we didn't wander far.
Dakhlar is a very safe place, it is still a military town, where water is still not drinkable. I visited the local Haman, where the women go for a wash and where you get washed and scrubbed clean by the old women of the town. They pour hot water all over you and wash you like a child, scrubbing your skin till it glows, then they wash your hair for you and massage your skin. Excellent exfoliation. All the women are together naked in one room like a big steamy sauna, all washing each other, I felt wonderful when it was finished, the 1 hour session cost 50 Dir which was about 5 Euros. It was a great experience.
Off to Dakar, Senegal, a 600 mile journey down the Senegal coast, 4 nights at sea, hopefully it will be all downwind.
Love to you all
Cannot believe we have sailed all this way to West Africa
XXXXX
---