Goodwood

Suzie Too - Western Caribbean
David & Suzanne Chappell
Tue 18 Mar 2008 09:40
Went to Goodwood for the day, had a great day, we took part in a few of the days activities, I raced the Ferrari F360 and the Porsche Carrera and David raced the Ferrari F360 at 170 mph down the straight and the Porsche 911, then went go cart racing which David won. We then did the Mini Finesse racing were you had to race around the track with a ball on the bonnet. My time was 30.78 secs, David was 31.28 I came second in our group. Lunch was then served, beef and sponge pudding, good food, we needed the warm food as the weather was freezing, we were all cold.
The afternoon events included a flight in a Jet Ranger over Chichester area and Cateram cars and then afternoon tea and an awards ceremony.
Great day was had by all, thanks to BT Openreach for their hospitality.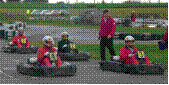 ---